Americana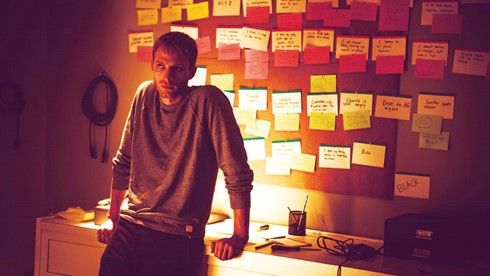 Using the style of the paranoid nail-biters of the 1970s to tell a personal story of addiction and its consequences, this modern-day San Francisco noir shadows an alcoholic film editor as he struggles to uncover the truth about his sister's murder.
Thursday, June 9, 2016
Purchased Tickets
Limited Availability
On Standby
Matinee
Friday, June 10, 2016
Purchased Tickets
Limited Availability
On Standby
Matinee
Avery Wells (David Call, James White) wakes up in a strange house, head throbbing due to a forced detox session, unsure of where he is. Once a sought-after film editor, he has spent an untold amount of years destroying his life with rampant alcohol and substance abuse. A familiar voice emanates from the other side of the room: Caleb (Jack Davenport, Kingsman: The Secret Service), a San Francisco film producer, has brought Avery to San Francisco to complete the edit on a film stuck in post-production, a drama called Americana starring Avery's estranged sister, Kate (Kelli Garner, "The Secret Life of Marilyn Monroe"). Avery now has a chance to stay clean and reconnect with family, but he soon starts receiving menacing calls from a mysterious stranger threatening to reveal the darkest of Avery's secrets—threats impossible to ignore when Kate is murdered after a boozy party. As Avery searches for an answer for why his sister was killed, and as he allows his addiction to cloud his judgment more and more, he begins to realize that his search may just be a reaction to the lies he's told since falling off the wagon. Inspired by the paranoid nail-biters of the 1970s and set against the foggy skies, claustrophobic rooms, and twisty streets of the City by the Bay, Americana is a tense indie thriller about facing the consequences of an ugly past.
Director Biography
Zachary Shedd, a San Francisco native, is the co-founding filmmaker behind Flies Collective, the production company behind Hide Your Smiling Faces (2013) and A Little Closer (2011). Americana is his first feature directorial effort.
Sponsored by Ingeniux, ROCK KVRQ 98.9, CTI BioPharma
Director:

Zachary Shedd

Principal Cast:

David Call, Kelli Garner, Frank Mosley, Jennifer Stuckert, Peter Coyote, Jack Davenport

Premiere Status:

World Premiere

Country:

USA

Year:

2016

Running Time:

81 minutes

Producer:

Daniel Patrick Carbone, Matthew Petock, Lisa Kjerulff, Zachary Shedd

Screenplay:

Zachary Shedd

Cinematographers:

Justin Foster

Editors:

Saela Davis

Music:

Jeremy Turner

Website:

Official Film Website

Filmography:

Debut Feature Film

Language:

English

Format:

DCP