Ants on a Shrimp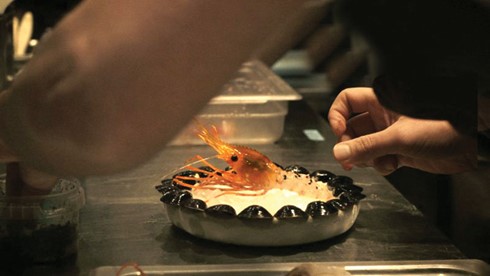 Charismatic Copenhagen-based chef René Redzepi, whose NOMA has been hailed as one of the world's best restaurants, embarks on the thrilling, unprecedented challenge of relocating the restaurant and its entire staff from Denmark to Tokyo.
Friday, May 20, 2016
Purchased Tickets
Limited Availability
On Standby
Matinee
Monday, May 23, 2016
Purchased Tickets
Limited Availability
On Standby
Matinee
Ants on a Shrimp takes its title from one of the several unique dishes served at master chef René Redzepi's new restaurant: literally raw jumbo prawns covered in tiny black ants. This documentary follows Redzepi as he relocates his Copenhagen-based restaurant, Noma, and its entire staff to Tokyo. Noma, a two-Michelin-star establishment, has been named "Best Restaurant in the World" by Restaurant Magazine in 2010, 2011, 2012, and 2014. Director Maurice Dekkers observes the struggles and triumphs of Noma and Redzepi as he attempts to incorporate his philosophy of using only local ingredients in an entirely new environment. His team must work with elements that they are completely unfamiliar with in order to create a brand-new 14-course menu that still feels consonant with Noma's Denmark location. One particularly odd new item on the menu is a dish consisting of deep-fried fish sperm, which Redzepi claims "tastes better than fish" itself. Although that particular meal might be only for the bolder palates among us, Ants on a Shrimp—the movie, not the dish—is sure to be a tasty snack for all who watch.
Director Biography
Maurice Dekkers is a Dutch filmmaker, cinematographer, writer, and journalist. He is best known for his work on the longstanding Dutch TV program "Keuringsdienst van Waarde."
Sponsored by Seattle Met
Director:

Maurice Dekkers

Principal Cast:

René Redzepi, Lars Williams, Rosio Sanchez, Thomas Frebel, Dan Giusti

Premiere Status:

US Premiere

Country:

Netherlands

Year:

2016

Running Time:

88 minutes

Producer:

Nelsje Musch-Elzinga, Dan Blazer

Screenplay:

Maurice Dekkers

Cinematographers:

Hans Bouma

Editors:

Pelle Asselbergs

Music:

Nicolas Jaar

Website:

Official Film Website

Filmography:

Debut Feature Film

Language:

English, Japanese

Has Subtitles:

Yes

US Distributor:

Sundance Selects

International Sales:

Fortissimo Films