As You Are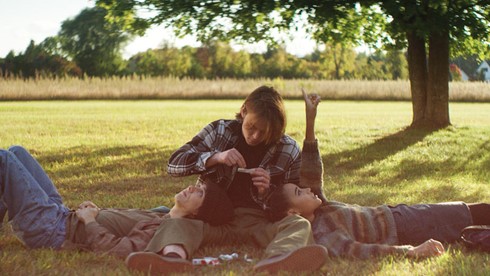 Two grungy male teenage loners form an immediate bond through their shared love of Kurt Cobain, pot-smoking, and skipping school, then add a female friend to the mix, in this atmospheric teen-angst drama-cum-mystery tale set in the early '90s.
Thursday, May 26, 2016
Purchased Tickets
Limited Availability
On Standby
Matinee
Friday, May 27, 2016
Purchased Tickets
Limited Availability
On Standby
Matinee
Sunday, June 12, 2016
Purchased Tickets
Limited Availability
On Standby
Matinee
Set within the framework of a police investigation, As You Are is a tale of confused adolescence and yearning in '90s upstate New York. Jack (Owen Campbell, "The Americans") is a loner who keeps to himself—never fitting in and never really wanting to—-spending his time skateboarding down the streets of his neighborhood. When his mom (Mary Stuart Masterson, Fried Green Tomatoes) begins dating Tom (Scott Cohen, "Gilmore Girls"), an ex-military security guard, Jack is forced into a friendship with his son, charismatic and rebellious Mark (Charlie Heaton), and they eventually all move in together. Sarah (Amandla Stenberg, The Hunger Games) joins the mix when she gets in the middle of a squabble between the boys and some bullies at a local diner, and the three become instantly inseparable, spending their days skipping school, getting stoned, listening to music, and pretending to ignore the sexual tension building around them. However, the increasingly controlling and violent behavior of Mark's dad soon threatens the group's comfortable friendship, and complications give way to tragedy. The relationship among the three and the mysterious events that led up to one fateful day in the woods are pieced together through interrogation videos and flashbacks in a self-assured directorial debut by 23-year-old Miles Joris-Peyrafitte.
Director Biography
As a writer, director, and actor, Miles Joris-Peyrafitte has worked on both short and feature films. He was nominated for the Best Actor award at the Horrorhound and Chicago Paracon film festivals for Valley of the Sasquatch (2015).
Sponsored by Ingeniux, Warm 106.9 FM, 4Culture, Seattle Office of Arts & Culture, Washington State Arts Commission, National Endowment for the Arts, CityArts, Seattle Weekly
Director:

Miles Joris-Peyrafitte

Principal Cast:

Owen Campbell, Charlie Heaton, Amandla Stenberg, Mary Stuart Masterson, Scott Cohen

Country:

USA

Year:

2016

Running Time:

105 minutes

Producer:

Brent Stiefel, Sean Burke, Justin Lothrop, Joseph Mastantuono

Screenplay:

Miles Joris-Peyrafitte, Madison Harrison

Cinematographers:

Caleb Heymann

Editors:

Abbi Jutkowitz

Music:

Patrick Higgins, Miles Joris-Peyrafitte

Website:

Official Film Website

Awards:

Sundance Film Festival 2016 (U.S. Dramatic Special Jury Prize)

Filmography:

Debut Feature Film

Language:

English

Format:

DCP

International Sales:

WME