The Bacchus Lady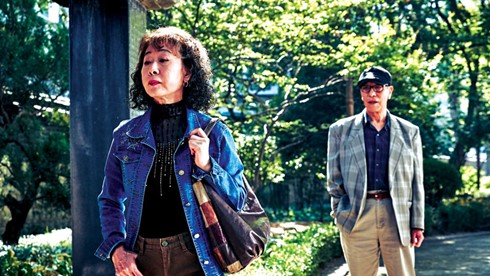 An elderly prostitute attracts johns in the wealthy parts of Seoul, arranging quickie motel trysts, in director E J-yong's sympathetic portrait that shines a light on the darker side of a real and growing underground industry in South Korea.
Wednesday, June 8, 2016
Purchased Tickets
Limited Availability
On Standby
Matinee
Thursday, June 9, 2016
Purchased Tickets
Limited Availability
On Standby
Matinee
"How many more autumns will we live to see?" It sounds like the start of a melancholy conversation about the passage of time, especially coming from a 65-year-old woman in a park on a lovely fall day. But to So-young, it's a pickup line finely calibrated for attracting elderly johns. So-young (played with vigor and dignity by Youn Yuh-jung) is an elderly Korean prostitute who spends most of her days wandering parks in the wealthy neighborhoods of Seoul, hawking an energy drink called Bacchus, and arranging quickie motel trysts with her customers to make ends meet. It sounds like an absurd plot device, but it is a real and growing underground industry in South Korea. As many as 400 of these bagkaseu halmeoni (literally "Bacchus grannies") perform these services every day in Seoul's Jongno Park. Director E J-yong projects a litany of awkward social issues onto So-young: child custody, euthanasia, depression, and racism. But the veteran actress embodies So-young as a resourceful, strong, fully formed character, who develops connections with her regulars. Without a trace of sentimentality or exploitation, The Bacchus Lady shines a light on the darker side of Korean industrialization while depicting an older woman on the fringes of society not as a victim but as a sympathetic person determined to get through life on her own terms.

Director Biography
South Korean director E J-yong has explored a number of different movie genres and filmmaking styles, though in recent years he has made something of a name for himself as a director of mockumentary-style meta-comedies such as Actresses and Behind the Camera. In his latest film, however, he takes a more subdued approach to examine the serious difficulties faced by the elderly in contemporary Korean society.

Sponsored by W Seattle Hotel, Underworld Tour
Original Language Title:

Jug-yeo-ju-neun yeo-ja

Director:

E J-yong

Principal Cast:

Youn Yuh-jung, Chon Moo-song, Yoon Kye-sang, An A-zu, Choi Hyun-jun

Premiere Status:

North American Premiere

Country:

South Korea

Year:

2016

Running Time:

110 minutes

Producer:

Suh Dong-hyun

Screenplay:

E J-yong

Cinematographers:

Kim Young-no

Editors:

Ham Seong-won

Music:

Jang Young-gyu

Website:

Official Film Website

Filmography:

My Brilliant Life (2014); Behind the Camera (2012); The Actresses (2009); Dasepo Naughty Girls (2006); Untold Scandal (2003); Asako in Ruby Shoes (2000); An Affair (1998); Tales of a City (doc, 1994)

Language:

Korean

Has Subtitles:

Yes

Format:

DCP

International Sales:

Media Asia Film Distribution (HK) Ltd.