The Blackcoat's Daughter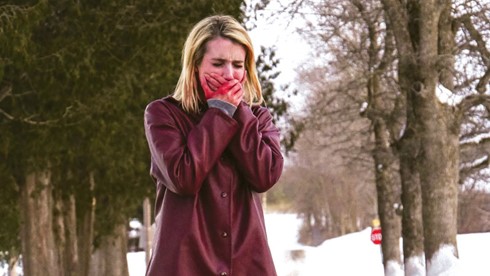 Dripping with gothic atmosphere and chilling performances from Emma Roberts ("American Horror Story") and Kiernan Shipka ("Mad Men"), this demonic horror tale is set at an all-girls prep school tormented by an evil, invisible force.
Friday, May 20, 2016
Purchased Tickets
Limited Availability
On Standby
Matinee
Saturday, May 21, 2016
Purchased Tickets
Limited Availability
On Standby
Matinee
In The Blackcoat's Daughter, horror is cold: There are wintry scenes of desolation, and blood is spilled on the ice and snow. This sinister thriller is written and directed by Osgood Perkins, son of Psycho star Anthony Perkins, and whose brother, Elvis Perkins, provides an ominous atonal score. The opening centers on Kat (Kiernan Shipka, Sally Draper of "Mad Men") and Rose (Lucy Boynton), two students left alone at their prep school, Bramford, over winter break when their parents mysteriously fail to pick them up. While the isolated, imperiled girls try to settle in, the film cuts to another story: Joan (Emma Roberts), a troubled young woman on the road, is determined to get to Bramford as fast as she can. As Joan gets closer to the school, Kat is plagued by progressively intense and horrifying visions, with Rose doing her best to help her new friend as she slips further and further into the grasp of an unseen evil force. The movie builds to the moment when the two stories finally intersect, setting the stage for a shocking and unforgettable climax.
Director Biography
Born in New York City in 1974, Osgood Perkins began his career in film as a child actor in Psycho II (1983). He's acted or written for a variety of projects, though The Blackcoat's Daughter marks his directorial debut.
Sponsored by Seattle Film Institute, CTI BioPharma
Director:

Osgood Perkins

Principal Cast:

Emma Roberts, Kiernan Shipka, Lucy Boynton, James Remar, Lauren Holly

Country:

USA, Canada

Year:

2015

Running Time:

93 minutes

Producer:

Rob Paris, Adrienne Biddle, Bryan Bertino, Robert Menzies, Alphonse Ghossein

Screenplay:

Osgood Perkins

Cinematographers:

Julie Kirkwood

Editors:

Brian Ufberg

Music:

Elvis Perkins

Website:

Official Film Website

Filmography:

Debut Feature Film

Language:

English

Format:

DCP

US Distributor:

A24 Films

International Sales:

Highland Film Group