A Bride for Rip Van Winkle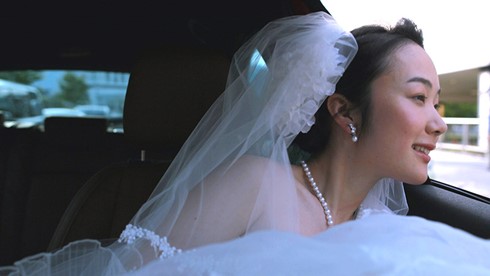 Japanese director Iwai Shunji (All About Lily Chou-Chou) returns with a deceptively beautiful romance about a bored young woman obsessed with a new social-media site, where she makes a friend who encourages a series of questionable decisions.
Tuesday, May 24, 2016
Purchased Tickets
Limited Availability
On Standby
Matinee
Thursday, May 26, 2016
Purchased Tickets
Limited Availability
On Standby
Matinee
Director Iwai Shunji (All About Lily Chou-Chou, Hana and Alice) returns to SIFF with what could be his magnum opus, A Bride for Rip Van Winkle. Nanami is a struggling high-school teacher engaged to a man she met through social media. With the wedding fast approaching, and with no relatives except for her divorced parents, she needs to find guests to fill out the bride's side of the family. Enter Amuro, a jack-of-all-trades who arranges to hire actors to play her family members at the wedding. Once married, Nanami gives up teaching and settles into the role of a housewife. Her contented life is upended when Amuro reappears and tells her that he knows her husband is having an affair. With the sudden disintegration of her marriage, Nanami finds herself single again, and in dire need of money. Once again Amuro is there to help her with a job offer as a housekeeper at a beautiful mansion. The place is mostly empty, except for fellow housekeeper Mashiro—and a variety of poisonous sea creatures lurking in large tanks around the premises—and as time passes the pair's relationship evolves in an unexpected direction. A Bride for Rip Van Winkle is a beautiful, deceptively complex and multilayered film, as touching as it is funny.

Director Biography
Iwai Shunji has earned distinction for a cinematic style and vision that came to be known as the "Iwai Aesthetic." In 1995, he scored a huge hit across Asia with his feature-length film, Love Letter.

Sponsored by Japan Foundation, Los Angeles
Original Language Title:

Rip Van Winkle No Hanayome

Director:

Iwai Shunji

Principal Cast:

Haru Kuroki, Go Ayano, Cocco

Premiere Status:

North American Premiere

Country:

Japan

Year:

2016

Running Time:

179 minutes

Producer:

Tomoyuki Miyagawa, Aki Mizuno, Muneyuki Kii

Screenplay:

Shunji Iwai

Cinematographers:

Chigi Kambe

Editors:

Shunji Iwai

Music:

Mako Kuwabara

Website:

Official Film Website

Filmography:

Vampire (2011); Friends After 3.11 (2011); New York, I Love You (2009); Tokyo! (2008); The Kon Ichikawa Story (2006); Hana and Alice (2004); All About Lily Chou-Chou (2001); Ritual (2000); April Story (1998); Picnic (1996); Love Letter (1995)

Language:

Japanese

Has Subtitles:

Yes

Format:

DCP

US Distributor:

Eleven Arts

International Sales:

Toei Company, Ltd.