Café Society: Opening Night Gala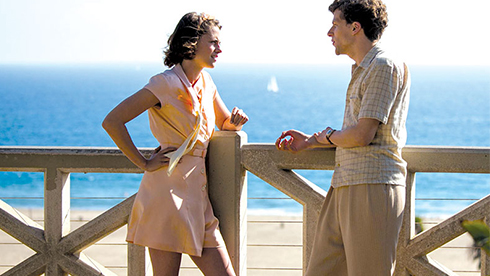 May 19, 2016
Opening Night Gala | May 19 | Film: McCaw Hall | Party: Exhibition Hall
Woody Allen's new film, set in 1930s Hollywood and New York City, is a bittersweet romance starring Jeannie Berlin, Steve Carell, Jesse Eisenberg, Blake Lively, Parker Posey, Kristen Stewart, Corey Stoll and Ken Stott.
Thursday, May 19, 2016
Purchased Tickets
Limited Availability
On Standby
Matinee
Opening Night Gala: Café Society | May 19 | Film: McCaw Hall | Party: Exhibition Hall
Let the festivities commence! Launch the Festival by attending the Opening Night Gala. This event is always a marvelous party, complete with cocktails, hors d'oeuvres, and desserts immediately following the screening.
Make the most of your evening by purchasing Premium Tickets for advanced entry to the screening and open bar at the party!
---
Café Society follows Bronx-born Bobby Dorfman (Jesse Eisenberg) to Hollywood, where he falls in love, and back to New York, where he is swept up in the vibrant world of high society nightclub life. Centering on events in the lives of Bobby's colorful Bronx family, the film is a glittering valentine to the movie stars, socialites, playboys, debutantes, politicians, and gangsters who epitomized the excitement and glamour of the age. Poignant, and often hilarious, Café Society , a film with a novel's sweep, takes us on a journey from pastel-clad dealmakers in plush Hollywood mansions, to the quarrels and tribulations of a humble Bronx family, to the rough-and-tumble violence of New York gangsters, to the sparkling surfaces and secret scandals of Manhattan high life. Woody Allen conjures up a 1930s world that has passed to tell a deeply romantic tale of dreams that never die. Café Society is notable for the director's first-time collaboration with cinematographer Vittorio Storaro, known for epics such as Apocalypse Now, Reds, and The Last Emperor. This also marks Allen's first foray into digital filmmaking, using a Sony CineAlta F65 camera.
Sponsored by CTI BioPharma
Director:

Woody Allen

Principal Cast:

Jeannie Berlin, Steve Carell, Jesse Eisenberg, Blake Lively, Parker Posey, Kristen Stewart, Corey Stoll, Ken Stott

Premiere Status:

North American Premiere

Country:

USA

Year:

2016

Running Time:

96 minutes

Producer:

Letty Aronson, Stephen Tenenbaum, Edward Walson

Screenplay:

Woody Allen

Cinematographers:

Vittorio Storaro

Filmography:

Irrational Man (2015); Magic in the Moonlight (2014); Blue Jasmine (2013); To Rome With Love (2012); Midnight in Paris (2011); You Will Meet a Tall Dark Stranger (2010); Whatever Works (2009); Vicky Cristina Barcelona (2008); Cassandra's Dream (2007); Scoop (2006); Match Point (2005); Melinda and Melinda (2004); Anything Else (2003); Hollywood Ending (2002); The Curse of the Jade Scorpion (2001); Small Time Crooks (2000); Sweet and Lowdown (1999); Celebrity (1998); Deconstructing Harry (1997); Everyone Says I Love You (1996); Mighty Aphrodite (1995); Bullets Over Broadway (1994); Manhattan Murder Mystery (1993); Husbands and Wives (1992); Shadows and Fog (1991); Alice (1990); Crimes and Misdemeanors (1989); Another Woman (1988); September (1987); Radio Days (1987); Hannah and Her Sisters (1986); The Purple Rose of Cairo (1985); Broadway Danny Rose (1984); Zelig (1983); A Midsummer Night's Sex Comedy (1982); Stardust Memories (1980); Manhattan (1979); Interiors (1979); Annie Hall (1977); Love and Death (1975); Sleeper (1973); Everything You Always Wanted to Know About Sex * But Were Afraid to Ask (1972); Bananas (1971); Take the Money and Run (1969); What's Up, Tiger Lily? (1966)

Language:

English

Format:

DCP

US Distributor:

Lionsgate Films

International Sales:

FilmNation Entertainment