Can Critics Save the Movies?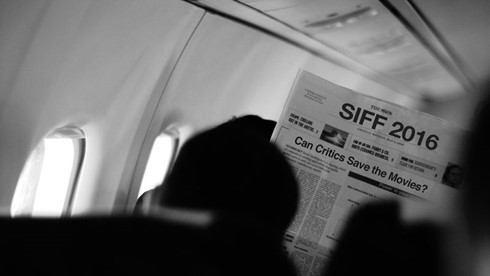 It can be easy to assume that everyone's a critic. Gone are the days in which two thumbs could determine the fate of any single movie. At the same time, there is a greater need than ever before for a signal in the noise that defines today's media landscape.
Saturday, June 11, 2016
Purchased Tickets
Limited Availability
On Standby
Matinee
How do today's working critics impact the way we talk about movies today? And how has their role changed in a culture of instant status updates and sound bites? As the release calendar fills up with more superhero and "Star Wars" movies, are critics stuck with reacting to the status quo or is there still room to champion other areas of film culture? We'll gather some of the best working critics today for a spirited debate about the future of the profession, as well as the medium of cinema itself.
Panelists expected to include:
Lindsey Bahr - Associated Press
Lindsey Bahr is a film writer and critic for the Associated Press based in Los Angeles. She previously worked for Entertainment Weekly.

David Chen - SlashFilm
David Chen is a podcaster, marketer, and filmmaker living in Seattle WA. He is currently editor-at-large at slashfilm.com and the co-creator of podcasts such as The /Filmcast and A Cast of Kings. His directorial debut, The Primary Instinct, premiered at the Seattle International Film Festival in 2015. His video work has been featured/mentioned in online publications such as Rolling Stone, Buzzfeed, Slate, Vulture, Indiewire, Laughing Squid, Devour, Bustle, Cosmopolitan, Grantland, and Vimeo Staff Picks.
John DeFore - The Hollywood Reporter
John DeFore has been writing about film and other arts since 2000, splitting time between New York and his native Texas. He has contributed to the Washington Post, the Wall Street Journal, Slate and many other publications, reviewing movies and interviewing filmmakers from David Lynch to Errol Morris. A regular contributor to The Hollywood Reporter for more than a decade, he spends much of his year at film festivals from New York and Toronto to Morocco and Reykjavik.
Sam Lansky - Time Magazine
Sam Lansky is the Hollywood Editor at TIME magazine and the author of the memoir The Gilded Razor.
Moderator: Eric Kohn
Eric Kohn is the chief film critic and a senior editor for Indiewire as well as the manager of the Criticwire Network. His work has also appeared The New York Times, Cineaste, New York Magazine,Variety, Filmmaker and several other publications. Born in Texas and raised in Seattle, he holds bachelors and masters degrees in cinema studies from NYU. He currently resides in Brooklyn with his girlfriend, two cats, and a flat-screen TV.