Chicken People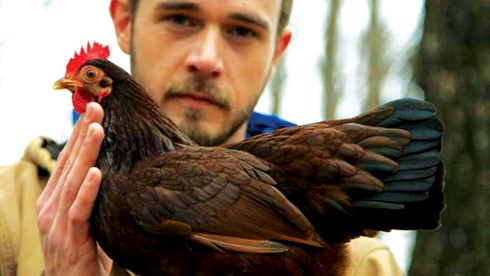 Meet the colorful breeders, and even more colorful chickens, who dedicate their lives to preening, pecking, and prepping in hopes of winning Best in Show in the quirky, exotic, and unpredictably entertaining world of competitive poultry breeding.
Friday, June 10, 2016
Purchased Tickets
Limited Availability
On Standby
Matinee
Saturday, June 11, 2016
Purchased Tickets
Limited Availability
On Standby
Matinee
Like a real-life Best in Show that exchanges barks for a hefty chorus of "ba-CAW!," Chicken People peeks (and pecks) behind the curtain of competitive poultry. Each year, chicken breeders from around the country gather at the Ohio National Poultry Show in Columbus, where judges assess more than 10,000 chickens, geese, ducks, and other fowl based on the criteria of the American Standard of Perfection, an 1874 illustrated guide to what makes "the perfect chicken." This quirky, egg-citing documentary pals around with three "hatchaholics": Brian Caraker, a professional performer in a cheesy 1960s-themed show in Branson, Missouri; Shari McCollough, a homemaker in Crawfordsville, Indiana, whose property is so overrun with animals it might as well be a zoo; and Brian Knox, a race engine builder in Wear, New Hampshire, who works on tractor pulls. All of these subjects refuse to wing it: "I love my children," Shari says, "but poultry is my life," while Brian C. mourns living in a small apartment, forcing his admittedly "not chicken people" parents to tend to his poultry while he pursues his singing career. In a high-stakes world where a single broken feather can mean a shattered dream, each breeder and their bevy of birds chase the ultimate prize in competitive poultry—the Super Grand Champion trophy—and enduring glory.
Director Biography
California-based director Nicole Lucas Haimes has produced and directed award-winning documentaries for broadcast and cable television on subjects ranging from police corruption to gene science to a celebration of Alfred Hitchcock. Chicken People is her feature documentary directorial debut.
Sponsored by The Stranger
Director:

Nicole Lucas Haimes

Principal Cast:

Brian Caraker, Brian Knox, Shari McCollough

Country:

USA

Year:

2016

Running Time:

83 minutes

Producer:

Terry Leonard, Caroline Kaplan, Christopher Clements, Julie Goldman

Cinematographers:

Martina Radwan

Editors:

Kevin Klauber, Sara Booth

Music:

Michael Hearst

Website:

Official Film Website

Filmography:

Debut Feature Film

Language:

English

Format:

DCP

International Sales:

Cinetic Media