Contemporary Color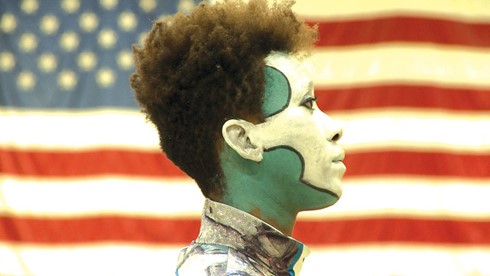 Ten of the country's elite color guard teams—the flag-flipping, sequin-studded crème de la crème of the "sport of the arts"—sync steps with musical luminaries from David Byrne to tUnE-yArDs for a bacchanalia of beats, saber-spinning, and glitter cannons.
Thursday, May 26, 2016
Purchased Tickets
Limited Availability
On Standby
Matinee
Saturday, May 28, 2016
Purchased Tickets
Limited Availability
On Standby
Matinee
Monday, May 30, 2016
Purchased Tickets
Limited Availability
On Standby
Matinee
David Byrne, iconic musician and front man of the new wave rock band Talking Heads ('75-'91), was first introduced to the sport of color guard when a team asked to license his music for their competition. Unfamiliar with color guard, Byrne was struck by its creative scope and mesmerizing patterns in movement. Color guard is rooted in military flag marching, complete with choreography that includes tossing prop rifles and sabers, and is as popular in some American high schools as the marching band. In the summer of 2015, Byrne decided to stage an event at Brooklyn's Barclays Center, uniquely combining 10 high-school color-guard teams with different musicians and artists, including St. Vincent, tUnE-yArDs, Nelly Furtado, Ad-Rock, Zola Jesus, and even Ira Glass. This one-of-a-kind live event was recorded and crafted into a entertaining and inspirational documentary by Bill and Turner Ross (45365, Tchoupitoulas, Western), two filmmaker brothers known for their compelling profiles of the relationship between culture and humanity. Contemporary Color, covering the live performances as well as behind-the-curtain interviews with artists and teenage performers, is an explosively unique, sequin-studded experience, shining a spotlight on the otherwise overlooked sport.
Director Biography
Bill and Turner Ross are documentary filmmakers known for 45365, Tchoupitoulas, and Western. In 2015, Western won the Special Jury Award at Sundance. Their latest documentary, Contemporary Color, examines a live event that took place in the summer of 2015 at Brooklyn's Barclays Center.
Sponsored by EMP Museum, KEXP 90.3 FM
Director:

Bill Ross IV, Turner Ross

Principal Cast:

David Byrne, Lucius, Nico Muhly, Ira Glass, Nelly Furtado, St. Vincent, Devonte Hynes, How to Dress Well, Zola Jesus, AD-Rock, Money Mark, tUnE-yArDs

Country:

USA

Year:

2016

Running Time:

96 minutes

Producer:

Josh Penn, Michael Gottwald, Dan Janvey, David Byrne

Cinematographers:

Jarred Alterman, Bill Ross IV, Turner Ross

Editors:

Bill Ross IV

Music:

David Byrne, Lucius, Nico Muhly, Ira Glass, Nelly Furtado, St.Vincent, Devonte Hynes, How To Dress Well, Zola Jesus, AD-Rock, Money Mark, tUnE-yArDs

Website:

Official Film Website

Awards:

Tribeca Film Festival 2016 (Best Documentary Cinematography, Documentary Editing)

Filmography:

Western (doc, 2015); Tchoupitoulas (doc, 2012); 45365 (doc, 2009)

Language:

English

Format:

DCP