The Coop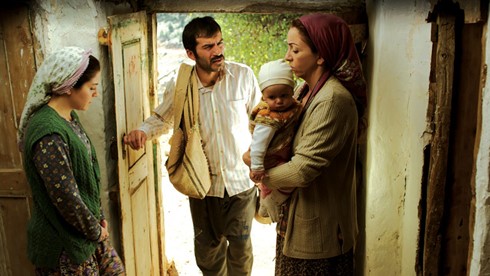 In a Turkish mountain village in the 1950s, Saniye develops fatal tuberculosis and suggests her husband take another wife for the good of the family. Six months later she is mysteriously cured and returns to her family's home—and her husband's new wife.
Saturday, June 11, 2016
Purchased Tickets
Limited Availability
On Standby
Matinee
Sunday, June 12, 2016
Purchased Tickets
Limited Availability
On Standby
Matinee
In the 1950s, in a village high in the hills of Antalya where ancient stone buildings sparsely punctuate the rolling countryside, a two-room house sits atop a barn, fronted by a chicken coop. There live Saniye, Suleyman, and their three children. One day Saniye is diagnosed with tuberculosis and told she has not long to live. From her hospital bed, she asks her husband to take on a new wife who can care for their children after her death. However, six months pass, and, to everyone's surprise, Saniye is completely cured. She returns to her house, now also home to the new wife, and an awkward cohabitation begins. "You sleep with the children!" the husband directs his first wife upon her arrival, sending them all downstairs to the barn. Later, this arrangement is amended: "I will sleep with her two nights, and you the third. Why are you complaining?" No one is satisfied; jealousy and competition run rampant—until an unexpected turn of events brings the chickens home to roost. This evocative debut film by Turkish actor Ufuk Bayraktar (Climates), who also plays Suleyman, was inspired by the experiences of his own grandmothers.

Director Biography
Turkish actor-turned-director Ufuk Bayraktar makes his feature-length debut with The Coop, which has been celebrated at the Istanbul International Film Festival. As an actor, he has taken a variety of roles in critically acclaimed films such as Destiny (2006), Egg (2007), and Climates (2006).


Original Language Title:

Kümes

Director:

Ufuk Bayraktar

Principal Cast:

Ufuk Bayraktar, Hasibe Eren, Selen Domaç

Premiere Status:

World Premiere

Country:

Turkey

Year:

2016

Running Time:

86 minutes

Producer:

Ufuk Bayraktar, Ali Adnan Ozgur

Screenplay:

Ufuk Bayraktar

Cinematographers:

Yusuf Aslanyurek

Editors:

Ufuk Bayraktar

Music:

Gokce Akcelik

Filmography:

Debut Feature Film

Language:

Turkish

Has Subtitles:

Yes

Format:

DCP