Evolution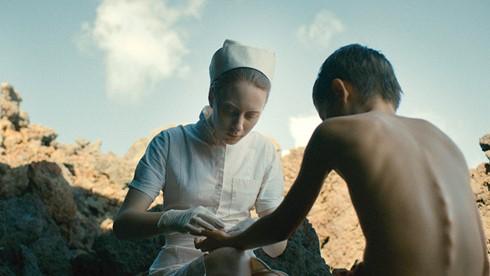 Surreal and chilling, the latest from Lucile Hadžihalilović (Innocence) unfolds on a remote island where the children are subjected to strange medical tests, while each night their guardian "mothers" congregate on the beach for a strange ritual.
Sunday, May 29, 2016
Purchased Tickets
Limited Availability
On Standby
Matinee
Monday, May 30, 2016
Purchased Tickets
Limited Availability
On Standby
Matinee
Nicolas, who would much rather draw than climb on the rocks with the rest of his friends, lives in an isolated village on an unnamed coast; scattered with dilapidated beige buildings and exclusively populated by pale women and the young boys they take care of. Each day he is fed a grimy black squid-like dish, and is routinely taken to a dingy hospital where he and other boys undergo a series of mysterious medical experiments and treatment. One night, when Nicolas sneaks out of bed to follow his "mother" to the shore, he witnesses a bizarre, orgiastic ritual among all the village women, and begins to question his entire life. Focusing on the primordial terrors surrounding the human body and the sexual fear related to male puberty, Evolution is a nightmarish and unsettling film by director Lucile Hadžihalilović (married to director Gaspar Noé, pioneer of the emerging New French Extremity movement and director of 2004's Innocence). Creating an evocative tension built on moody, dreamlike cinematography and a deliberate lack of explanation, this psychosexual body-horror film will make you look at seafood in a whole different way.
Director Biography
Lucile Hadžihalilović is a French writer and filmmaker. In 2004 she became the first woman to win the award for best film at the Stockholm International Film Festival.
Sponsored by Alliance Française de Seattle, French American Cultural Society, French Immersion School of Washington, The French American School of Puget Sound, TV5MONDE
Director:

Lucile Hadžihalilovic

Principal Cast:

Max Brebant, Roxane Duran, Julie-Marie Parmentier

Country:

France, Spain, Belgium

Year:

2015

Running Time:

81 minutes

Producer:

Sylvie Pialat, Benoît Quainon, Jérôme Vidal, Sebastián Álvarez, Geneviève Lemal, John Engel

Screenplay:

Lucile Hadžihalilovic, Alanté Kavaïté, Geoff Cox

Cinematographers:

Manu Dacosse

Editors:

Nassim Gordji Tehrani

Music:

Jesús Díaz, Zacarías M. de la Riva

Website:

Official Film Website

Filmography:

Innocence (2004); Mimi (1996)

Language:

French

Has Subtitles:

Yes

Format:

DCP

US Distributor:

IFC Midnight

International Sales:

Wild Bunch