foreveryone.net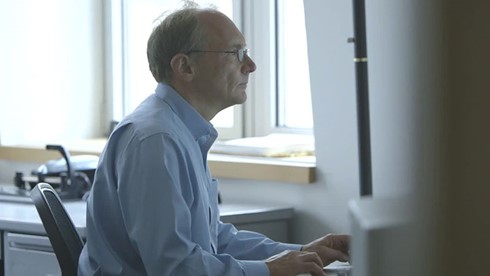 Sir Tim Berners-Lee changed the world when he created the World Wide Web in 1989—he now emerges to tell his story for the first time and discuss new threats to Internet access as we know it.
Sunday, June 5, 2016
Purchased Tickets
Limited Availability
On Standby
Matinee
In 1989 a young computer programmer from London changed the world forever when he created the World Wide Web. As colossal as that achievement is, Sir Tim Berners-Lee is far from being a household name, and very few people know his story. Instead of monetizing his invention, a step that would propel him toward fame and fortune, Berners-Lee refused to seek a patent on the internet, making it a free and accessible resource for everyone. This decision sparked a global revolution and completely changed the way individuals communicate and obtain information forever. In Jessica Yu's (Last Call at the Oasis, Misconception) documentary, the focus is placed on the development and early stages of Berners-Lee's internet, as well as the call for net neutrality and the campaign for the World Wide Web to remain free and accessible for all. Combining footage that has become endearingly (and rapidly) nostalgic—clunky '90s PCs, text-heavy programs, and awkward website designs—with interviews with the mystery man responsible for our hyperconnectivity, foreveryone.net shows the power of the internet and the importance of Sir Tim Berners-Lee's continued vision.
Director Jessica Yu and subject Sir Tim Berners-Lee are expected to be in attendance for a post-screening discussion with New York Times reporter Nick Wingfield.
Director Biography
Jessica Yu is an internationally renowned filmmaker whose films include the Academy Award-Winning Breathing Lessons, Misconception (2014), Last Call at the Oasis (2011), and In the Realms of the Unreal (2004).
Director:

Jessica Yu

Principal Cast:

Sir Tim Berners-Lee, Mary Lee Berners-Lee, Jeff Jaffe, Jonathan Zittrain, Tilly Blyth

Premiere Status:

World Premiere

Country:

USA, United Kingdom

Year:

2016

Running Time:

35 minutes

Producer:

Lisa Remington, Jessica Yu

Screenplay:

Jessica Yu

Cinematographers:

Josh Salzman, Chris Openshaw

Editors:

Azin Samari

Music:

Jeff Beal

Website:

Official Film Website

Language:

English

Format:

DCP

International Sales:

Submarine Entertainment