The Intervention: Saturday Film & Party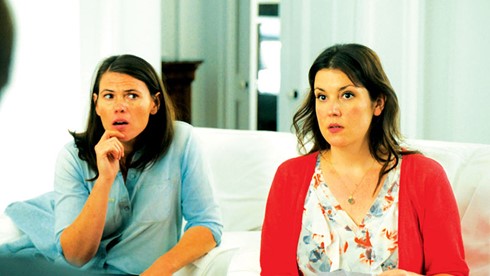 May 28, 2016
Saturday Film & Party | May 28 | Film: AMC Pacific Place Cinemas | Party: Seattle Art Museum
Actress Clea DuVall's directorial debut is a modern twist on The Big Chill, with a top-notch indie cast portraying a group of friends whose reunion getaway goes south when it is revealed that the trip was orchestrated as an intervention for one troubled marriage.
Saturday, May 28, 2016
Purchased Tickets
Limited Availability
On Standby
Matinee
Sunday, May 29, 2016
Purchased Tickets
Limited Availability
On Standby
Matinee
Saturday Film & Party: The Intervention | May 28 | Film: AMC Pacific Place Cinemas | Party: Seattle Art Museum
Saturday night, done right! SIFF features a screening followed by a reception complete with food, drink, and music at the Seattle Art Museum!
---
Actress Clea DuVall (But I'm a Cheerleader, The Faculty) makes her directorial debut in this relationship dramedy analogous to reunion films like Lawrence Kasdan's The Big Chill. Annie (Melanie Lynskey, Heavenly Creatures, Hello I Must Be Going) gathers a group of her long-term friends to meet at a lakeside cabin for what seems to be a regular annual get-together. In reality, Annie and her friends are staging an intervention for one couple, Ruby (Cobie Smulders) and Peter (Vincent Piazza), and their intolerable marriage. Convinced they're the only ones who can knock some sense into the constantly bickering pair, the friends—played by an all-star indie cast including Natasha Lyonne, Alia Shawkat, Jason Ritter, and Ben Schwartz—sit them down to try to persuade them to end their marriage. Over the course of an evening, the friends must confront their own personal flaws and learn what it takes to be in a working relationship—whatever that means. Delivered with authenticity and a constant flow of humorous dialogue from an exceptionally funny and talented cast, The Intervention is a touching and comic look at the willpower of love and friendship, and when it's necessary to butt in.

Director Biography
Clea DuVall is a celebrated actor, born in Los Angeles, well known for her roles in 1999's But I'm a Cheerleader and 2012's Argo. She makes her directorial debut with The Intervention, for which she also wrote the screenplay.

Sponsored by Seattle Art Museum
Director:

Clea DuVall

Principal Cast:

Melanie Lynskey, Cobie Smulders, Alia Shawkat, Clea DuVall, Natasha Lyonne, Ben Schwartz

Country:

USA

Year:

2016

Running Time:

91 minutes

Producer:

Paul Bernon, Sam Slater, Sev Ohanian, Mel Eslyn, Clea DuVall

Screenplay:

Clea DuVall

Cinematographers:

Polly Morgan

Editors:

Tamara Meem

Music:

Sara Quin

Website:

Official Film Website

Awards:

Sundance Film Festival 2016 (U.S. Dramatic Individual Performance Award: Melanie Lynskey)

Filmography:

Debut Feature Film

Language:

English

Format:

DCP

US Distributor:

Samuel Goldwyn Films

International Sales:

ICM