Light the Set Up: Cinematography Panel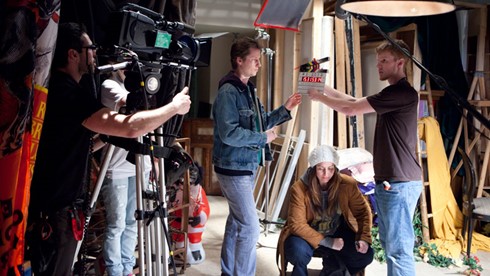 Women in Film Seattle presents an illuminating panel of professional cinematographers discussing the psychology of creating images and manipulating resources to paint a picture on screen.


Sunday, May 22, 2016
Purchased Tickets
Limited Availability
On Standby
Matinee
A cinematographer's job and goal is to create the images that evoke emotion and provoke thought. Composition, angles, movement, and lighting all work to help craft the story. Hand in hand with the director, the cinematographer works to strengthen the plot. Lighting the set has always played an important role in telling the story and still does, yet are we transitioning from wanting and needing to artificially light "the set," to using available light, or at least a very light touch? Cinematographers discuss the psychology of creating images and manipulating resources to paint a picture on screen.
Women in Film Seattle Members with Membership Card may attend for $5 at the Film Center box office on the day of the show only.

Panelists Expected to Include:
Lulu Gargiulo, director of photography of documentaries including The Most Dangerous Year, The Meaning of Food, and features, The Year of My Japanese Cousin. Lulu is a Women in Film grant recipient, and punk rock star.

Chris Mosio, Emmy and Telly award-winning director of photography whose credits include 1000 Places to See Before You Die (Travel Channel), Akeelah and the Bee, projects with Will Smith, Angela Bassett and Laurence Fishburne; and the locally spawned hit series JourneyQuest.

Domenic Barbero, director of photography of features, documentaries and short films including the Northwest Connections mystery thriller, Paralytic screening in SIFF, June 7, at 9:00 PM at SIFF Uptown
Andrés Garretón, director of photography has over 36 years experience shooting features, commercials, and television and logs a record 10 films that have screened at Seattle International Film Festival. This year's film is Gold Balls.
Moderators:
Virginia Bogert, President Emeritus, Women in Film Seattle
Laura Jean Cronin, President, Women in Film Seattle