The Lovers and the Despot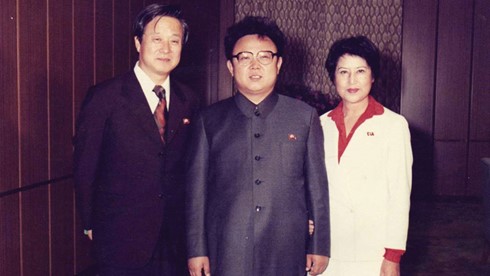 A real-life espionage thriller about a famous South Korean director and his actress wife who planned a daring escape after being kidnapped and forced to work as the personal filmmakers of North Korean dictator Kim Jong-il.
Saturday, May 21, 2016
Purchased Tickets
Limited Availability
On Standby
Matinee
Monday, May 23, 2016
Purchased Tickets
Limited Availability
On Standby
Matinee
Close relationships between film directors and dictators are not unknown—Eisenstein and Stalin, Riefenstahl and Hitler. But none was more bizarre than that of South Korean director Shin Sang-ok, his actress wife, Choi Eun-hee, and Kim Jong-il, North Korea's "Dear Father." Such a fervent film fan was Kim, and so disappointed by the state of North Korean cinema, that he had the two literally kidnapped to serve as his personal filmmakers. ("Why do all of our films have the same ideological plots?" asks the insane totalitarian, in a darkly comic irony.) Robert Cannan and Ross Adam's documentary, drawing on the mood and style of espionage thrillers, tells the story arrestingly: Major players in the South Korean film industry since the '50s, Choi was taken in 1978, while Shin vanished two months later, presumed dead (the victim of South Korea's own oppressive regime). After five years of imprisonment, the two were reunited—and set to work, cranking out seven films in two years (including a remake of Godzilla) before their dramatic escape to the U.S. Embassy in Vienna. Cannan and Adam combine film clips, reenactments, and extraordinarily rare footage of the secretive North Korean regime with interviews—including with Choi herself, now 89—and recordings of phone conversations, taped at terrible risk, of Kim himself.

Director Biography
Rob Cannan has worked in various roles on features, shorts, and music videos, including as Nick Broomfield's AP on the docudrama Ghosts (Sundance 2007), before directing the critically acclaimed feature documentary Three Miles North of Molkom. Cannan is now consulting on a fiction remake of the film slated for 2016.
Ross Adam has worked as a director, cameraman, and editor on short films, music videos, art installations, commercials, and corporate videos and is a talented photographer.

Sponsored by Bellevue Reporter
Director:

Robert Cannan, Ross Adam

Country:

United Kingdom

Year:

2016

Running Time:

94 minutes

Producer:

Natasha Dack Ojumu, Rob Cannan, Ross Adam

Cinematographers:

Rob Cannan, Ross Adam

Editors:

Jim Hession

Music:

Nathan Halpern

Website:

Official Film Website

Filmography:

CANNAN: Three Miles North of Molkom (Doc, 2008); ADAMS: Debut Feature Film

Language:

English, Korean, Japanese

Has Subtitles:

Yes

Format:

DCP

US Distributor:

Magnolia Pictures

International Sales:

Submarine Entertainment