My Blind Brother: Renton Opening Night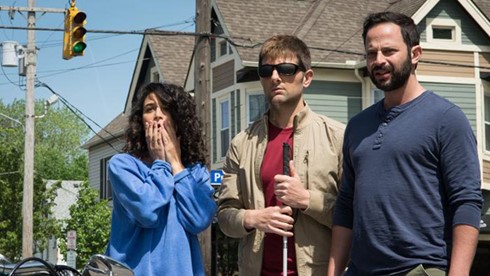 May 26, 2016
Renton Opening Night | May 26 | Film: IKEA Performing Arts Center | Party: Renton Pavilion Event Center
Comedy dynamos Adam Scott, Nick Kroll, and Jenny Slate star in an unconventional screwball romantic comedy about a lovable slacker who falls in love with the girlfriend of his blind, narcissistic brother.
Thursday, May 26, 2016
Purchased Tickets
Limited Availability
On Standby
Matinee
Friday, May 27, 2016
Purchased Tickets
Limited Availability
On Standby
Matinee
Renton Opening Night: My Blind Brother | May 26 | Film: Renton IKEA Performing Arts Center | Party: Renton Pavilion Event Center
Enjoy a sampling from all of Renton's best restaurants at the Renton Opening Night party at the Renton Pavilion Event Center after the screening.
---
Adam Scott ("Parks and Recreation") stars as Robbie, a blind athlete who's handsome, successful, and more than a little arrogant. He regularly participates in marathons and charity runs as a way of raising money for other blind people, an act of kindness perhaps somewhat diminished by how often he brags about and flaunts his athletic prowess. He's also a local celebrity, adored by fans and broadcast news reporters alike. Meanwhile, Robbie's sighted brother Bill (Nick Kroll, "Kroll Show") stays by Robbie's side every step of the way, acting as his eyes during marathons and other athletic events. Despite Bill's own accomplishments, he tends to get overlooked—a consequence of standing in the shadow of his successful blind brother. Feeling resentful and jealous, Bill heads out to drown his sorrows, only to get sidetracked when he inadvertently crashes a wake taking place at the bar. There he meets Rose (Jenny Slate, Obvious Child), the ex-girlfriend of the deceased, whom she dumped right before his untimely death. Bill and Rose bond over a shared sense of guilt and shame, and Bill quickly falls for her. Unfortunately for him, Rose soon begins dating Robbie. Now Bill has to decide whether to stand by his brother's side as usual or finally stand up to his brother and go after the girl of his dreams.

Director Biography
Sophie Goodhart is a London-born writer and director of television and film. She adapted her 2003 Cannes Palme D'Or-nominated short film, My Blind Brother, into a feature-length version, which is her feature-length directorial debut. She is currently based in the United States.

Sponsored by Brotherton Cadillac Buick GMC
Director:

Sophie Goodhart

Principal Cast:

Adam Scott, Nick Kroll, Jenny Slate, Zoe Kazan, Charlie Hewson, Maryann Nagel

Country:

USA

Year:

2016

Running Time:

90 minutes

Producer:

Tyler Davidson, Tory Tunnell

Screenplay:

Sophie Goodhart

Cinematographers:

Eric Lin

Editors:

Jennifer Lee

Music:

Ian Hultquist

Awards:

SXSW 2016 (Gamechanger Award)

Filmography:

Debut Feature Film

Language:

English

Format:

DCP

US Distributor:

Starz

International Sales:

WME