Scoring the New Storytelling Frontier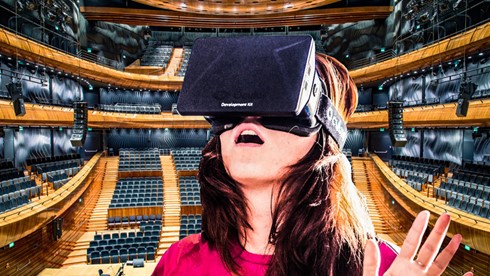 Music and Sound for film have undergone huge developments, influenced by Video Games, Mobile Platforms, and now Virtual Reality. Join composers Penka Kouneva (Gears of War 3, Transformers), Hummie Mann (Robin Hood: Men in Tights), and sound designer Andy Martin (inFAMOUS) as they tackle sound and music possibilities for these new cinematic experiences.
Sunday, May 22, 2016
Purchased Tickets
Limited Availability
On Standby
Matinee
Panelist Bios:
Penka Kouneva
A Film & Game composer of "exquisite talent" (Billboard) Penka Kouneva began her career in independent film/TV in 2000 and had a break scoring video games in 2009 ("Prince of Persia: Forgotten Sands" and "Transformers: Revenge of the Fallen" games, with themes by Steve Jablonsky). Recently, Penka has scored a dozen award-winning indie games and indie features (Primrose Lane and Midnight Movie on AMC). Her films have been shown at Cannes, Deauville, and festivals around the world. Penka has released two award-winning concept albums: The Woman Astronaut (2015) and A Warrior's Odyssey (2012) both receiving 5-star press. Her music has been reviewed as "luminous, original, innovative, groundbreaking, fantastic." Penka's composition awards include: Game Audio Network Guild's Recognition Award (2016), Sundance Composer Fellowship, and two Ovation Awards.
Hummie Mann, Film Composer
Composer Hummie Mann has collaborated with some of Hollywood's most celebrated directors. His feature film scores have ranged from Mel Brooks' Robin Hood: Men in Tights and Dracula: Dead & Loving It to Peter Yates' Year of the Comet. He also scored the children's film Thomas and the Magic Railroad, Wooly Boys starring Peter Fonda and Kris Kristofferson and the IMAX digital animated film Cyberworld 3D. He is the creator and lead instructor of the Pacific Northwest Film Scoring Program (currently the music department of the Seattle Film Institute) and has taught film composition courses in Scotland, Denmark and China. In 2010 he ran a film composition workshop at the Dakhla Film Festival in Morocco and Variety Magazine listed him as a "Leader in Learning" in its 2010 Education Impact Report. Most recently he completed his Doctor of Musical Arts degree through the University of Salford in Manchester, UK. His thesis title was "The Temporal and Rhythmic Effect on Musical Composition and Form When Scoring Dramatic Moving Picture". His current project is the animated feature "Vincent the Artist" for which he is composing the songs for the film.
Andy Martin, Sound Designer/ Field Recordist/ Audio Monkey
A lifelong noise-maker at heart, Andy first discovered sound design while attending Berklee College of Music. He has since crisscrossed the United States making nifty noises for film, television, video games, commercials, libraries, and more. An avid field recordist, when he's not making things on a screen go whoosh for a Seattle video game company, Andy can be found out in the woods with his daughter, patiently listening for birds and insects, stalking railways for excellent train pass-bys, and putting contact microphones on weird sounding objects. Lately Andy can be found way out in the wilderness of the Pacific Northwest, recording for The Northwest Soundscapes Project.