Stranger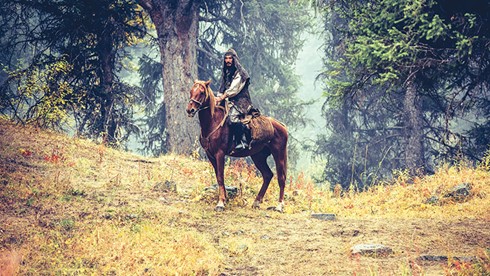 Yermek Tursunov (Kelin, The Old Man) completes his trilogy about Kazakh identity, in which an orphaned young boy takes to the mountains and lives among a pack of wolves in the days before WWII.
Monday, May 30, 2016
Purchased Tickets
Limited Availability
On Standby
Matinee
Saturday, June 4, 2016
Purchased Tickets
Limited Availability
On Standby
Matinee
Sunday, June 12, 2016
Purchased Tickets
Limited Availability
On Standby
Matinee
Stranger is an emotional, epic story of a man's life on the Kazakhstan steppes in the 1930s. Ilyas is a young shepherd orphaned by brutal collectivization campaigns, famine, and systematic purges. Completely disgusted by society, and refusing to join the army to fight in WWII, he lives high in the mountains away from his people. Though he lives off the lush land, he has a symbiotic relationship with the animals that surround him, and even shows kindness to the humans who wander into his world. Novelist, writer, and film director Yermek Tursunov explains that the Kazakh name for the film is Zhat, which does not translate exactly as "stranger," but something nearer to "outsider" or "the other." Tursunov's traditional style and approach to the story had him shooting his film in real places, in real weather conditions, using villagers for extras. With sweeping vistas and intense wilderness action scenes, the film is a bit like a Western, or a combination of Sydney Pollack's Jeremiah Johnson and Kurosawa's Dersu Uzala. For Tursunov, it is about not only tradition, but also identity; his film is a visualization of the loss of culture and tradition. "We lost our traditional life, because we are nomads. When the communist party came to our steppe, we had to get off our horses and change our life."
Director Biography
Kazakh writer/director Yermek Tursunov was born in 1961 and graduated with a degree in journalism from the Kazakh National University. His 2009 debut feature, Kelin, was met with critical acclaim. His latest film, Stranger, was Kazakhstan's entry for Best Foreign Film at the 2016 Academy Awards®. Along with writing and filmmaking, he is a translator of classic and modern Kazakh novels into Russian.
Sponsored by Snoqualmie Indian Tribe, The Stranger
Original Language Title:

Zhat

Director:

Yermek Tursunov

Principal Cast:

Yerzhan Nurymbet, Elina Abay Kyzy, Kuandyk Kystykbayev, Alexander Karpov, Roza Khairullina

Premiere Status:

US Premiere

Country:

Kazakhstan

Year:

2015

Running Time:

105 minutes

Producer:

Kanat Torebay

Screenplay:

Yermek Tursunov

Cinematographers:

Murat Aliyev

Editors:

Galymzhan Sanbayev

Music:

Kuat Shildebayev

Website:

Official Film Website

Awards:

Official Oscar Submission 2015 (Foreign Language Film)

Filmography:

Little Brother (2015); Crone (2014); The Old Man (2012); Kelin (2009)

Language:

Kazakh

Has Subtitles:

Yes

Format:

DCP

International Sales:

Tursunov Film Company