Weiner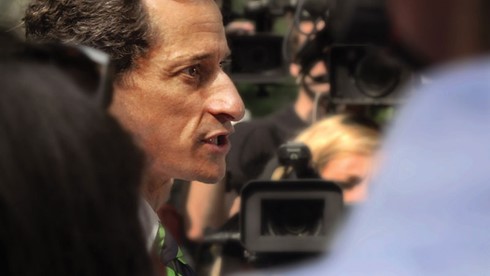 Sexts, lies, and Carlos Danger: Go behind the scenes of the most jaw-dropping political meltdown in recent history as Anthony Weiner mounts his audacious, ill-fated comeback campaign for New York City mayor. Winner of the Sundance Grand Jury Prize.


Friday, May 20, 2016
Purchased Tickets
Limited Availability
On Standby
Matinee
Sunday, May 22, 2016
Purchased Tickets
Limited Availability
On Standby
Matinee
Foodies have their nose-to-tail movement, in which every bit of a beast is served up, from filet to tripe. Weiner may represent a similar innovation in politics. Now, a scant three years after Anthony Weiner's New York City mayoral campaign tanked because he was sexting women under the pseudonym "Carlos Danger," the campaign's embedded documentarians serve up the results of their unlimited behind-the-scenes access: interviews, campaign events, and cable news sound bites. Filmmaker Josh Kriegman told a Park City, Utah, press conference (called for the film, not the candidacy) that he and co-director Elyse Steinberg wanted to "show how much the political conversation is driven by these easy narratives and sensational headlines and one-liners." Well, maybe—the line between telling Weiner jokes and making meta-commentary on them can be a thin one. Studio executives have hyped the film's other draw: footage of Weiner's wife, Huma Abedin, currently an aide to Hillary Clinton. Abedin's prominence in the film's publicity points to its lack in the Weiner story, if not in the film. Unlike the dramatic fall of New York governor Eliot Spitzer, Weiner's drop was short, from also-ran to loser. Weiner's can't-miss meta moment has to be Weiner and Abedin, sitting in their living room on the morning after the election, being asked by Kriegman, "Why have you let me film this?"


Director Biography
Elyse Steinberg wrote, produced, and directed the acclaimed feature documentary The Trial of Saddam Hussein for PBS. Josh Kriegman directed nonfiction film and television for networks such as MTV, A&E, and PBS.


Sponsored by KPLU, CTI BioPharma


Director:

Josh Kriegman, Elyse Steinberg

Country:

USA

Year:

2016

Running Time:

100 minutes

Producer:

Josh Kriegman, Elyse Steinberg

Screenplay:

Josh Kriegman, Elyse Steinberg, Eli Despres

Cinematographers:

Josh Kriegman

Editors:

Eli Despres

Music:

Jeff Beal

Awards:

Sundance Film Festival 2016 (U.S. Documentary Grand Jury Prize), Sarasota Film Festival 2016 (Grand Jury Award)

Language:

English

Format:

DCP

US Distributor:

Sundance Selects

International Sales:

Submarine Entertainment