Belle de Jour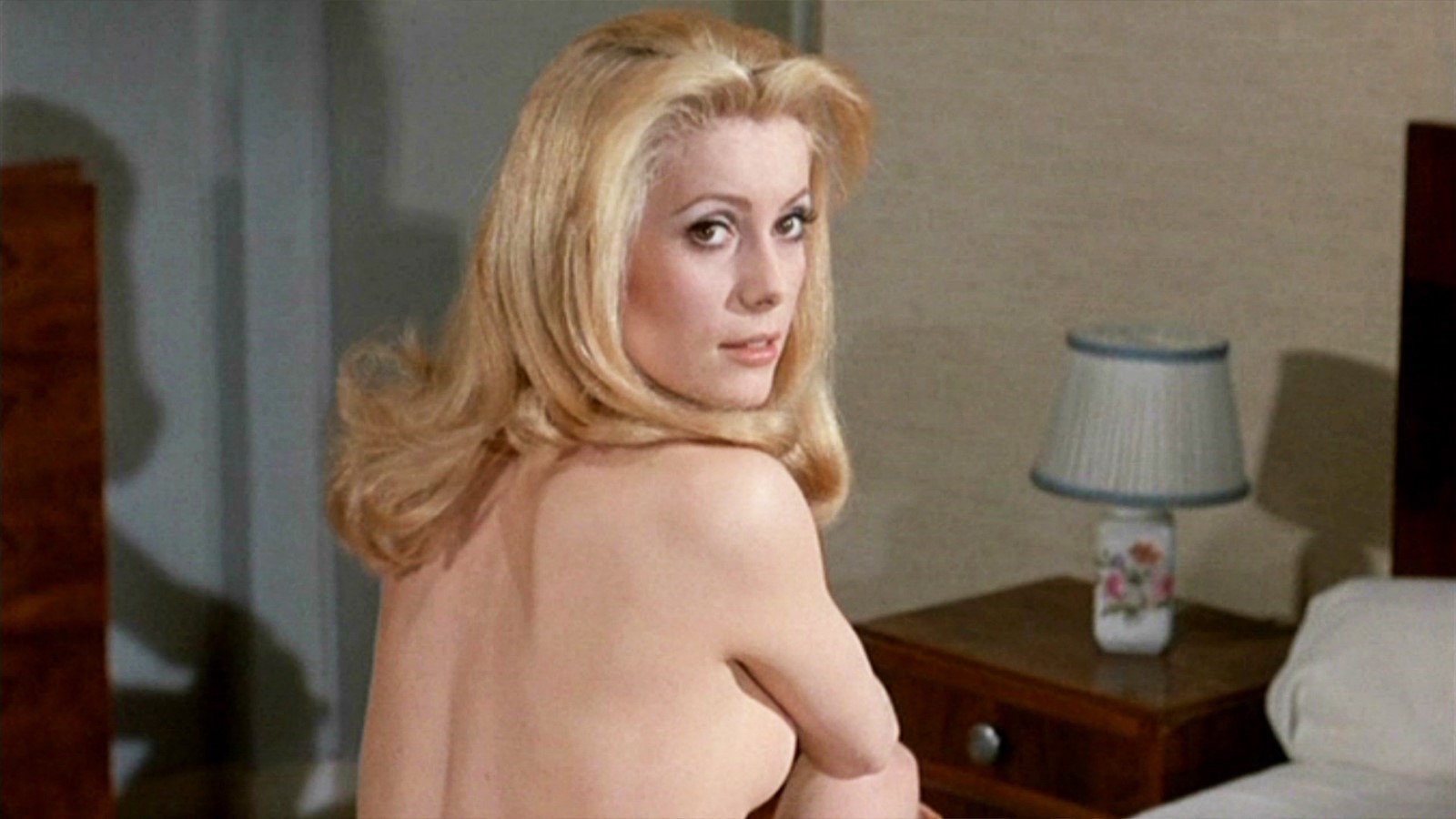 Catherine Deneuve's porcelain perfection hides a cracked interior in her iconic performance as a bored housewife turned part-time sex worker for Luis Buñuel's elegantly surreal and erotic late-sixties daydream; a transgressive examination of desire and fetishistic pleasure.
"It is possibly the best-known erotic film of modern times, perhaps the best. That's because it understands eroticism from the inside-out." - Roger Ebert
Luis Bunuel, famous for co-writing the disturbing surrealist film Un Chien Andalou with Salvador Dali in 1929 and wickedly taking down the upper class nearly fifty years later in The Discreet Charm of the Bourgeoisie, explores the duality of sadism and shame, fantasy and fidelity, in 1967's Belle de Jour. Based on the 1928 novel by Joseph Kessel, this erotically charged story follows bored Parisian housewife, Severine (Catherine Deneuve, The Umbrellas of Cherbourg), as she makes the fateful choice to become a high-class prostitute while her husband is at work during the day. Achingly aware of the distance between her and her husband, both emotional and physical, Severine embraces her wild daydreams of fetishistic pleasure, BDSM, and gratification through humiliation. She becomes enchanted by her new life as a call girl at a brothel downtown, finally finding sexual fulfillment and even a risky new relationship with local silver-toothed ruffian Marcel (Pierre Clementi). However, Severine's indulgence doesn't come without a price, and soon she must decide where to draw the line between real life and her persona as the confident and rebellious "Belle de Jour." Bunuel's languid and seductive tale comments on gender relations and the pressures of societal influence, as well as the sweet control one can find in fantasy.
Restored in 4K from the original negative by Studiocanal, in partnership with the CNC, La Cinémathèque Française, the Franco-American Cultural Fund and the house of Yves Saint Laurent.
Director Biography
Called "a leader of avant-garde surrealism," by The New York Times, Spanish filmmaker Luis Bunuel was known as one of the industry's most notable troublemakers. Bunuel revolted against his stringent Jesuit upbringing which resulted in his trademark satire and overt mockery of religion and conformity. He is also known for the shocking imagery portrayed infamously in his first short film, Un Chien Andalou (1929), co-written with artist Salvador Dali. Among his accolades are the award for Best Director for The Young and the Damned (1950), as well as the Palme d'Or for Virdiana (1961) from the Cannes Film Festival.

Sponsored by KING 5
Original Language Title:

Belle de jour

Director:

Luis Bunuel

Principal Cast:

Catherine Deneuve, Jean Sorel, Michel Piccoli, Genevieve Page, Pierre Clementi

Country:

France

Year:

1967

Running Time:

100 minutes

Producer:

Raymond Hakim, Robert Hakim

Screenplay:

Joseph Kessel, Luis Bunuel, Jean-Claude Carriere

Cinematographers:

Sacha Vierny

Editors:

Louisette Hautecoeur

Website:

Official Film Website

Filmography:

That Obscure Object of Desire (1977); The Discreet Charms of the Bourgeoise (1972); Tristana (1970); The Milky Way (1969); Simon of the Desert (1965); The Diary of a Chambermaid (1964); Exterminating Angel (1962); Viridiana (1961); Los Olvidados (1950)

Language:

French

Has Subtitles:

Yes

Format:

DCP

US Distributor:

Janus Films