Eight Hours Don't Make a Day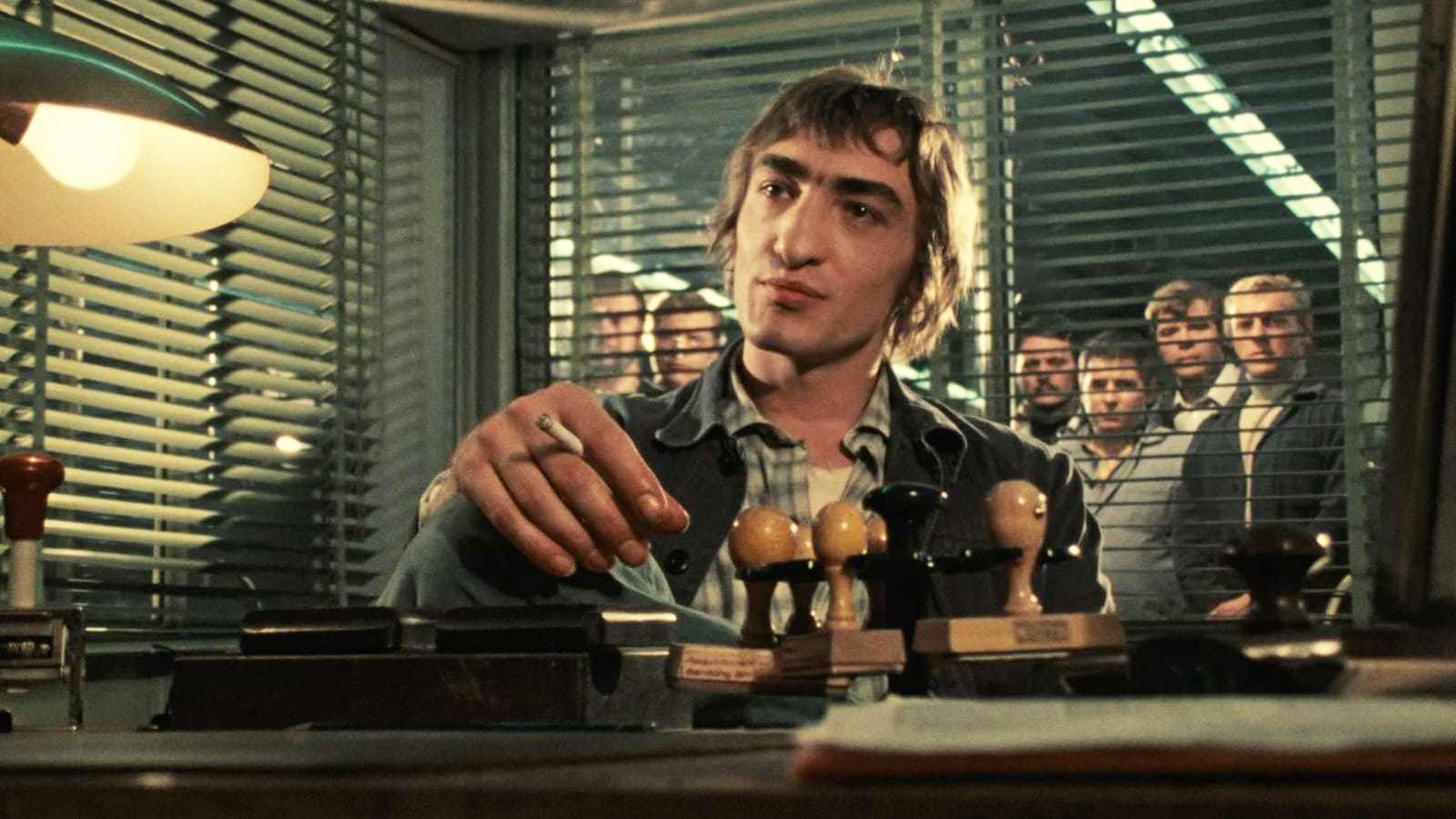 Virtually unseen since it's original broadcast, Rainer Werner Fassbinder's epic television series, produced eight years before his revered Berlin Alexanderplatz, is a decades-spanning social history of postwar Germany as told through the life of a young toolmaker and his sprawling group of friends, coworkers, and family.
See Fassbinder's sprawling masterpiece as a Saturday marathon - with two 20 minute intermissions - or watch the episodes in installments every Wednesday evening of the festival!
SHOWTIMES
Saturday, May 19 | Marathon Screening
Wednesday, May 23 | Part 1 and 2
Wednesday, May 30 | Part 3 and 4
Wednesday, June 6 | Part 5
Rainer Werner Fassbinder was one of the most prolific filmmakers in history. At the forefront of the New German Cinema movement, he wrote and directed over forty films in fifteen years. He also made two TV series and directed 24 plays. Eight Hours Don't Make A Day is one of those series—a five-part miniseries that was shown on West German televisions in 1972 and 1973. This multilayered, character-driven saga centers on the Kruger family along with their lovers, in-laws, and friends. We follow skilled worker Jochen (Gottfried John) as he navigates a romantic relationship with Marion (Hanna Schygulla) and fights for better working conditions with his co-workers. Meanwhile, Grandma (Luise Ullrich), the kooky, strong-willed matriarch of the family fights to turn a closed-down library into a daycare center. All of this activity is captured via fluid camera zooms and pans, as well as Fassbinder's dynamic blocking. The late director gracefully examines both domestic relationships and labor relationships through a dramatic, often comedic lens. Previously unreleased in the U.S. until now, this brand new restoration played at the 2018 Berlin International Film Festival.
Digitally restored from the reversal positive by ARRI, under the direction of Juliane Maria Lorenz. Funded by: MoMA / FFA / ARRI / RWFF / RWF Werkschau / Verlag der Autoren

Director Biography
Rainer Werner Fassbinder is noted as a catalyst of the New German Cinema movement, known for low-budget films that attracted art house audiences and thus garnered Hollywood's attention. Born in 1945, his childhood was deeply impacted by the aftermath of World War II which also translates closely to themes in his filmmaking. His passion for the arts began when in troubled financial times; his mother would send him to the cinema so she could work tireless as a translator to support his family.

Sponsored by Brotherton Cadillac Buick GMC in Renton
Original Language Title:

Acht Stunden sind kein Tag

Director:

Rainer Werner Fassbinder

Principal Cast:

Gottfried John, Hanna Schygulla, Irm Hermann, Luise Ullrich, Werner Finck

Country:

Germany

Year:

1972

Running Time:

478 minutes

Producer:

Peter Marthesheimer

Screenplay:

Rainer Werner Fassbinder

Cinematographers:

Dietrich Lohmann

Editors:

Marie Anne Gerhardt

Music:

Fuzzy (Jens Wilhelm Pedersen)

Filmography:

Veronika Voss (1982); Querelle (1982); Berlin Alexanderplatz (1980); The Marriage of Maria Braun (1979); Fox and His Friends (1975); Ali: Fear Eats the Soul (1974); World on a Wire (1973); The Bitter Tears of Petra von Kant (1972)

Language:

German

Has Subtitles:

Yes

Format:

DCP

US Distributor:

Janus Films