The Pink Cloud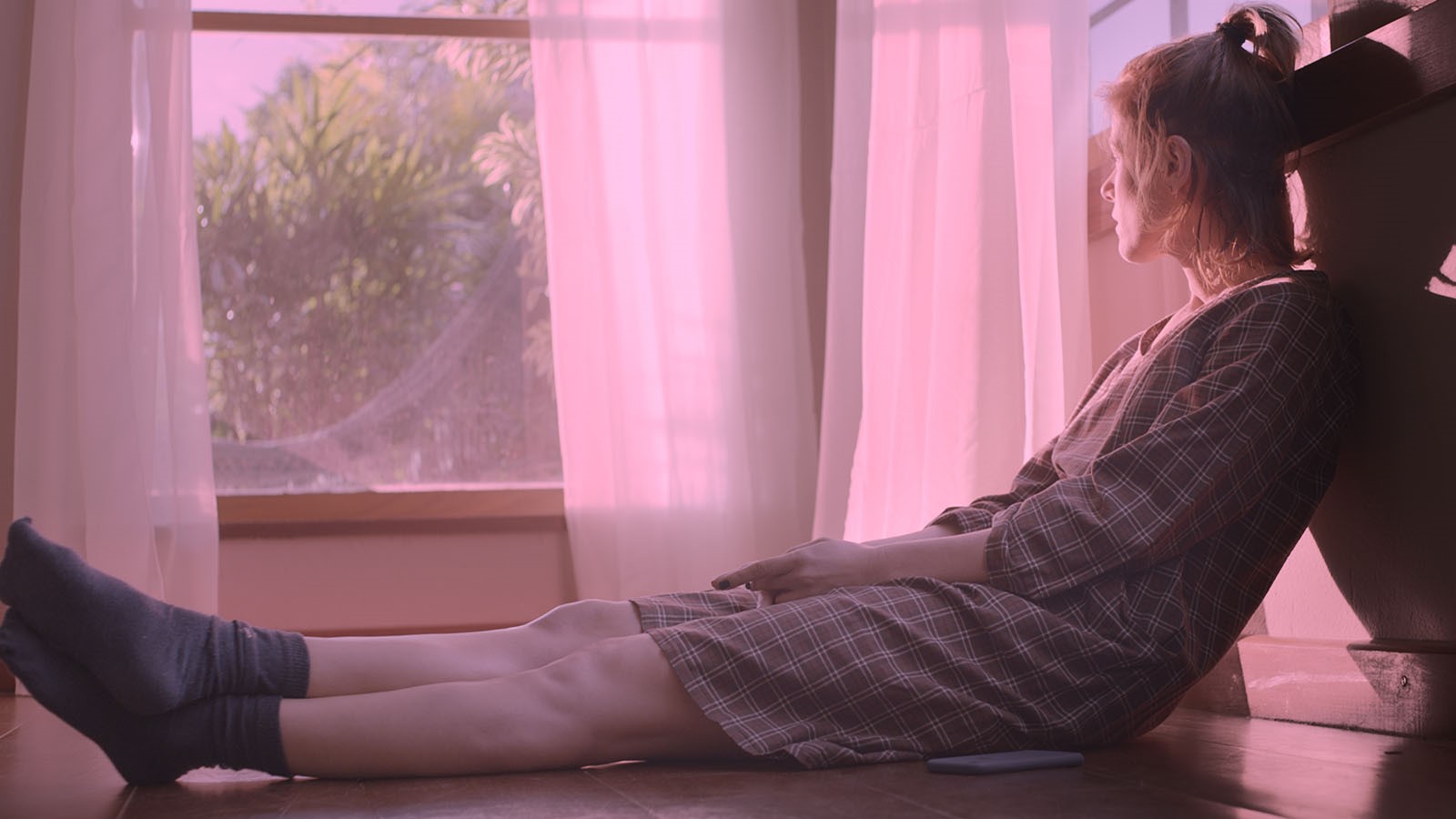 April 8 - 18, 2021
When a mysterious and lethal pink cloud appears over a Brazilian city, two people engaging in a one-night stand are forced to quarantine together over several years in this eerie and prescient science-fiction film that now seems all too real.
LIVE Q&A - April 15, 5:00pm PT
This film is available to view April 8–18. We suggest watching it on April 15 starting at 3:10pm PT followed by the live Q&A at 5:00pm PT. Iuli Gerbase (director) scheduled to participate.
And one day they simply appeared: beautiful, billowy pink clouds drifting lazily over Brazil, hovering over its cities and immediately killing anyone unlucky enough to get too close. When air-raid sirens warning of the clouds' deadly toxicity interrupt their quick one-nighter, Giovana (Renata de Lélis) and Yago (Eduardo Mendonça) hurry inside her high-rise apartment, shutting all windows and settling into quarantine for what'll surely be no more than a few weeks, tops. It's business as usual for a while—screen-time chats with her kid sister, Yago checking in with his aging father—as the tentative couple settle in for the long haul, blissfully welcoming son Lino. But as months turn into years, the couple increasingly find themselves at each other's throats, reaching their breaking point as a family and settling into an ever more unsteady living arrangement. As Yago becomes acclimated to their sealed-off existence and the toll of raising a son who knows nothing but life under the pink cloud, VR-addicted Giovana becomes increasingly desperate for connection as the world outside beckons, leading to a life-altering decision in this unique, and devastatingly familiar new thriller from writer/director Iuli Gerbase, filmed in 2019, an entire year before life truly began imitating art.
Director Biography
Iuli Gerbase started filmmaking at age 20 and developed a taste for writing strong dialogues and exploring inner conflicts. She has written and directed six short films, which were selected by such festivals as the Toronto International Film Festival and the Havana Film Festival. The Pink Cloud (2021), a drama with touches of surrealism and sci-fi, is her first feature film. Gerbase is developing her second feature (another sci-fi drama) and a TV series.
Original Language Title:

A Nuvem Rosa

Director:

Iuli Gerbase

Principal Cast:

Renata de Lelis, Eduardo Mendonca, Kaya Rodrigues, Girley Brasil Paes, Helena Becker

Premiere Status:

Seattle

Country:

Brazil

Year:

2021

Running Time:

103 minutes

Producer:

Patricia Barbieri

Screenplay:

Iuli Gerbase

Cinematographers:

Bruno Polidoro

Editors:

Vicente Moreno

Music:

Caio Amon

Website:

Official Film Website

Filmography:

Debut Feature Film

Language:

Portuguese

Has Subtitles:

Yes

International Sales:

MPM Premium