The Unknown Saint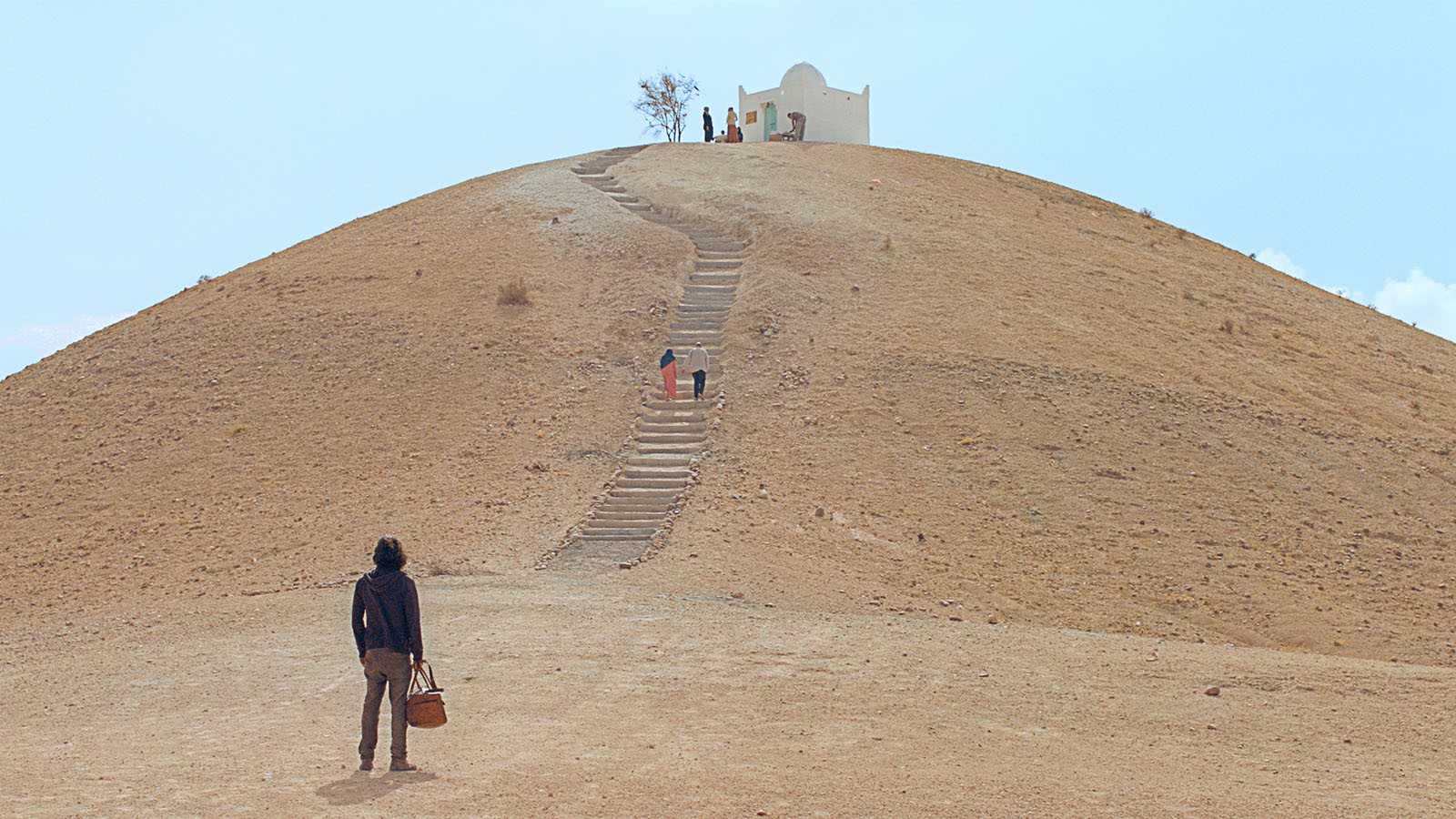 April 8 - 18, 2021
An absurdist, droll, entertaining fable about a criminal who returns to the hill where he stashed his stolen goods, only to find that a well-guarded shrine to a "missing saint" has been built over it.
A hapless thief on the run from the cops stashes his loot on top of a hill in the desert, disguising the spot as a grave—a ploy which will both discourage interference and make the spot easy to find later on. After a lengthy spell in prison, he returns to the hill, nonplussed to discover that it is now home to a shrine dedicated to an "unknown saint" whose grave appeared out of nowhere—and who has become known for healing miracles. Determined to retrieve his ill-gotten goods, the thief and his former partner-in-crime team up, but between the guard (and guard dog) and a steady stream of pilgrims, the obstacles are formidable. The shrine is a gold mine in more ways than one. In fact, an entire village has sprung up nearby to profit from the faithful, including a barber who does double-duty as a dentist and a recently arrived doctor. The doctor receives pilgrims of his own in the form of elderly ladies who fake ailments in order to pay him visits. No healing miracles here; rather, his grumpy nurse dispenses an identical packet of pills to every patient, regardless of their complaint. And so life goes on in this absurdist fable about faith and greed and luck, and all the different ways we make sense of and make the best of our lives.
Director Biography
Having trained at ESAV Marrakech and INSAS in Brussels, Alaa Eddine Aljem directed several short films, among them "The Desert Fish" (2015), which gained great acclaim in the film festival circuit and took the Critics, Screenwriting and Grand Prize at the Moroccan National Film Festival. The Unknown Saint is Aljem's debut feature. With this project, Aljem participated in the Open Doors Lab at the Locarno Festival, where it won the ICAM award. Aljem also took part in La Fabrique des Cinémas du Monde in Cannes in 2016, as well as the Sundance Screenwriters' Lab. He was also named by Screen International as one of the Five Arab Stars of Tomorrow.
Original Language Title:

Le Miracle du Saint Inconnu

Director:

Alaa Eddine Aljem

Principal Cast:

Younes Bouab, Salah Bensalah, Bouchaib Essamak, Mohamed Naimane, Anas El Baz

Premiere Status:

Seattle

Country:

Morocco, France

Year:

2019

Running Time:

100 minutes

Producer:

Francesca Duca, Alexa Rivero

Screenplay:

Alaa Eddine Aljem

Cinematographers:

Amine Berrada

Editors:

Lilian Corbeille

Music:

Amine Bouhafa

Website:

Official Film Website

Filmography:

Debut Feature Film

Language:

Darija (Moroccan Arabic)

Has Subtitles:

Yes

International Sales:

The Match Factory