Writing With Fire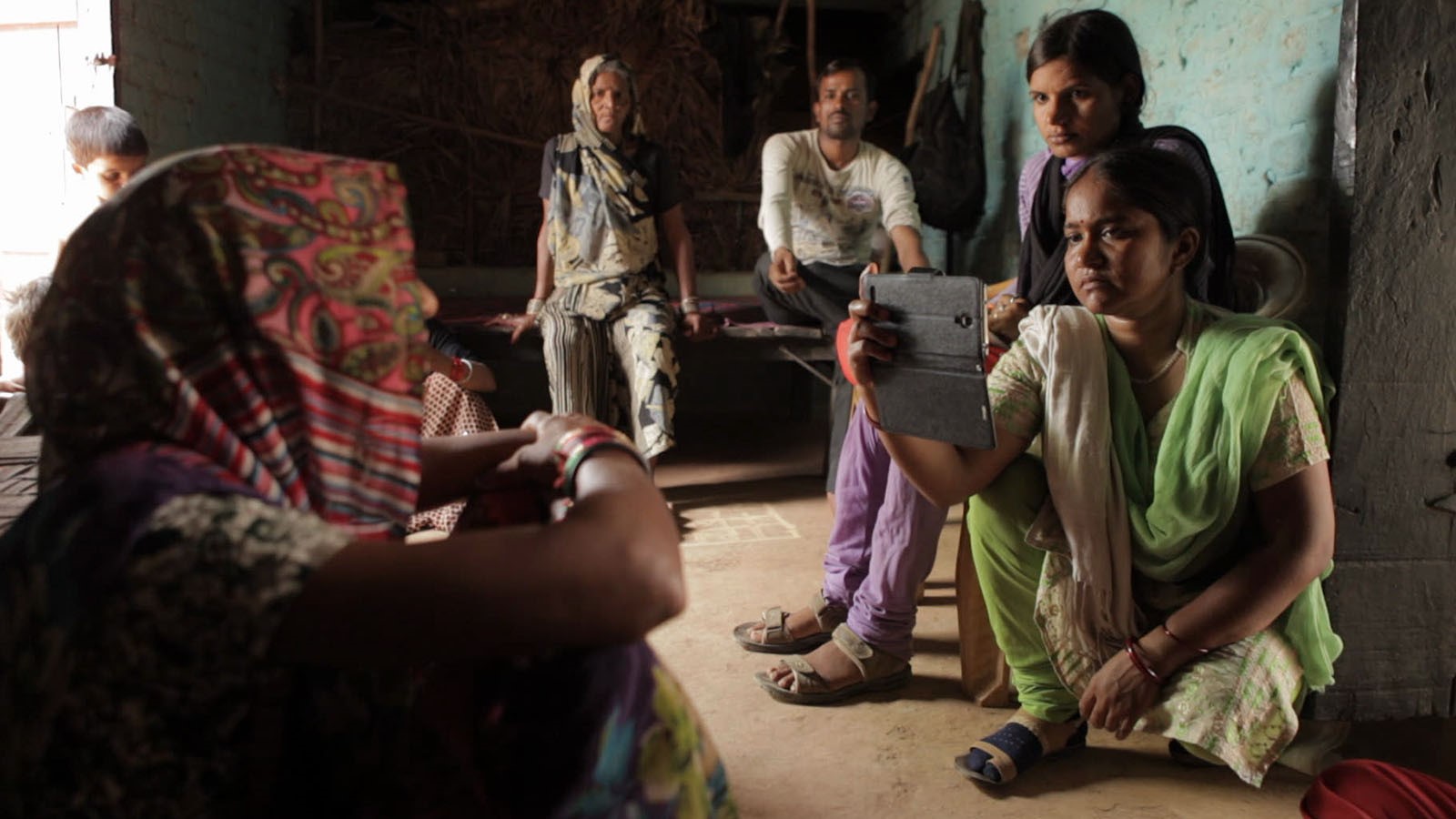 April 8 - 18, 2021
A powerful and uplifting documentary about the fearless journalists behind Khabar Lahariya, India's only newspaper run by Dalit ("untouchable") women, as they fight for truth and justice in the face of hostile patriarchy and the rise of the right.
LIVE Q&A - April 12, 8:30pm PT
This film is available to view April 8–18. We suggest watching it on April 12 starting at 6:50pm PT followed by the live Q&A at 8:30pm PT. Rintu Thomas and Sushmit Ghosh scheduled to participate.
This amazing, powerful, and inspiring documentary shows that even the most downtrodden and powerless can move mountains with determination and courage. Khabar Lahariya ("News Wave") is India's only all-woman news outlet, founded in 2002 in the northern state of Uttar Pradesh by Dalit women (once called, and still often treated as, "untouchables"). Widely predicted to fail immediately, it has instead flourished and, as the film begins, is undertaking the challenging but necessary switch from print to digital media. All the reporters are given smartphones—some of whom have never touched the family phone for fear of breaking it—and patiently encouraged. Wife-and-husband directing team Rintu Thomas and Sushmit Ghosh focus on three main characters: trailblazing head reporter Meera, new but promising recruit Shyamkali, and dedicated youngster Suneeta. The women are also shown at home, with husbands or fathers who are bemused or hostile to their careers. They investigate stories of unprosecuted rapes and murders, the corruption of illegal mining operations, the rise of Hindu nationalism, and much more. Facing entrenched gender bias, overwhelming obstacles, and threats, they continue to fight for truth and justice with surprising success. Winner of both the Audience and Special Jury documentary prizes at this year's Sundance Film Festival.
Director Biography
Rintu Thomas is an award-winning director-producer whose films have been used as advocacy tools for social impact. They have been included in curriculums of global universities, and used by governments as policy tools. Thomas's work has been supported by The Japan Foundation, Bertha Foundation, and the Sundance Institute. She enjoys producing films that have transformative social impact, and has had these films screened at key global platforms and broadcast on international television networks. She also loves bookshops, dogs and seashores.
Sushmit Ghosh has directed and shot several award-winning shorts, many of which have been used globally as education and social impact tools. Winner of the National Film Award of India, Sushmit's work is also supported by the Sundance Institute and Bertha Foundation. His interest lies in using new technologies and creative strategies to enhance both the visibility and impact that storytelling can create in the digital era. In his spare time, Sushmit enjoys biking and trekking in the Himalayas.
Director:

Rintu Thomas, Sushmit Ghosh

Premiere Status:

Seattle

Country:

India

Year:

2021

Running Time:

93 minutes

Producer:

Rintu Thomas, Sushmit Ghosh

Screenplay:

Sushmit Ghosh, Rintu Thomas

Cinematographers:

Sushmit Ghosh, Karan Thapliyal

Editors:

Sushmit Ghosh, Rintu Thomas

Music:

Tajdar Junaid

Website:

Official Film Website

Awards:

Sundance Film Festival 2021 (World Cinema Documentary Audience Award)

Filmography:

Debut Feature Film

Language:

Hindi

Has Subtitles:

Yes

International Sales:

Autlook Filmsales