Wyrm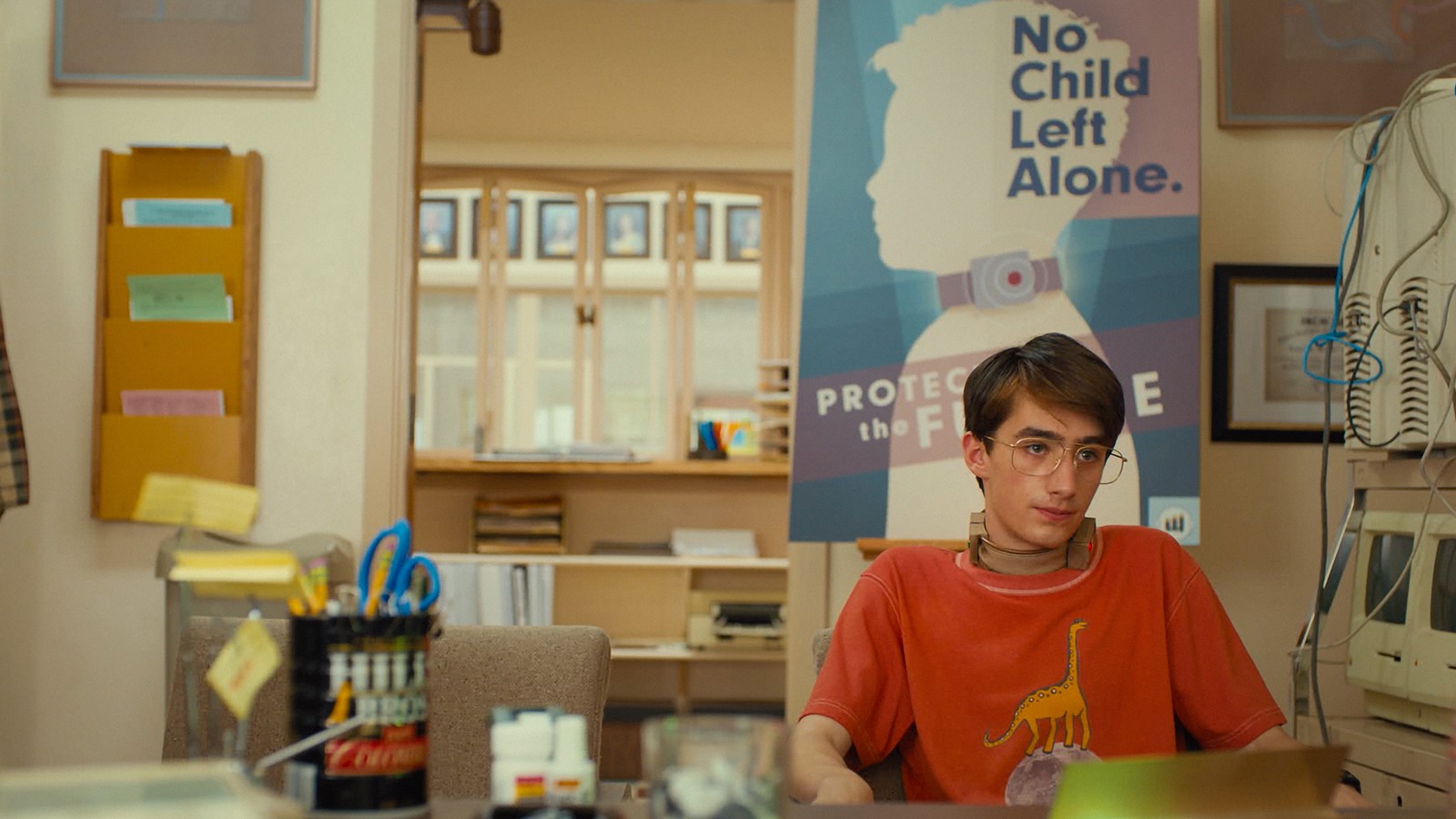 April 8 - 18, 2021
In an alternative 1990s equal parts Yorgos Lanthimos and Todd Solondz (but gentler), an awkward young teen must complete a school requirement in which students wear electronic collars that detach only upon engaging in their first kiss.
In an alternate 1990s universe of analog technology, adolescent suburbanites are fitted with electronic collars for a school-mandated sexuality test; once you get your first kiss, you have completed this level of the No Child Left Alone program and the collar pops off, allowing you to enjoy the rest of your youth with few restrictions. That seems easy, but shy, lonely freshman Wyrm (Theo Taplitz) is the only one in class still sporting the equipment, rendering him all but invisible to his classmates and especially his twin sister Myrcella (Azure Brandi). Besides, this is just one of Wyrm's many worries: His family is in crisis after the untimely death of their popular eldest son, sending Wyrm's parents into separate emotional spirals and leaving him and sister under the watch of their uncle Chet (Tommy Dewey, "Casual"). If his support system can't even provide a stable home life, how will this dictionary-carrying, dinosaur-obsessed kid learn to grow up? Absurdist, dry as a sauvignon blanc, accessibly melancholy, and deceptively heartfelt, writer/director Christopher Winterbauer's feature debut is a wholly unique coming-of-age tale that feels like a combination of Wes Anderson's lo-fi whimsy and a more chill version of humanity-skewering provocateur Todd Solondz.
Director Biography
Christopher Winterbauer was born in Seattle and raised by lawyers who encouraged his strange predilection for the arts. He is the third-funniest person in his immediate family, behind both of his sisters and sometimes his dad. He believes humor and drama are completely codependent and that you can't truly love something unless you can laugh at it. Including yourself. He rarely cries, but when he does, it's ugly.
Director:

Christopher Winterbauer

Principal Cast:

Theo Taplitz, Lulu Wilson, Azure Brandi, Tommy Dewey, Rosemarie DeWitt

Premiere Status:

Seattle

Country:

USA

Year:

2019

Running Time:

97 minutes

Producer:

Helen Estabrook

Screenplay:

Christopher Winterbauer

Cinematographers:

John Guleserian

Editors:

Nathan Orloff

Music:

David Boman

Awards:

Florida Film Festival 2020 (Best Narrative Feature), Fantastic Fest 2019 (Special Mention)

Filmography:

Debut Feature Film

Language:

English

International Sales:

Endeavor Content