Alien on Stage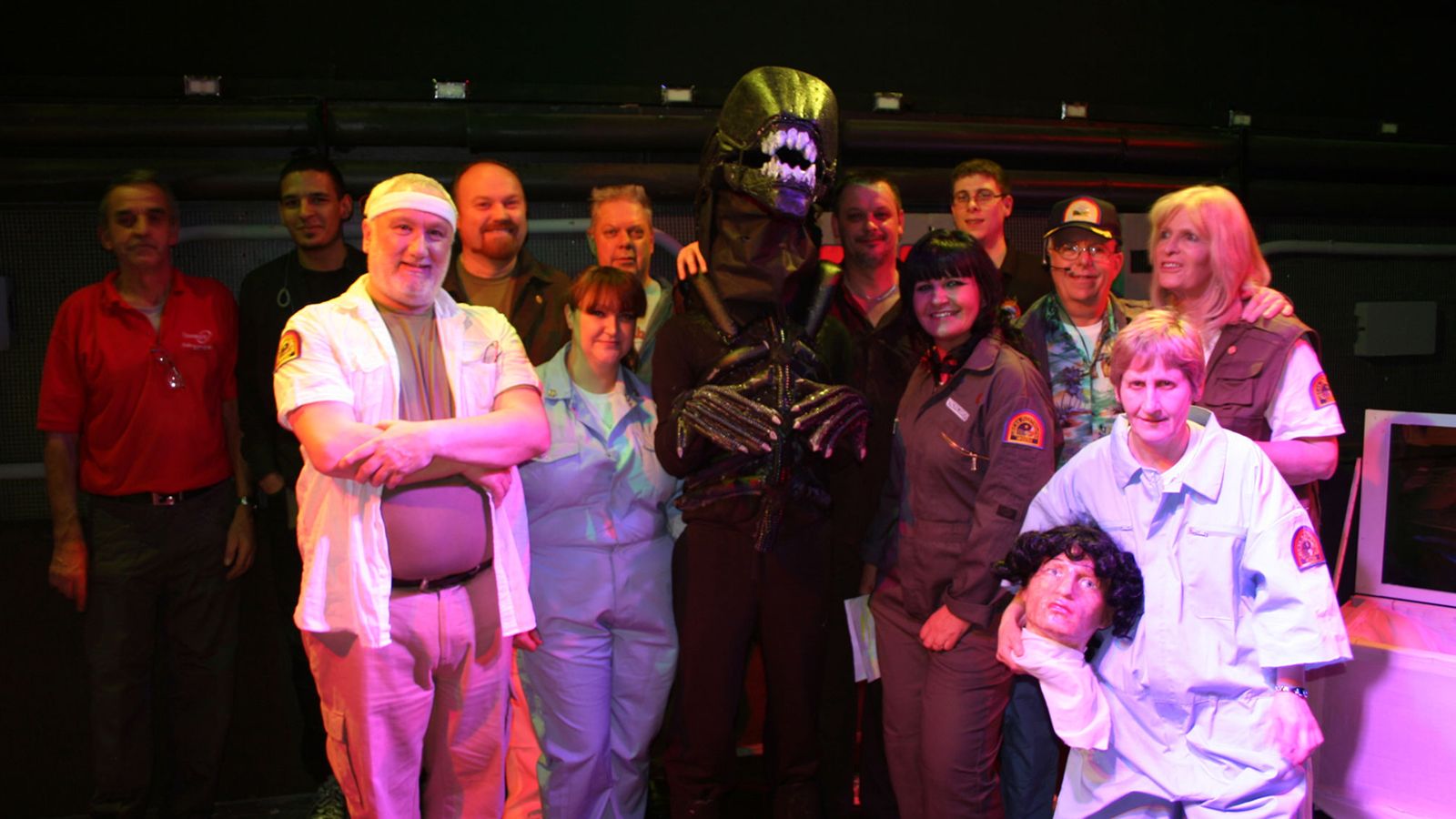 April 14 - 24, 2022
An irresistible real-life mix of Waiting for Guffman and H.R. Giger, a crew of bus drivers from Dorset take their amateur dramatic production of Ridley Scott's 1979 masterpiece Alien all the way to London for a one-night-only West End performance.
COSTUME CONTEST - APRIL 22
We're hosting a DIY costume contest at our 4/22 screening at the Egyptian! Wear your best/worst Alien-inspired costume for a chance to win a pair of tickets to MoPOP.
SPLIFF TICKETS GIVEAWAY - APRIL 20
At the 4/20 screening, you'll have a a chance to win free tickets to SPLIFF—Seattle's short film fest by stoners, for stoners!
STREAMING TICKETS
"Inspiring and uplifting in equal amounts, Harvey and Kummer's fangs-and-all documentary is, like its subject, one of a kind." – Marc Savlov (The Austin Chronicle)
It's a bit like Waiting for Guffman, except Guffman actually does show up at the end. When a British amateur dramatic society (or, in an abbreviation we should all start using, "am-dram") of small-town bus drivers decides they can't stomach yet another bloody panto, they ambitiously choose Ridley Scott's trailblazing film Alien for their annual theatrical. It's also largely a family affair: dad Dave runs the show, wife Lydia plays Ripley, her father Ray built the sets, her son Luc adapted the screenplay. (He also considered Pulp Fiction.) Their four performances at a community center in the hamlet of Wimborne, Dorset, do only moderately well—until filmmaker Lucy Harvey pops in, and, sensing documentary gold, arranges to bring the show for one night only to London's West End. Word travels and the performance sells out, the Leicester Square Theatre packed with fans who may have come to snicker (and for the chest-bursting) but end up heartwarmingly on the troupe's side. If you have the slightest sentimental feeling for outsider art, bring Kleenex; as Harvey puts it, "The right piece of art is being met by the right audience, and you get magic." In a way, these screenings of Alien on Stage bring the film full circle; as you all know, Alien had its world premiere May 25, 1979, right here at the fourth SIFF.
— Gavin Borchert
Director:

Danielle Kummer, Lucy Harvey

Premiere Status:

Seattle

Country:

United Kingdom

Year:

2021

Running Time:

83 min

Producer:

Danielle Kummer, Lucy Harvey

Screenplay:

Danielle Kummer, Lucy Harvey

Cinematographers:

Danielle Kummer

Editors:

Emily Badescu, Danielle Kummer

Music:

Alex Shesha

Website:

Official Film Website

Awards:

Leeds International Film Festival 2021 (Audience Award: Best Documentary), Imagine Film Festival 2021 (Audience Award: Best Film), Calgary Underground Film Festival 2021 (Jury Award: Best Documentary), Fantasia International Film Festival 2021 (Audience Award: Best Documentary), Ravenheart International Film Festival 2021 (Jury Award: Best Documentary), DocUtah 2021 (Raven Award: Best Humor in a Feature), Toronto After Dark 2021 (Best Creature/Monster)

Filmography:

Debut Feature Film

Language:

English

Has Subtitles:

Yes

Format:

DCP

US Distributor:

Nacelle