American Factory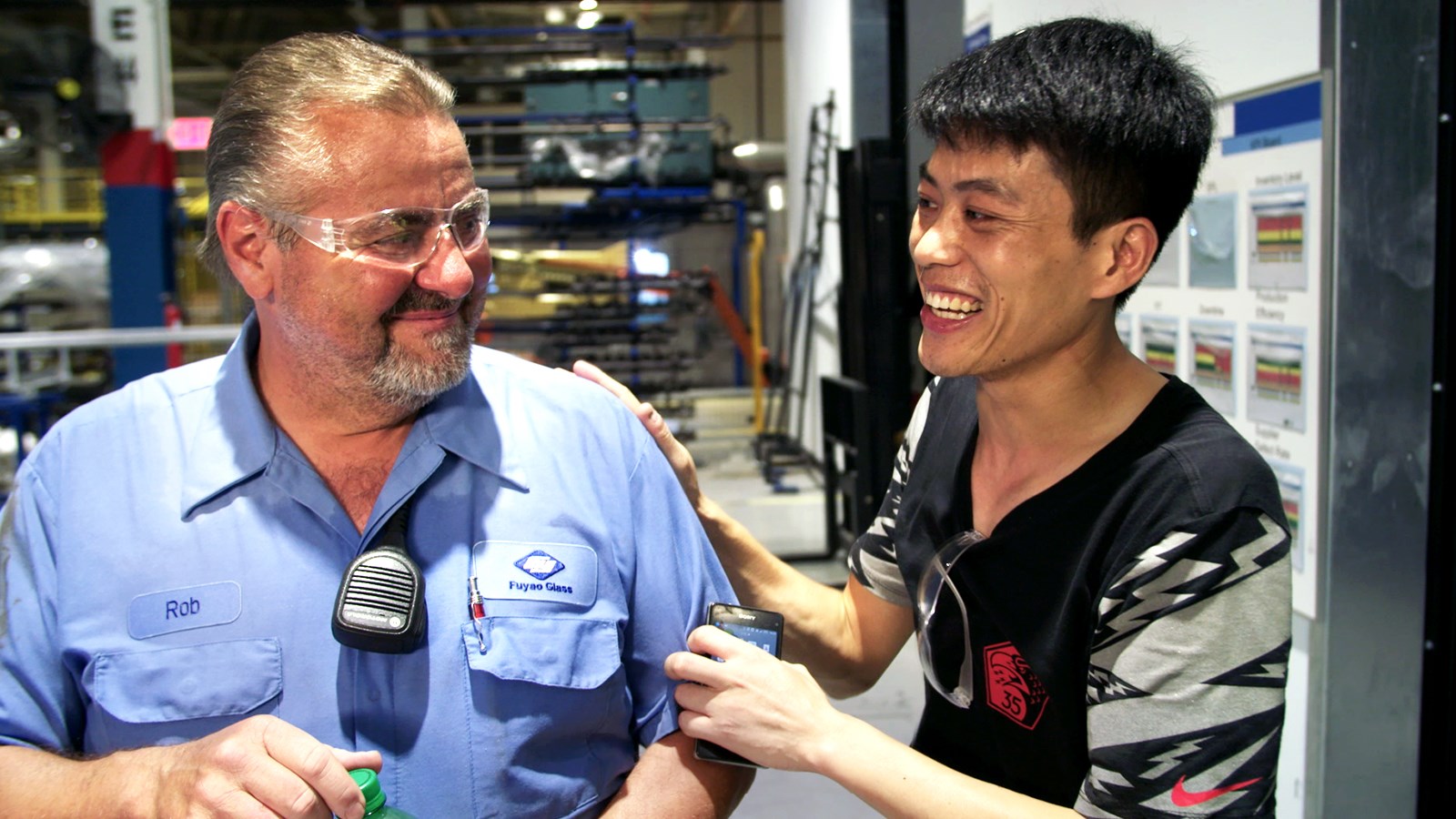 In this Sundance award-winning documentary, high-tech China clashes with working-class America when a Chinese billionaire repurposes a defunct GM plant in Dayton, Ohio, and hires 2,000 blue-collar workers, only for the two sides to struggle finding common ground.
After earning an Oscar® nod for their short The Last Truck (2009), about the closing days of a General Motors plant in Ohio, filmmakers Steven Bognar and Julia Reichert returned to Dayton to see what filled the vacuum. The new would-be savior is Fuyao Glass America, a Chinese windshield manufacturer that rehired about two-thirds of the 3,000 workers laid off by GM. However, the inclusion of hundreds of Chinese workers that Fuyao flew in to mix with the grateful Ohioans ends up becoming a source of great tension. While the Chinese managers bring their own prejudices about "lazy," error-prone Americans who dare to question their superiors, the locals are baffled by the messianic nature of the Fuyao work culture. Shot in an immersive cinema-verite style, American Factory reveals the absurd everyday conflicts that prevent the workers from cohering—from the CEO's micromanagement of line workers to the broadcasting of socialist work songs intended to motivate the uncomprehending Americans. Soon the word "union" is mentioned, throwing the whole operation into existential worry. Bognar and Reichert wisely refuse to cast either side as villain or hero, choosing instead to portray the workers as a group of confused test subjects in what may be a half-amusing, half-infuriating portent for a China-centric 21st century.

Director Biography
Steven Bognar is an Oscar®-nominated, Emmy-winning documentary director and producer. His films Personal Belongings, Picture Day, and Gravel all premiered at the Sundance Film Festival. Bognar's films are often concerned with the Midwest and rank-and-file citizens grappling with questions of agency. A regular collaborator with Julia Reichert, Bognar also joined forces on The Last Truck: The Closing of a GM Plant, and their work has been featured on the PBS series "Independent Lens."
Coming of age in 1960s New Jersey, Julia Riechert entered documentary filmmaking with Growing Up Female (1971), a pioneering work in the Women's Liberation Movement that's been entered into the National Film Registry. Union Maids (1977), Seeing Red: Stories of American Communists (1984), and The Last Truck: The Closing of a GM Plant (2010) all received Oscar® nominations as well. Riechert is the 2019 recipient of the IDA Career Achievement Award, having documented working-class and women's stories as a director, writer, and producer for nearly fifty years.
Sponsored by Puget Systems, Joleen Hughes, founder of the Hughes Media Law Group
Director:

Steven Bognar, Julia Reichert

Country:

USA

Year:

2019

Running Time:

114 minutes

Producer:

Steven Bognar, Julia Reichert, Jeff Reichert, Julie Parker Benello

Cinematographers:

Steven Bognar, Aubrey Keith, Jeff Reichert, Julia Reichert, Erick Stoll

Editors:

Lindsay Utz

Music:

Chad Cannon

Website:

Official Film Website

Awards:

Sundance Film Festival 2019 (US Documentary Directing Award)

Filmography:

Steven Bognar: Making Morning Star (Doc., 2015); A Lion in the House (Doc., 2006); Personal Belongings (Doc., 1996) | Julia Reichert: Making Morning Star (Doc., 2015); A Lion in the House (2006); Seeing Red: Stories of American Communists (Doc., 1983); Union Maids (Doc., 1977); Methadone: An American Way of Dealing (Doc., 1974); Growing Up Female (Doc., 1971)

Language:

English

Format:

DCP

US Distributor:

Netflix

International Sales:

Dogwoof