Bad Tales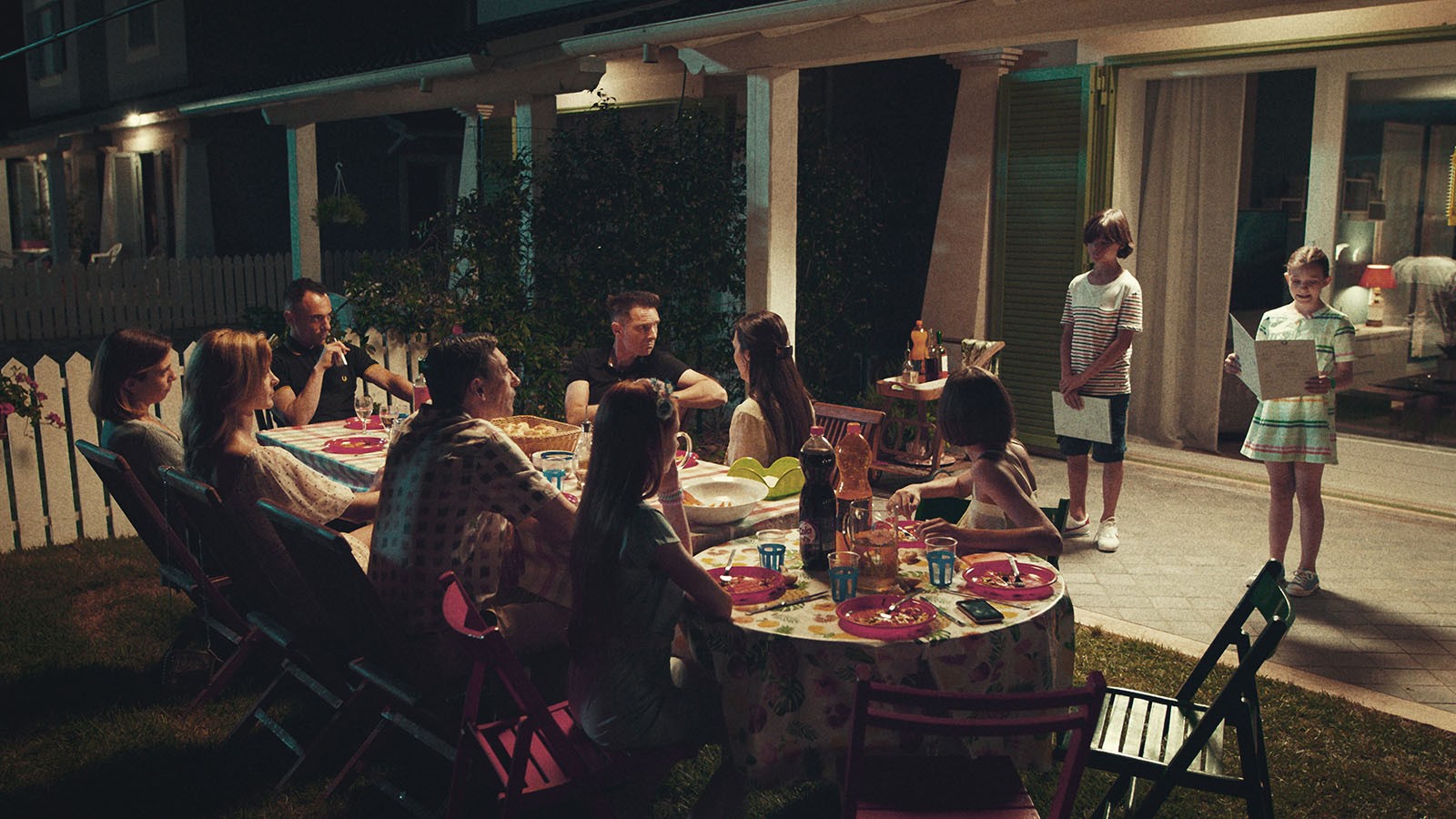 April 8 - 18, 2021
A sweltering Roman summer turns up the heat for the dark doings of a group of dysfunctional families in this slyly humorous, occasionally grotesque, but always gripping noir.
PRERECORDED Q&A
Screening features a prerecorded Q&A with Damiano D'Innocenzo and Fabio D'Innocenzo (directors).
It's a blazing-hot summer on the outskirts of Rome, and the simmering dysfunctions of three loosely connected families are coming to a boil. Most of the adult males are prone to unpredictable, blind rages, while the women all appear to be distant or uncaring mothers. One of the central adult characters in the superb ensemble cast secretly ogles his neighbor's wife while his 12-year-old son scans his father's porn-site searches. When another boy contracts measles, his father has him spend time with a young neighbor girl so she can catch the illness and get over it quickly; the helpful father also teaches the boy how to obtain condoms, just in case. The film's two directors, brothers Fabio and Damiano D'Innocenzo, clearly have a dim view of middle-class suburbia, which is depicted as a grotesque carnival of barely repressed resentments. Like their first feature, Boys Cry (2018), this stylish follow-up by the D'Innocenzos overflows with cynicism about how boorish behavior of adults is mirrored in their prepubescent children. Despite the unsettling tone, however, Bad Tales is bursting with lurid energy and inventive camerawork, evoking idyllic summer days of swimming pools and leisure adventures to mask the jealousy, lust, and cruelty roiling just below the surface.
— Randy Woods
Director Biography
Twin brothers Damiano D'Innocenzo and Fabio D'Innocenzo, often referred to as "the D'Innocenzo brothers," are Italian screenwriters and directors who frequently collaborate on projects. Their first feature film Boys Cry (2018) was screened during the Panorama section of the Berlin International Film Festival. It received numerous awards, including the Nastro D'Argento award for Best New Director. Bad Tales (2020) is the twins' second feature, and won them the Silver Bear for Best Screenplay at the 70th Berlin International Film Festival.
Original Language Title:

Favolacce

Director:

Damiano D'Innocenzo, Fabio D'Innocenzo

Principal Cast:

Elio Germano, Barbara Chichiarelli, Lino Musella, Gabriel Montesi, Max Malatesta

Premiere Status:

Seattle

Country:

Italy, Switzerland

Year:

2020

Running Time:

98 minutes

Producer:

Agostino Saccà, Giuseppe Saccà

Screenplay:

Damiano D'Innocenzo, Fabio D'Innocenzo

Cinematographers:

Paolo Carnera

Editors:

Esmeralda Calabria

Music:

Egidio Macchia

Website:

Official Film Website

Awards:

Berlin Film Festival 2020 (Best Screenplay); Brussels Film Festival 2020 (Jury Award); Golden Globes, Italy 2020 (Best Director, Screenplay)

Filmography:

Boys Cry (2018)

Language:

Italian

Has Subtitles:

Yes

US Distributor:

Strand Releasing

International Sales:

The Match Factory