Banana Split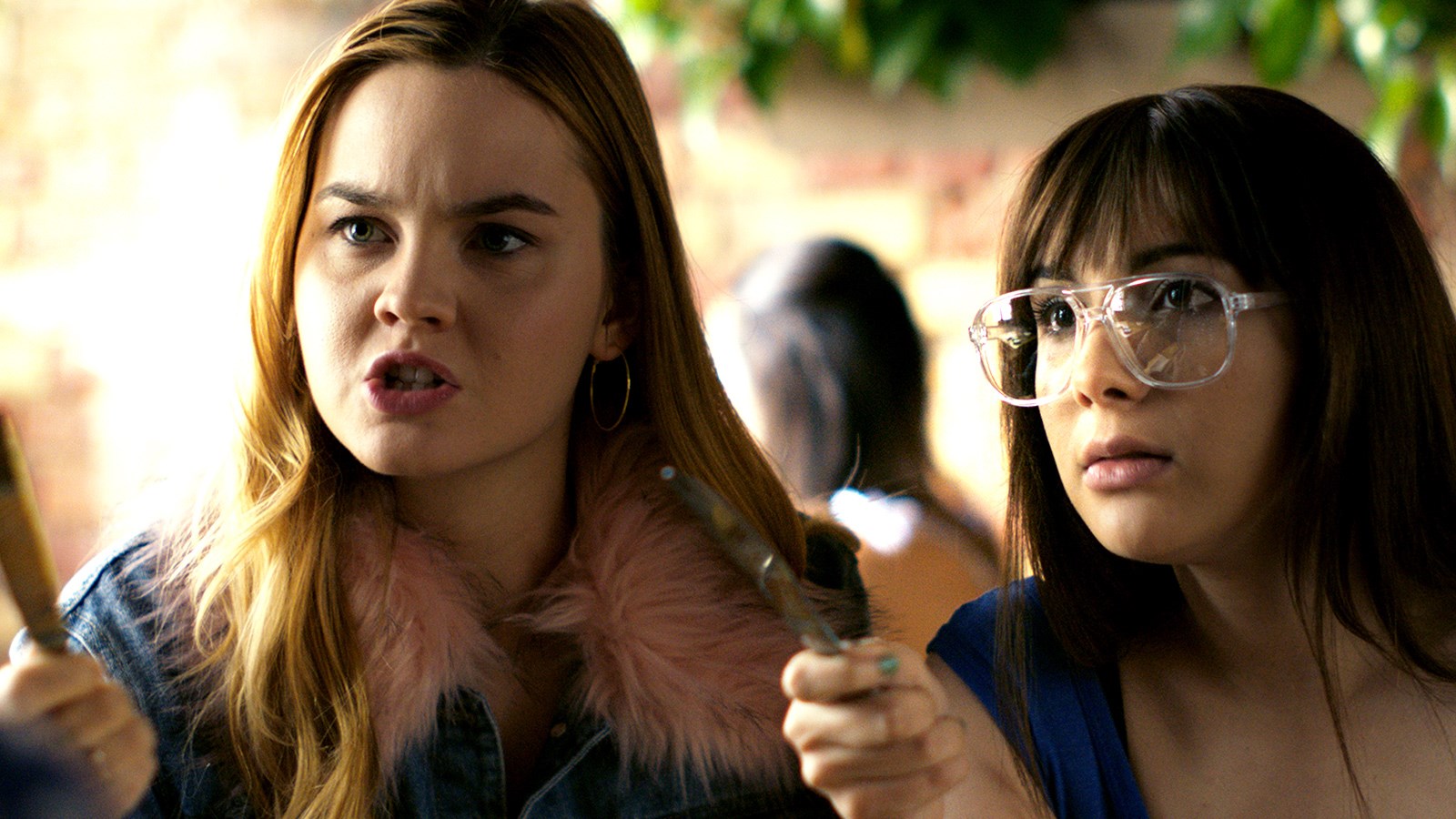 It would be so easy to have one carefree summer before going off to college, but April's plans for her final months hit a snag when she becomes best friends with her ex-boyfriend's new squeeze.
"[Banana Split] understands, perfectly, the enormous pressure teenagers face."—Refinery29
It's the end of April's (Hannah Marks, SIFF 2017's Slash) senior year of high school, and she and longtime boyfriend Nick (Dylan Sprouse, "The Suite Life of Zack and Cody") have just broken up. No matter; April is off to Boston University in just a few months, so why not spend her final days in Los Angeles cutting loose? But while getting trashed at a house party, she bumps into Dylan's new squeeze, Clara (Liana Liberato, also in SIFF 2019's To the Stars), a recent transplant from Fresno. High-school social conditioning demands they hate each other on principle, but it turns out they have way more in common than a mutual beau. Over the summer they develop a perfect kindred-spirit friendship in ways they never thought possible, all while working overtime to keep their relationship secret from Nick. What makes Banana Split special are the hard edges, the goofy character quirks, and the lead performances from Marks (who also co-wrote the screenplay) and Liberato, who infuse their characters with a level of teenage anxiety that feels positively refreshing among high-school movies. Directed by former Seattleite cinematographer Benjamin Kasulke (Your Sister's Sister, Safety Not Guaranteed), Banana Split is a teen movie worth cherishing.
Director Biography
Benjamin Francis Kasulke is a director, cinematographer, and Stranger Genius Award recipient born in 1977 in Syracuse, NY. After earning degrees in film from Ithaca College and FAMU (Film and TV School of the Academy of Performing Arts) in Prague, he worked as a negative cutter with the Image Treasury in Seattle. His cinematographer career began while working extensively with the local dance film community, which he turned into collaborations with the likes of Guy Maddin, Lynn Shelton, Megan Griffiths, and Colin Trevorrow. He became a vital component of the Pacific Northwest film community, acting as cinematographer on such films as Humpday and The Immaculate Conception of Little Dizzle (both SIFF 2009), The Freebie (SIFF 2010), The Off Hours (SIFF 2011), Your Sister's Sister (SIFF 2012), Safety Not Guaranteed (2012), Touchy Feely (SIFF 2013), Laggies (2014), and My Last Year With The Nuns (SIFF 2014). Banana Split marks his feature directorial debut.
Sponsored by Ingeniux, MOViN 92.5
Director:

Benjamin Kasulke

Principal Cast:

Hannah Marks, Dylan Sprouse, Liana Liberato, Luke Spencer Roberts, Haley Ramm

Country:

USA

Year:

2018

Running Time:

88 minutes

Producer:

Jeremy Garelick, Mickey Liddell, Pete Shilaimon, Will Phelps, Glen Trotiner, Sam Slater

Screenplay:

Hannah Marks, Joey Power

Cinematographers:

Darin Moran

Editors:

Brendan Walsh

Music:

Annie Hart

Filmography:

Debut Feature Film

Language:

English

Format:

DCP