Bebia, á mon seul désir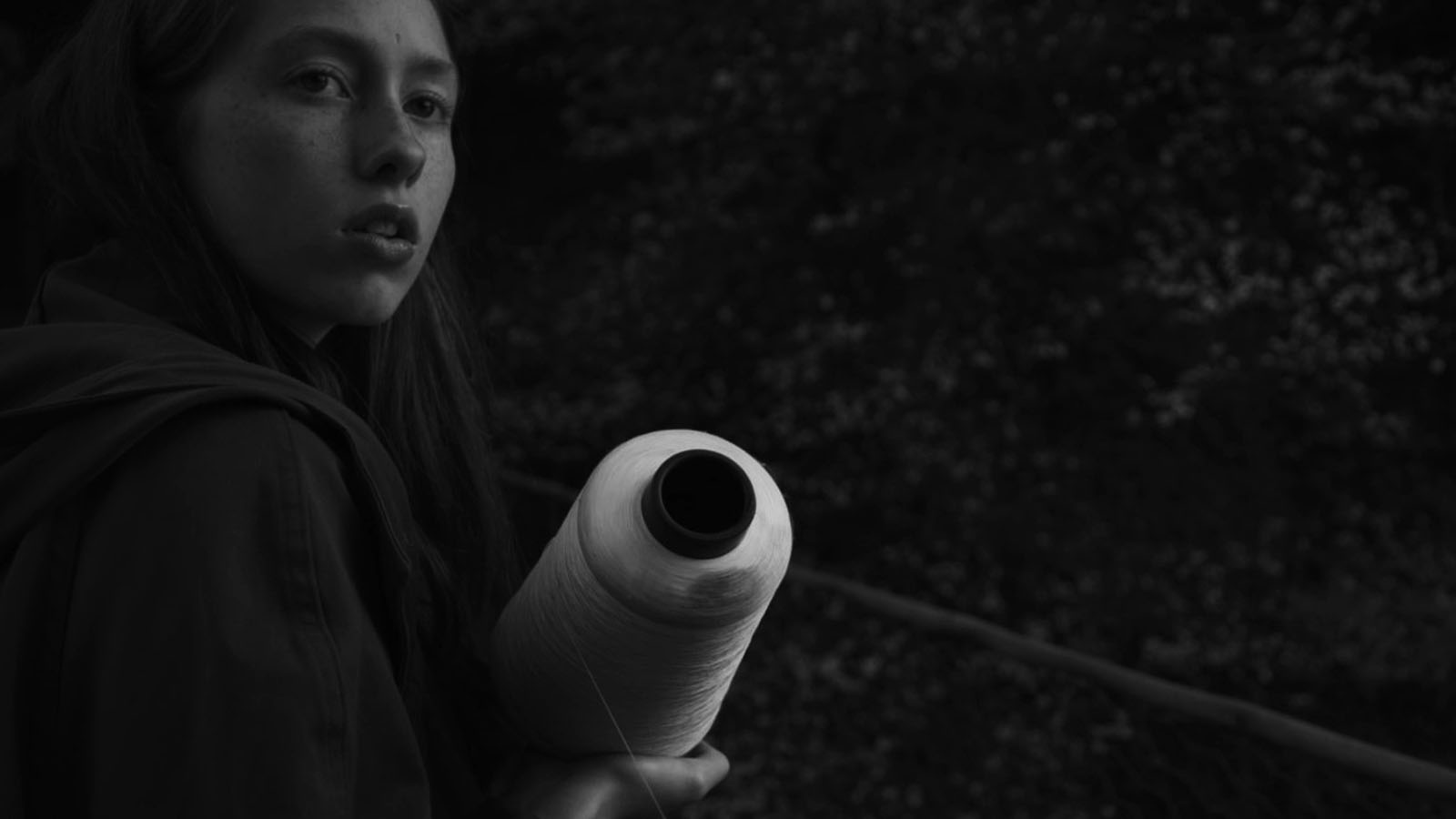 April 8 - 18, 2021
In this beautifully composed black-and-white drama out of Georgia, an estranged teenager returns to her rural village to perform an ancient burial tradition for her late grandmother, in which she must string a thread through sixteen miles of forest.
Related Event
Some traditions should be respected while others should be retired or thrown under the bus. We invite you to a conversation between four dynamic directors about cross-cultural issues and changing visions.
The film opens with the patter of little feet in patent leather shoes as small girls run along the wall of their rural Georgian hillside town. Flash-forward: One of them, Ariadna (as in Greek mythology), now a teenage model in a big city, is on her way back to this same village. Bebia, the matriarch she's feared her whole life, has died. Welcome to the overwhelming bosom and impossible bonds of family. "Are you all from the Dark Ages?" Ariadna asks when given the big final burial custom that only she can perform: She must string a thread through sixteen miles of forest, a path between Bebia's place of death and her coffin. Much as she winds through the rugged landscape, the plot threads back through Ariadna's childhood and up to the present. This impressionistic debut is written and directed by the multi-talented Juja Dobrachkous, an established painter and short story writer, who chose the black-and-white imagery because "light and shadow are more truthful than color"; director of photography Veronica Solovyeva follows suit, focusing on minor details to build a unique and affecting universe. Bebia is a film about grief, about the clash of modern and traditional worlds, and about the labyrinth of emotions a girl must journey through to understand the many shades of love.
Director Biography
Juja Dobrachkous is a London-based writer and filmmaker. In 2016, her story "Mama" was adapted into the short "Mama − Saint Sebastian" (2016), directed by Alexander Mercury. Bebia, À Mon Seul Désir (2021) is her directorial debut and premiered at IFFR in the Tiger Competition.
Director:

Juja Dobrachkous

Principal Cast:

Anastasia Davidson, Anushka Andronikashvili, Guliko Gurgenidze, Alexander Glurjidze, Anastasia Chanturaia

Premiere Status:

North American

Country:

Georgia, United Kingdom

Year:

2021

Running Time:

118 minutes

Producer:

Juja Dobrachkous, Olga Dyhovichnaya

Screenplay:

Juja Dobrachkous

Cinematographers:

Veronica Solovyeva

Editors:

Andrey Klychnikov

Music:

Stefan Smith

Website:

Official Film Website

Filmography:

Debut Feature Film

Language:

Georgian, Russian

Has Subtitles:

Yes

International Sales:

Endorphin Film Sales