Deadtectives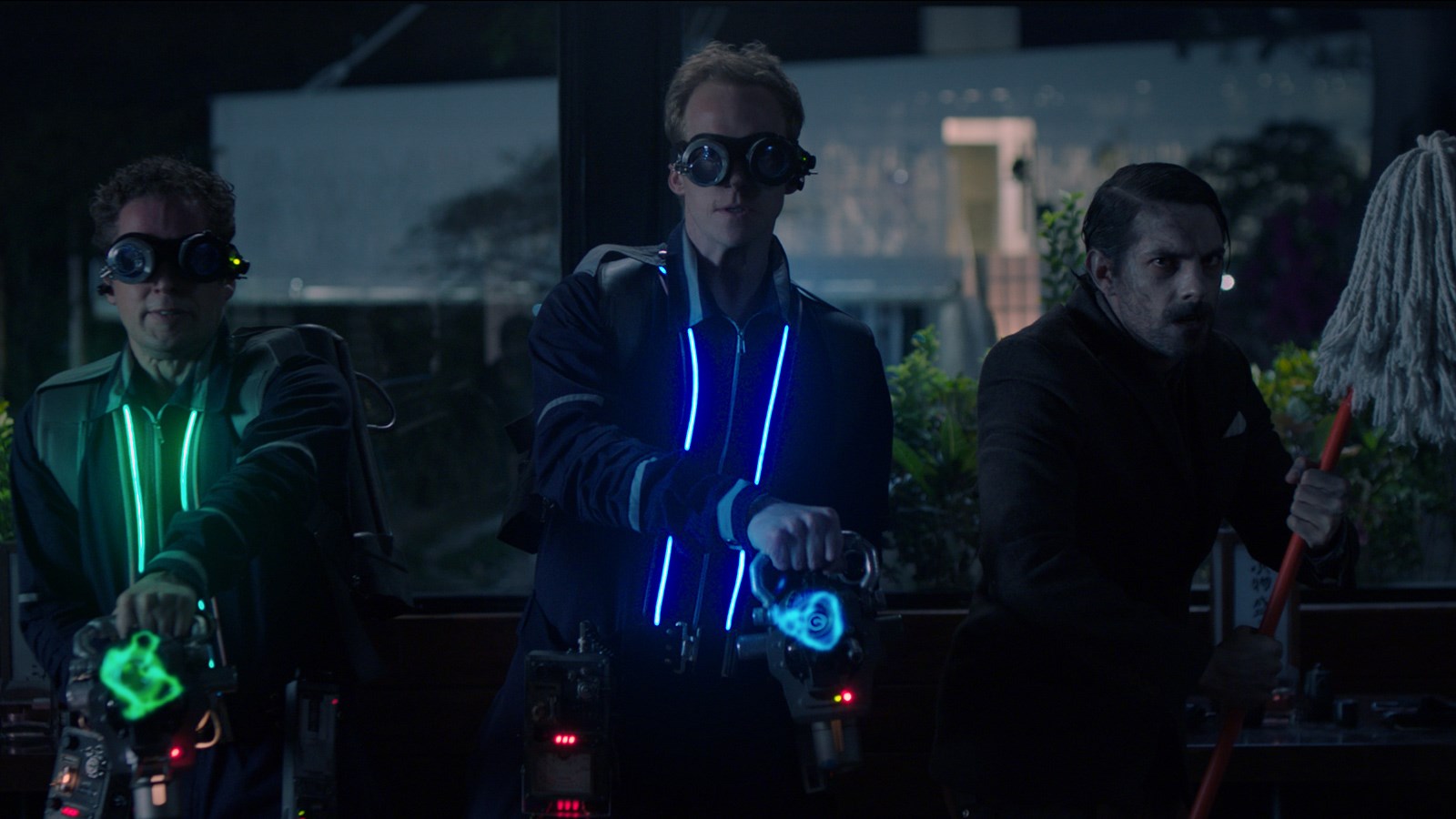 In this horror comedy, Chris Geere ("You're the Worst") leads a cocky team of reality TV paranormal investigators who take on a Mexico City haunted house for a chance to boost their ratings, only to encounter ghosts they can't bust.
After years of diminishing ratings, paranormal reality-TV show "DeadTectives" is on the verge of cancellation; haunted hot tubs and vengeful cupcake bakers no longer draw enough viewers to sell Diet Dew soda. Given one last chance by a foul-mouthed network executive, Sam (Chris Geere, FX's "You're the Worst") and his team—wife and producer Kate, smart-alecky co-host Javier, and Sam's daft brother Lloyd, the team's only true believer in the supernatural—are dispatched to Mexico's most infamous haunted mansion. With a seriously disturbed special-effects supervisor and a domineering new producer at the helm, they are determined to manufacture an excess of ghostly thrills for a supernatural spectacular. However, when the evil secrets from the mansion's past begin to reveal themselves, our hapless heroes quickly discover the house is no hoax. With zero ghost-hunting skills (or really any other applicable skills) the team has to figure out a way to bust the ghosts, deliver the episode of a lifetime, and, most important, escape the house with their lives. With his feature-film debut, director Tony West achieves a tremendous feat by delivering both giggles and chills in this perfectly balanced horror comedy.
Director Biography
Tony West studied film at New York University's Tisch School of the Arts before graduating from the Film School at Florida State University. West's short films have screened at over 80 festivals worldwide, garnering more than 40 awards, and he was nominated for an Emmy for his work on E! Networks' "The Soup." Deadtectives (2018) is his feature-film debut as both a writer and director.
Sponsored by Lagunitas Brewing Company, Scarecrow Video
Director:

Tony West

Principal Cast:

Chris Geere, Martha Higareda, Tina Ivlev, David Newman

Country:

USA

Year:

2018

Running Time:

90 minutes

Producer:

Daniel Posada, Jason Tamasco

Screenplay:

Tony West, David Clayton Rogers, Mark Riley, Cris Rice

Cinematographers:

Andre Lascaris

Editors:

Nicole West

Music:

Mark Sayfritz

Website:

Official Film Website

Filmography:

Debut Feature Film

Language:

English

Format:

DCP

US Distributor:

Shudder

International Sales:

Odin's Eye Entertainment