Enamorada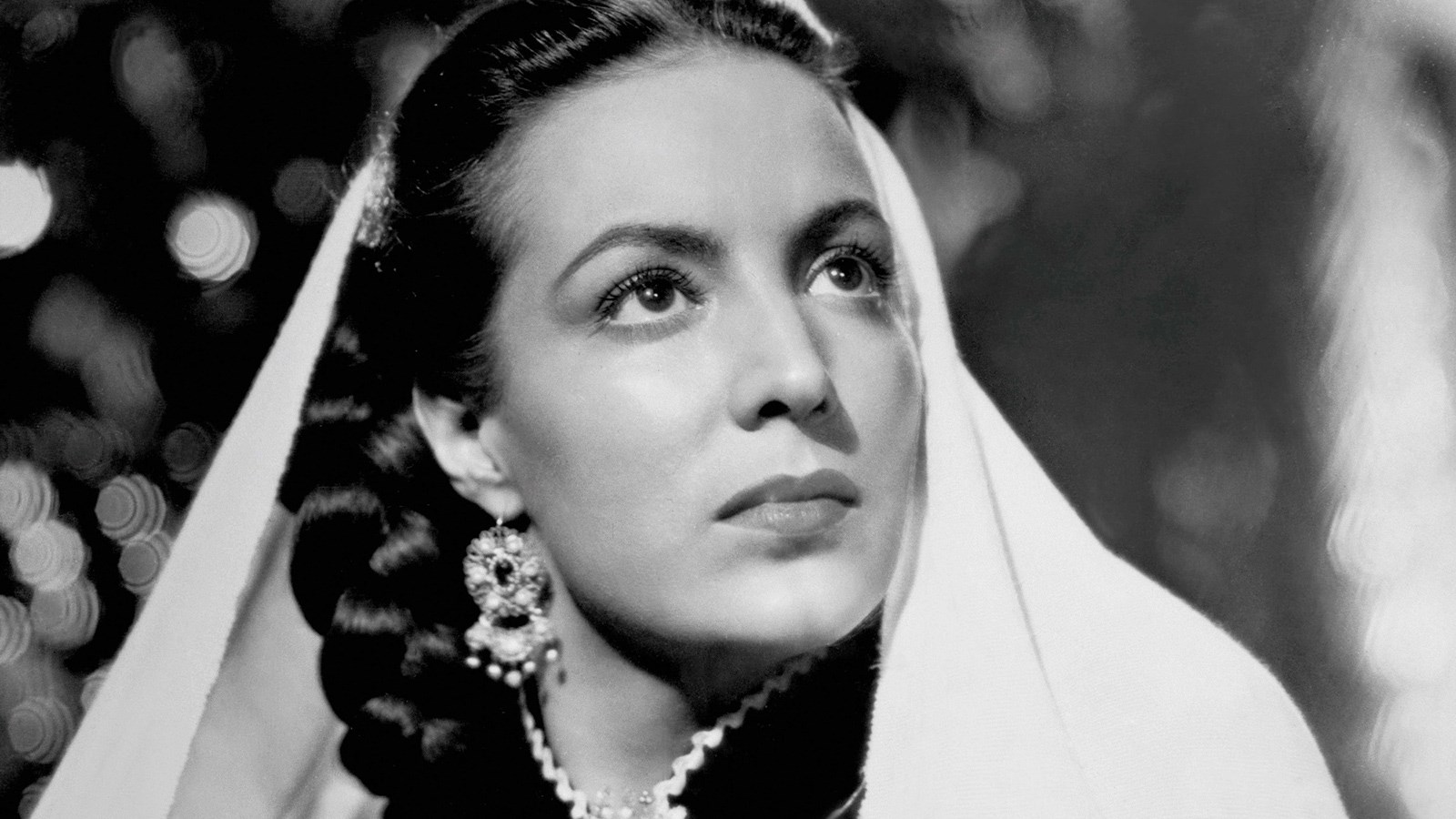 Two of Mexico's biggest stars, María Félix and Pedro Armendáriz, clash (she's high-born, he's a revolutionary) in this epic 1946 romance, seen here in a restoration overseen by Martin Scorsese.
Jose Juan Reyes, general of rebel forces during the Mexican Revolution, definitely has his priorities straight. When he and his troops take over the town of Cholula, he immediately announces he's going to soak the local rich. He befriends the gentle young priest (they were in seminary together) and gives 2,000 pesos to the poor schoolteacher, but the weaselly mayor, trying to play both sides, gets shot. He then meets and falls for Beatriz, daughter of Cholula's richest man, and the two begin to spar. Does this shrew get tamed? No, por Dios!—she ends the film as headstrong and proud as ever, while Reyes is the one who folds like a card table, wooing her with words rather than taking her with force. Eventually Beatriz must choose for herself whether to go off with the low-born but dashing general. All this makes the juicily enjoyable, button-pushing Enamorada (seen here in a restoration overseen by Martin Scorsese) as near to a feminist film as you're going to get from a Catholic country in 1946. Pedro Armendariz and Maria Felix, two of the biggest stars of the golden age of Mexican cinema, play Reyes and Beatriz; Felix, in particular, combining the patrician willfulness of Hepburn, the I'm-in-charge seductiveness of Gardner, and the palpitating emotionality of Garland, is here at her peak.
Restored by UCLA Film & Television Archive and The Film Foundation's World Cinema Project in collaboration with Fundacion Televisa AC and Filmoteca de la UNAM. Restoration funded by the Material World Charitable Foundation.

Director Biography
Prior to his death in 1986, Emilio Fernández, nicknamed "El Indio," was considered one of the most prolific film directors in Mexico-particularly during the Golden Age of Mexican cinema in the 1940s and 1950s. He was born in Sabinas, Coahuila in 1904 to a father who was a revolutionary general, while his mother was a descendant of the Indigenous Kickapoo tribe. This allowed him to develop a deep appreciation for his indigenous roots, which comes across in his work. After joining the military and participating in the Mexican Revolution, he sought exile in the United States, where he studied filmmaking in Hollywood in the late 1920s and early 1930s. He returned to Mexico in 1933, where he continued to build his film career. His brother, Jaime Fernández, was also a Mexican film director, actor, and screenwriter. He died in 1986. Even if Fernández had never made a single movie, he would still be remembered in film history as (legend has it) the model for the original Oscar® statuette.
Sponsored by Comcast
Director:

Emilio Fernandez

Principal Cast:

Maria Felix, Pedro Armendariz, Fernando Fernandez, Jose Morcillo, Eduardo Arozamena

Country:

Mexico

Year:

1946

Running Time:

99 minutes

Producer:

Benito Alazraki

Screenplay:

Benito Alazraki, Emilio Fernandez, Inigo de Martino

Cinematographers:

Gabriel Figueroa

Editors:

Gloria Schoemann

Music:

Pedro Galindo, Eduardo Hernandez Moncada

Filmography:

Zona roja (1975); La Choca (1974); Pueblito (1962); El impostor (1958); Rio Escondido (1947); La Perla (1947); Maria Candelaria (1943); Flor silverstre (1943); Soypuro mexicano (1942); La isla de la pasion (1941)

Language:

Spanish

Has Subtitles:

Yes

Format:

DCP