Good Kisser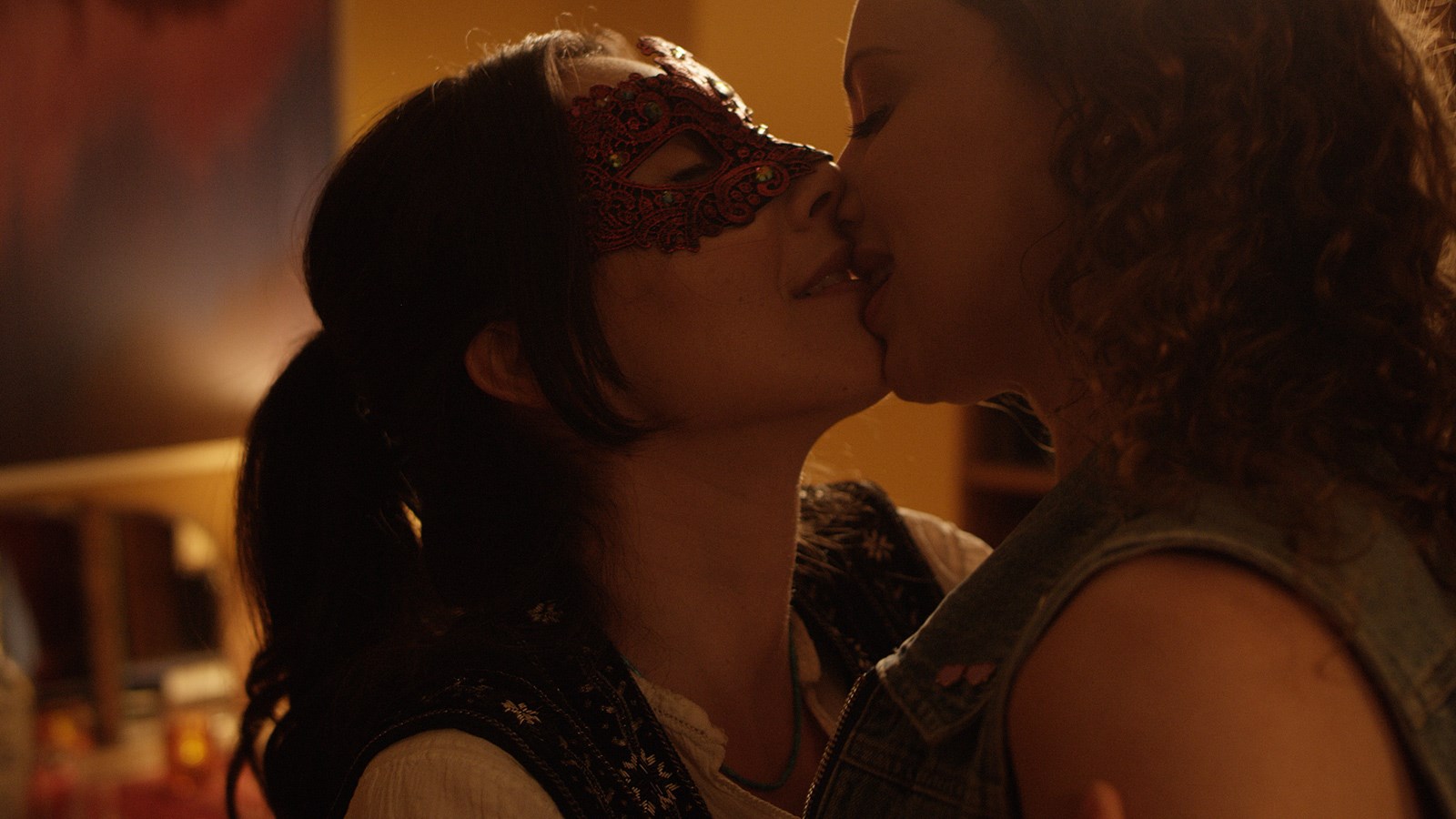 Hoping to add a little spice to their two-year romance, Seattleites Jenna and Kate open up their relationship to an alluring and enigmatic stranger, only for it to expose the cracks in their foundation.
Jenna (Kari Alison Hodge) and Kate (Rachel Paulson) have been going out for nearly two years, but maybe it's time to spice up their relationship a little. Though Jenna is nervous and tittering as they get into a rideshare that'll take them across Seattle for their first date with the mysterious and alluring Mia (Julie Eringer), Kate assures her that everything will be okay; if at any time Jenna opts out, she'll follow suit. "Baby, it's fine," Kate tells her. "You're ambidextrous!" But when Jenna sets eyes on Mia, she realizes that maybe this attempt at a threesome wasn't such a bad idea after all, despite her self-conscious nature. As the three women share wine, tequila, backgrounds, and stories—Jenna is a struggling writer, Mia is well-traveled and is moving on to Hawaii in just a week—something seems off, though Jenna can't quite put her finger on it. But when she stumbles onto surprising secrets, the love triangle begins to crack. With Good Kisser, writer/director Wendy Jo Carlton explores the hazy lines of modern dating in a refreshing way, opting to eschew melodrama in favor of letting her characters take their time emotionally and physically feeling each other out.

Director Biography
A writer and director living in Seattle, Wendy Jo Carlton loves "collaborating with artists and community, and writing love stories about working class, female and LGBT characters." She attended the University of Chicago, founded a media literacy and filmmaking program for teen girls called Chicks Make Flicks, and is the creator of the web series "Easy Abby."
Sponsored by 4Culture, City of Shoreline, Encore Media Group, National Endowment for the Arts, Seattle Office of Arts & Culture, Seattle University Film Studies, Shoreline Community College, Washington State Arts Commission, WatchGuard Technologies, Inc.
Director:

Wendy Jo Carlton

Principal Cast:

Rachel Paulson, Kari Alison Hodge, Julia Eringer, Carter Rodriquez, Courtney McCullough

Premiere Status:

World Premiere

Country:

USA

Year:

2019

Running Time:

80 minutes

Producer:

Wendy Jo Carlton, Gina Mainwal, Anne Hanson

Screenplay:

Wendy Jo Carlton

Cinematographers:

Ryan Purcell

Editors:

Justine Gendron

Music:

Alex Guy

Website:

Official Film Website

Filmography:

Jamie & Jessie are Not Together (2011); Hannah Free (2009)

Language:

English

Format:

DCP