Midnight Family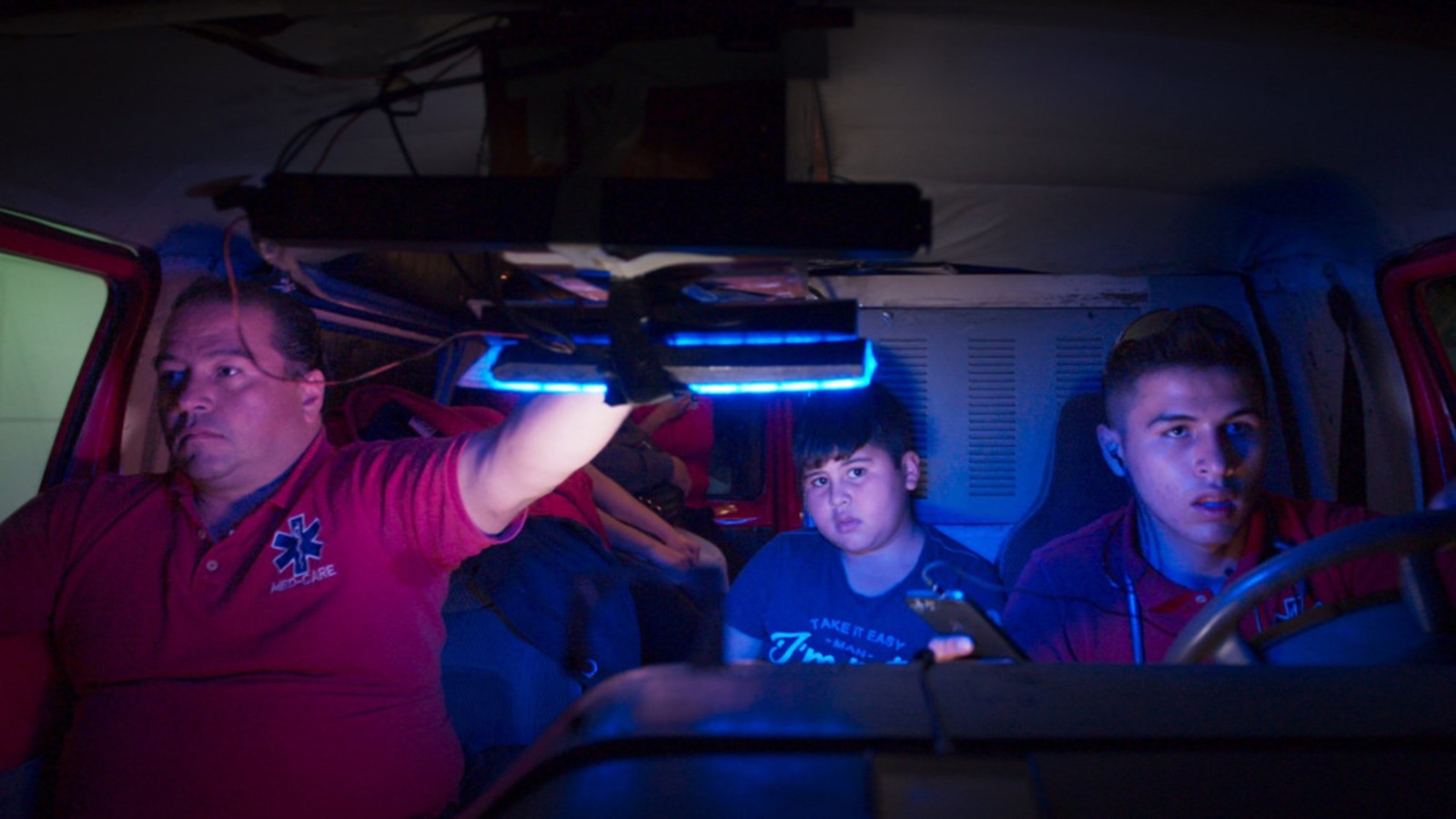 Hop in an ambulance with Mexico City's Ochoa family, a group of civilians who run a private EMT service in a bustling city sorely underserved by the government's limited medical resources.
"Provides a stark snapshot of how truly broken things are in Mexico City."—Variety
It seems beyond belief, if not downright cruel, that a major global metropolis should provide only 45 ambulances to serve a population of nine million. But for the Ochoa family—father Fernando, 17-year-old de facto family leader Juan, and chubby kid brother Josue—the chaos of Mexico City's streets nonetheless provides them with a hard-won way to make a meager living; hustling from grisly car wrecks to shootings to domestic-violence calls, the Ochoas are part of an army of private, for-profit ambulance services filling the gaps left by the city's deeply broken medical system. Breathlessly racing through uncaring traffic to be the first at the scene, only to quickly deal with bribe-hungry cops, competing EMTs, and victims who cannot or simply refuse to pay, Fernando and his sons somehow manage to find the time to be a normal, caring family—and to hold onto a belief that, even amidst all the mayhem, tomorrow will be a better day—in this stunning new film from acclaimed documentarian Luke Lorentzen, winner of the Premio Mezcal for Best Film, named Best Director at the 2019 Guadalajara International Film Festival, and given the U.S. Documentary Special Jury Award for Cinematography at the 2019 Sundance Film Festival.
Director Biography
Born in 1993 in Connecticut, Luke Lorentzen is a graduate of Stanford University, where she studied Art History and Film Studies. His film, Santa Cruz Del Islote won awards at over ten international film festivals. His first feature documentary, New York Cuts (2015), had its world premiere at the International Documentary Festival Amsterdam and its US Premiere at the Camden International Film Festival. Luke is also part of the creative team behind the Netflix documentary series "Last Chance U". Luke now lives on the road, most recently working on projects in Kansas, Mexico City and Italy.
Sponsored by Dexter Hayes Apartments
Director:

Luke Lorentzen

Principal Cast:

Juan Ochoa, Fer Ochoa, Josue Ochoa, Manuel Hernandez

Country:

Mexico, USA

Year:

2019

Running Time:

81 minutes

Producer:

Kellen Quinn, Daniela Alatorre, Elena Fortes

Cinematographers:

Luke Lorentzen

Editors:

Luke Lorentzen

Music:

Los Shajatos

Website:

Official Film Website

Awards:

Sundance Film Festival 2019 (US Documentary Special Jury Award) Guadalajara International Film Festival 2019 (Best Documentary Feature, Mexican Film, Mexican Long Feature Film, Director) CPH:DOX 2019 (Special Jury Mention) Hong Kong International Film Festival 2019 (Firebird Award)

Filmography:

New York Cuts (2015)

Language:

Spanish

Has Subtitles:

Yes

Format:

DCP

US Distributor:

1091 Media

International Sales:

Autlook Filmsales