Riders of Justice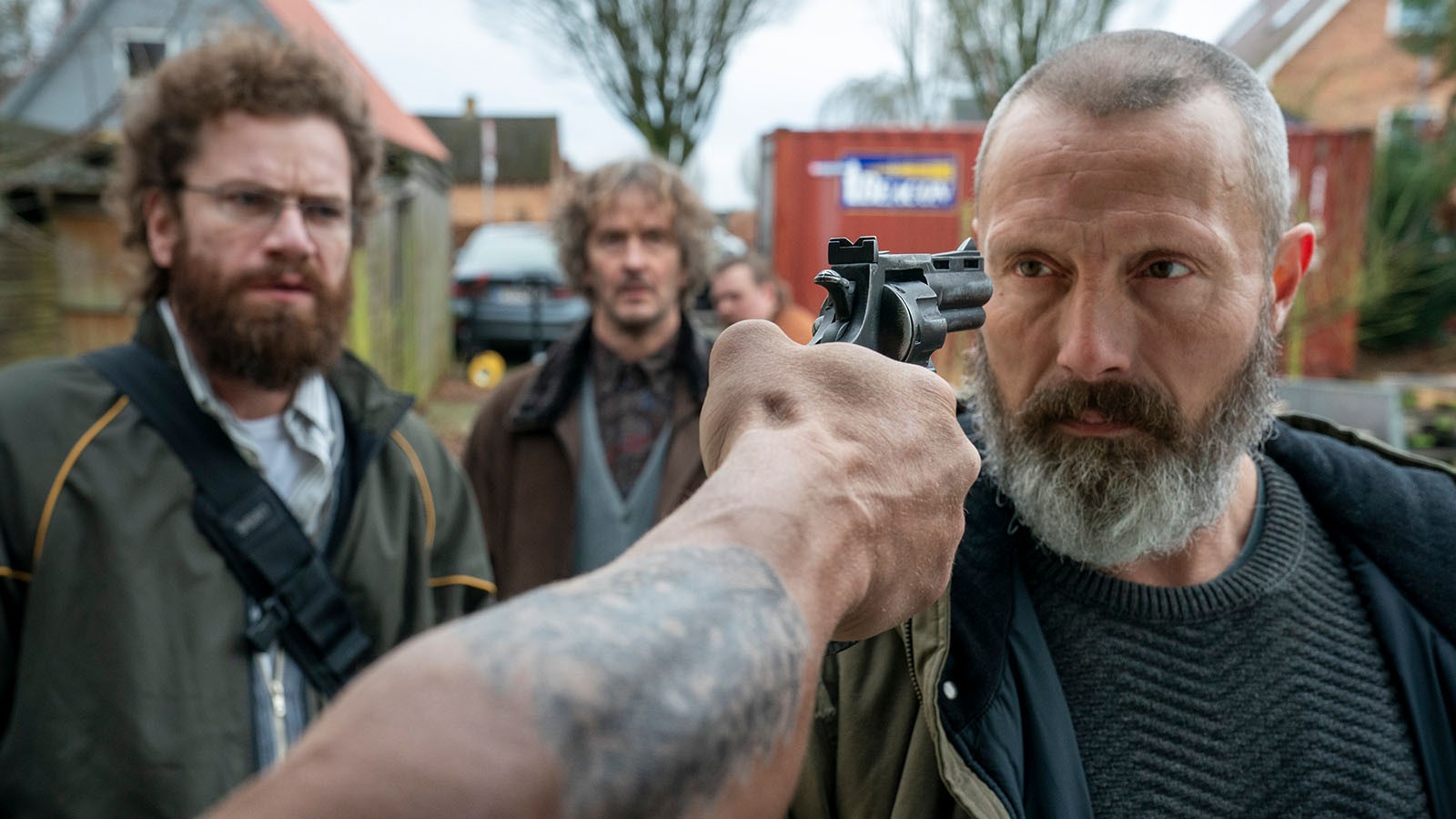 April 8 - 18, 2021
Mads Mikkelsen (Another Round) reunites with the writer/director of Men & Chicken in this pitch-black screwball comedy of revenge, starring as a heartbroken man whose wife's suspicious death in a train crash leads to outlandish conspiracy theories and gangland bloodshed.
PRERECORDED Q&A
Screening features a prerecorded Q&A with Anders Thomas Jensen (director).
Answering the question, "What if the Coen brothers had directed Pee-Wee's Big Adventure?", the latest jet-black comedy from Danish absurdist Anders Thomas Jensen (Men & Chicken) begins with a seemingly random stolen bicycle and gets tangled up along the way with a vicious biker gang called the "Riders of Justice." Jensen regular Mads Mikkelsen (Another Round) plays Markus, a military vet who is called home from war after his wife, Emma, is killed and his daughter is traumatized by a horrible railway accident—or was this "accident" pre-planned? In his grief, Markus meets Otto (Nikolaj Lie Kaas), a witness to the train tragedy and an off-the-rails statistics expert, who becomes convinced that the gang is the real cause of the crash through a complicated series of deliberate events, beginning with the stolen bike. The two later team up with Otto's wisecracking hacker friends, Lennart (Lars Brygmann) and Emmenthaler (Nicolas Bro), who all prove to be woefully inept at using logic and firepower to avenge Emma's death. As the scheme proceeds, plans begin to fall apart in increasingly unexpected ways. With a perfect balance of brutal violence, heartfelt tragedy, and oddball humor, Jensen's film carries viewers on an entertaining journey involving probability, revenge, and the unintended consequences of best-laid plans.
— Randy Woods
Director Biography
Anders Thomas Jensen is one of Denmark's most renowned screenwriters and directors. He is known for his unique cinematic universe, dark humor, and collection of complex characters. He has directed the successful movies Men & Chicken (2015), Adam's Apples (2005), The Green Butchers (2003), and the iconic Flickering Lights (2000). Jensen has also found success as a screenwriter on a wide range of other Danish movies, which have included collaborations with Susanne Bier, Lone Scherfig, Søren Kragh-Jacobsen, and Nikolaj Arcel. Jensen wrote the screenplay for Susannes Bier's Love Is All You Need (2012) as well as the Oscar-winning In A Better World (2010) and After The Wedding (2006). He has also written screenplays for Daniel (2019), The Sun King (2005), Murk (2005), The Duchess (2008) and All For Two (2012). In 2003, he was awarded an honorary Bodil award for his collective contribution to Danish cinema after having made a name for himself with a considerable number of feature films in a range of genres after his breakthrough in 1999, when he won an Oscar for the short film "Election Night" after his first two short films, "Ernst & The Light" (1996) and "Wolfgang" (1997), had been Oscar-nominated.
Original Language Title:

Retfaerdighedens ryttere

Director:

Anders Thomas Jensen

Principal Cast:

Mads Mikkelsen, Nikolaj Lie Kaas, Lars Brygmann, Andrea Heick Gadeberg, Nicolas Bro, Gustav Lindh, Roland Moller

Premiere Status:

US

Country:

Denmark

Year:

2020

Running Time:

116 minutes

Producer:

Sisse Graum Jorgensen, Sidsel Hybschmann

Screenplay:

Anders Thomas Jensen

Cinematographers:

Kasper Tuxen

Editors:

Nicolaj Monberg, Anders Albjerg Kristiansen

Music:

Jeppe Kaas

Website:

Official Film Website

Filmography:

Men & Chicken (2015); Adam's Apples (2005); The Green Butchers (2003); Flickering Lights (2000)

Language:

Danish

Has Subtitles:

Yes

US Distributor:

Magnolia Pictures, Magnet Releasing

International Sales:

TrustNordisk