The Bears' Famous Invasion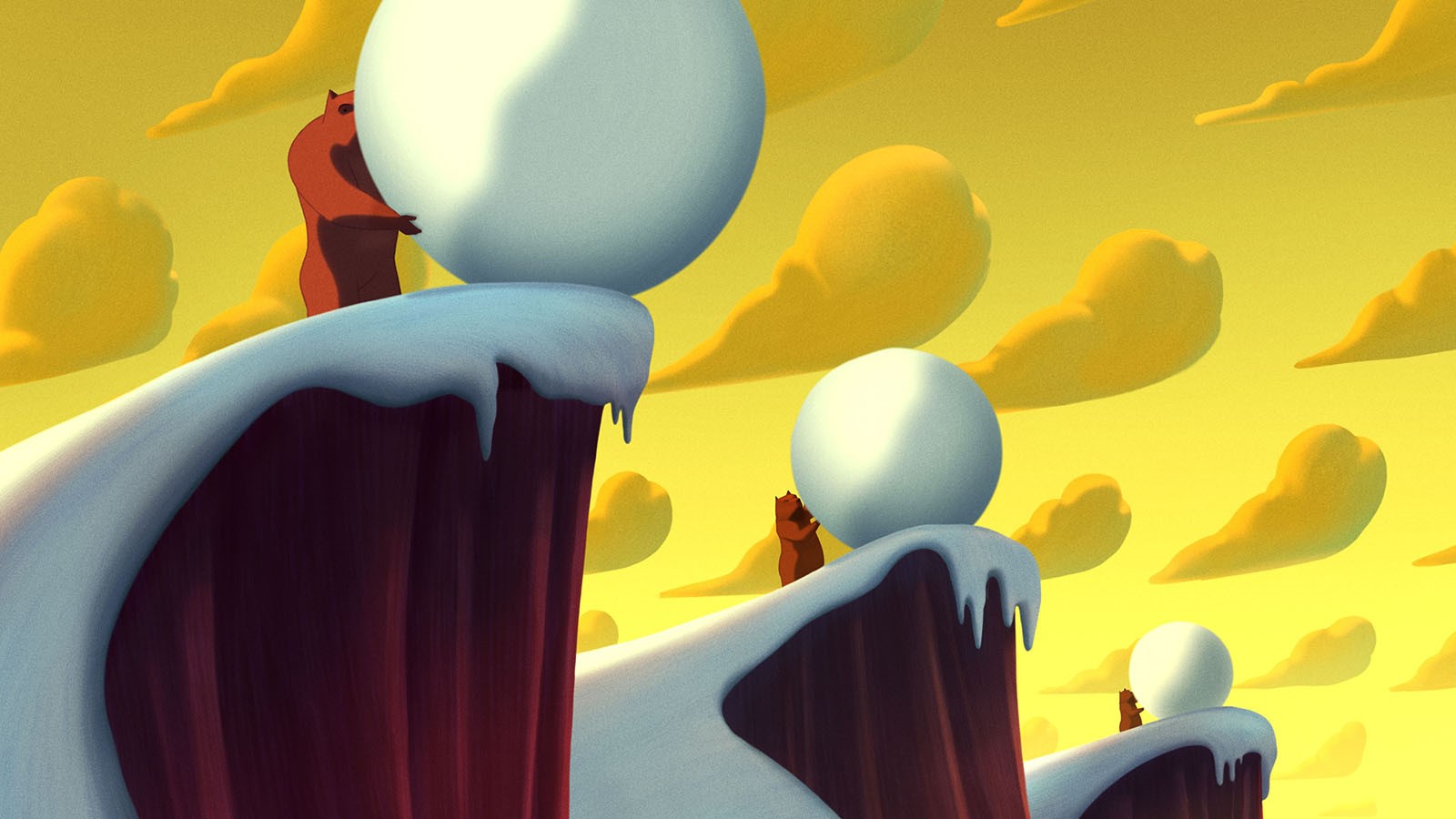 April 8 - 18, 2021
In this colorful and innovatively designed animated film based on the 1945 Italian children's book by Dino Buzzati, Bear King Leonzio gathers his clan to a uniquely creative war against the land of man to save his son from a human circus. Ages 10+
The Bears' Famous Invasion is classic animation at its finest. Based on a 1945 Italian children's storybook, the film uses bold colors, angular shapes, and reaches an exceptionally high bar with its visionary creativity. Narratively constructed around a fictitious war between humans and members of the animal kingdom, the film has fighting but is free of bloodshed and generally gentle in its presentation of the fantastical encounters with ghosts, charging boars, a sea monster, and more. The film is framed with a wandering storyteller who awakens an old bear in a cave and relays to him the tale of Bear King Leonzio whose son, Tonino, is swept downriver while fishing and becomes a performer in the human circus. Moving beyond his anguish, Leonzio calls the bears to arms with a surreal bear dance that wondrously opens an imaginary door to where anything can and will happen. How will the conflict between man and animal resolve? What additional perspective may the older bear provide to the storyteller? This is the type of animated film that doesn't get made anymore: a fairytale that is visually enrapturing yet also explores complex themes for young audiences around the function of storytelling and how humans relate to nature.
In French with English subtitles. Recommended for Ages 10+ (Some intense sequences of warfare, while bloodless, may be challenging for younger viewers)
Director Biography
Lorenzo Mattotti is an Italian comics artist and illustrator whose work has been published in numerous magazines such as Vogue, Cosmopolitan, The New Yorker, Vanity Fair, and Le Monde. He won an Eisner Award in 2003 for his graphic novel "Dr. Jekyll and Mr. Hyde." The Bears' Famous Invasion is his first feature film.
Original Language Title:

La fameuse invasion des ours

Director:

Lorenzo Mattotti

Principal Cast:

Voices of: Leila Bekhti, Thomas Bidegain, Jean-Claude Carriere

Premiere Status:

Seattle

Country:

France, Italy

Year:

2019

Running Time:

82 minutes

Producer:

Valérie Schermann, Christophe Jankovic

Screenplay:

Thomas Bidegain, Jean-Luc Fromental, Lorenzo Mattotti, based on the novel "La Famosa invasione degli orsi in Sicilia" by Dino Buzzati

Cinematographers:

Sophie Reine, Nassim Gordji Tehrani

Editors:

René Aubry

Filmography:

Fear(s) of the Dark (2007)

Language:

French, with English subtitles

Has Subtitles:

Yes

US Distributor:

Pathe International