The King of Laughter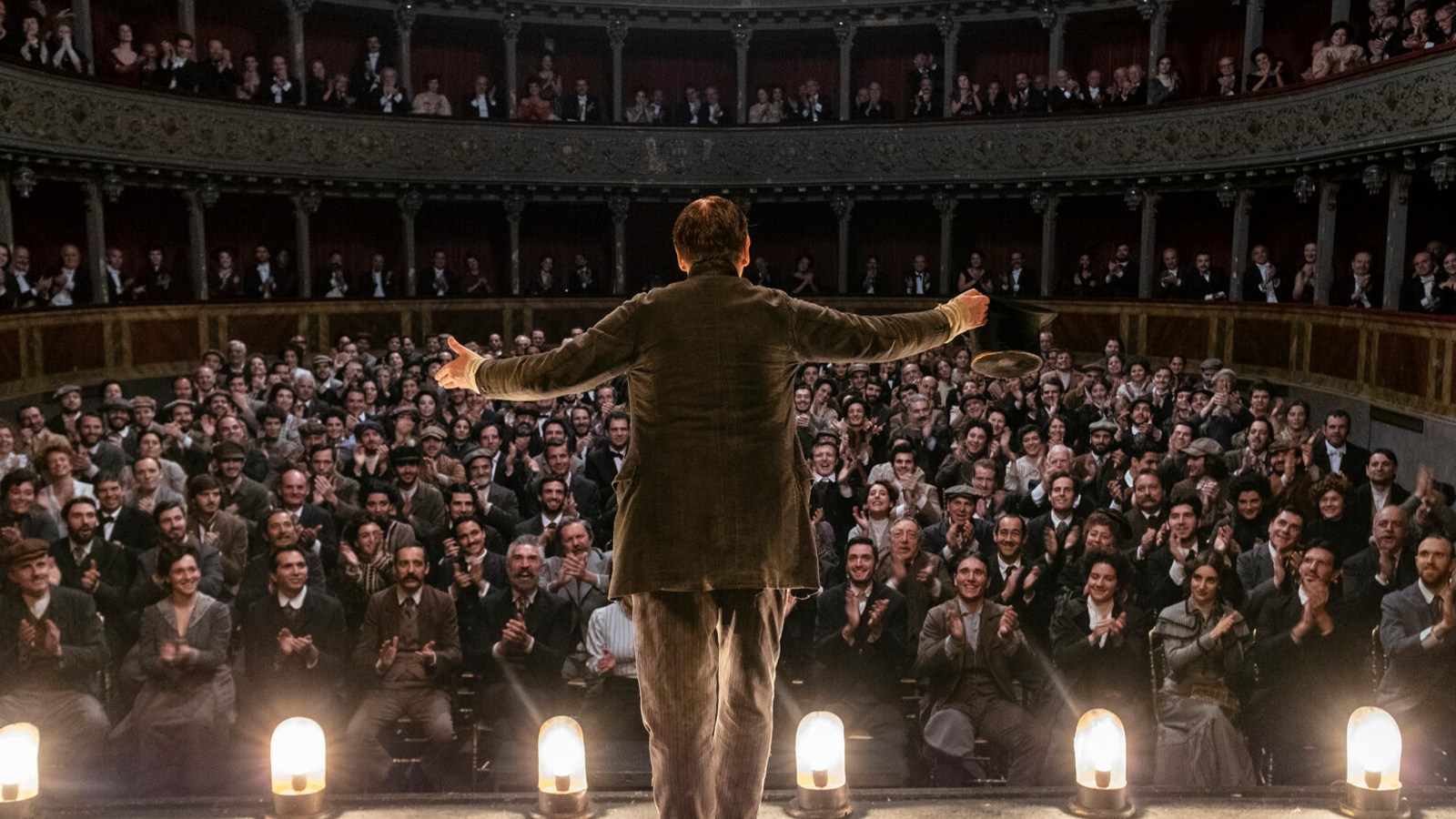 April 14 - 24, 2022
Get a front row seat to the history and splendor of Neapolitan popular theatre of the early 20th century, starring Toni Servillo (The Great Beauty, The Hand of God) as celebrated comic actor and playwright Eduardo Scarpetta.
STREAMING TICKETS*
*Restricted to audiences in WA State.
At the beginning of the 20th century in the Naples of the Belle Époque, theaters and cinemas shine. The great comedian Eduardo Scarpetta (a superb Toni Servillo, The Great Beauty) is the king of the box office. The stage is his life and his entire family nucleus gravitates around it, made up of wives, companions, lovers, and legitimate and illegitimate children including Titina, Eduardo, and Peppino De Filippo. When he decides to stage a parody of a famous drama by Gabriele D'Annunzio, his life and career are shaken to the core via a lawsuit that was the first Italian copyright battle ever. With double-layered eyes and slouching more than Pinocchio, the actor is transfigured into a mask with a flamboyant way of living and loving: an antihero, petty bourgeois and ambitious, aware that "true misery is false nobility," where the whole world for him becomes a stage. The director Mario Martone, who adores theater and period-piece dramas, offers an enveloping painting of the warmth and richness of Naples, with attention to detail and deep respect for the characters (and the magnificent actors who play them) and for the stage itself. He creates a film that immediately points to the heart: It breaks through and moves the audience even without drama, reaching an even more touching experience for those who know the passion and emotion of theater.
Original Language Title:

Qui rido Io

Director:

Mario Martone

Principal Cast:

Toni Servillo, Maria Nazionale, Cristiana Dell'Anna, Antonia Truppo

Premiere Status:

Seattle

Country:

Italy, Spain

Year:

2021

Running Time:

133 min

Producer:

Nicola Giuliano, Francesca Cima, Carlotta Calori, Mariela Besuievsky

Screenplay:

Mario Martone, Ippolita di Majo

Cinematographers:

Renato Berta

Editors:

Jacopo Quadri

Filmography:

The Mayor of Rione Sanità (2019), Leopardi (2014), L'amore molesto (1995)

Language:

Italian

Has Subtitles:

Yes

Format:

DCP

US Distributor:

Film Movement

International Sales:

True Colours