The Last Film Show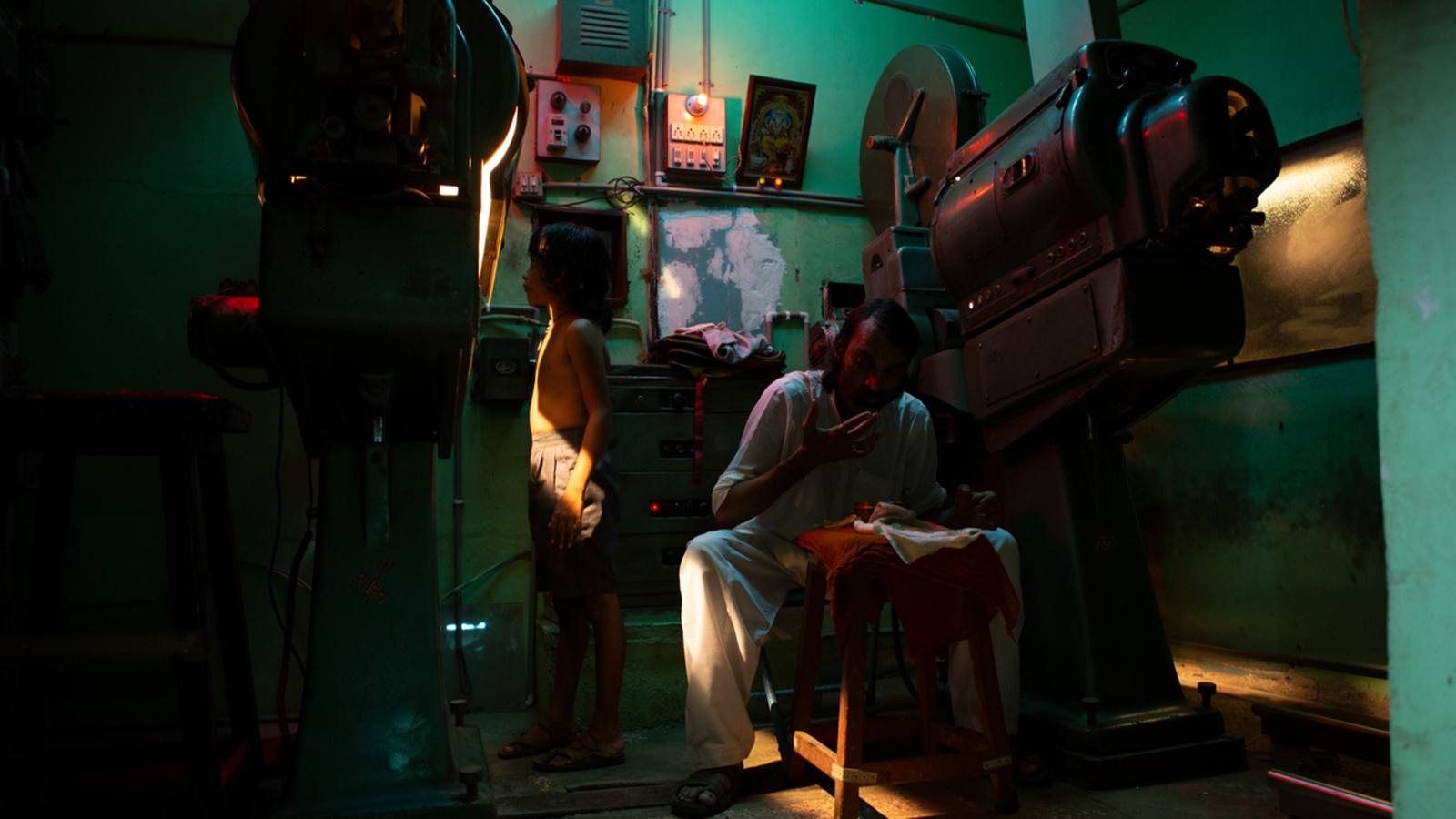 April 20 - 24, 2022
A mischievous nine-year-old village boy makes friends with the projectionist of a rundown movie theater by bribing him with home-cooked food in exchange for admission in this vivid and jubilant tribute to the magic of movies.
CLOSING NIGHT PARTY
Presented by Flyhomes, Inc.
Make an evening of it! Join us after the Sunday, April 24 screening for our Closing Night Party at the Museum of History and Industry (MOHAI), beginning at 8:00pm. At the party, enjoy full access to MOHAI and all exhibits, signature SIFF cocktails featuring Tito's Vodka, hors d'oeuvres, a photo booth, music from DJ David Lowe, and more.
$40 General Public ($35 SIFF Members)
Includes two drink tickets and hors d'oeuvres
"I want to become movies." A semi-autobiographical tale from writer/director Pan Nalin (Samsara, SIFF 2016's Angry Indian Goddesses), The Last Film Show is a vivid and jubilant tribute to the power of movies. Samay (Bhavin Rabari) is a lower-class nine-year-old boy who lives in a remote village in the Indian state of Gujarat. One day he and his mischievous friends hop on a train and end up at a rundown single-screen cinema, the Galaxy Theater. Though his friends get caught sneaking in and are subsequently ejected, Samay concocts a plan to bribe Faizal the projectionist (Bhavesh Shrimali) with home-cooked food. Now visiting daily, Samay gets to watch from the projectionist's booth, the best seat in the house, where he learns the tricks of the trades and becomes quite the little cinephile. But heartbreak is just around the corner. Though this sounds much like a certain Oscar®-winning Italian film from 1988, it is its own breathtaking, deeply personal film, a gentle and bittersweet fable about the people who keep cinema alive no matter how old they are.
Director:

Pan Nalin

Principal Cast:

Bhavin Rabari, Vikas Bata, Richa Meena

Premiere Status:

Seattle

Country:

India

Year:

2021

Running Time:

110 min

Producer:

Pan Nalin, Dheer Momaya, Marc Duale

Screenplay:

Pan Nalin

Cinematographers:

Swapnil S. Sonawane

Editors:

Shreyas Beltangdy, Pavan Bhat

Awards:

Valladolid Film Festival 2021 (Best Film)

Filmography:

Angry Indian Goddesses (2015), Faith Connections (doc, 2013), Valley of Flowers (2006), Ayurveda: Art of Being (doc, 2001), Samsara (2001), Amazing World India (doc, 1999), The Devadasi (doc, 1997), Kaal (1996), The Nagas (doc, 1994), The Tulkus (1993)

Language:

Gujarati

Has Subtitles:

Yes

Format:

DCP

US Distributor:

Samuel Goldwyn Films

International Sales:

Orange Studio