The Sacred Spirit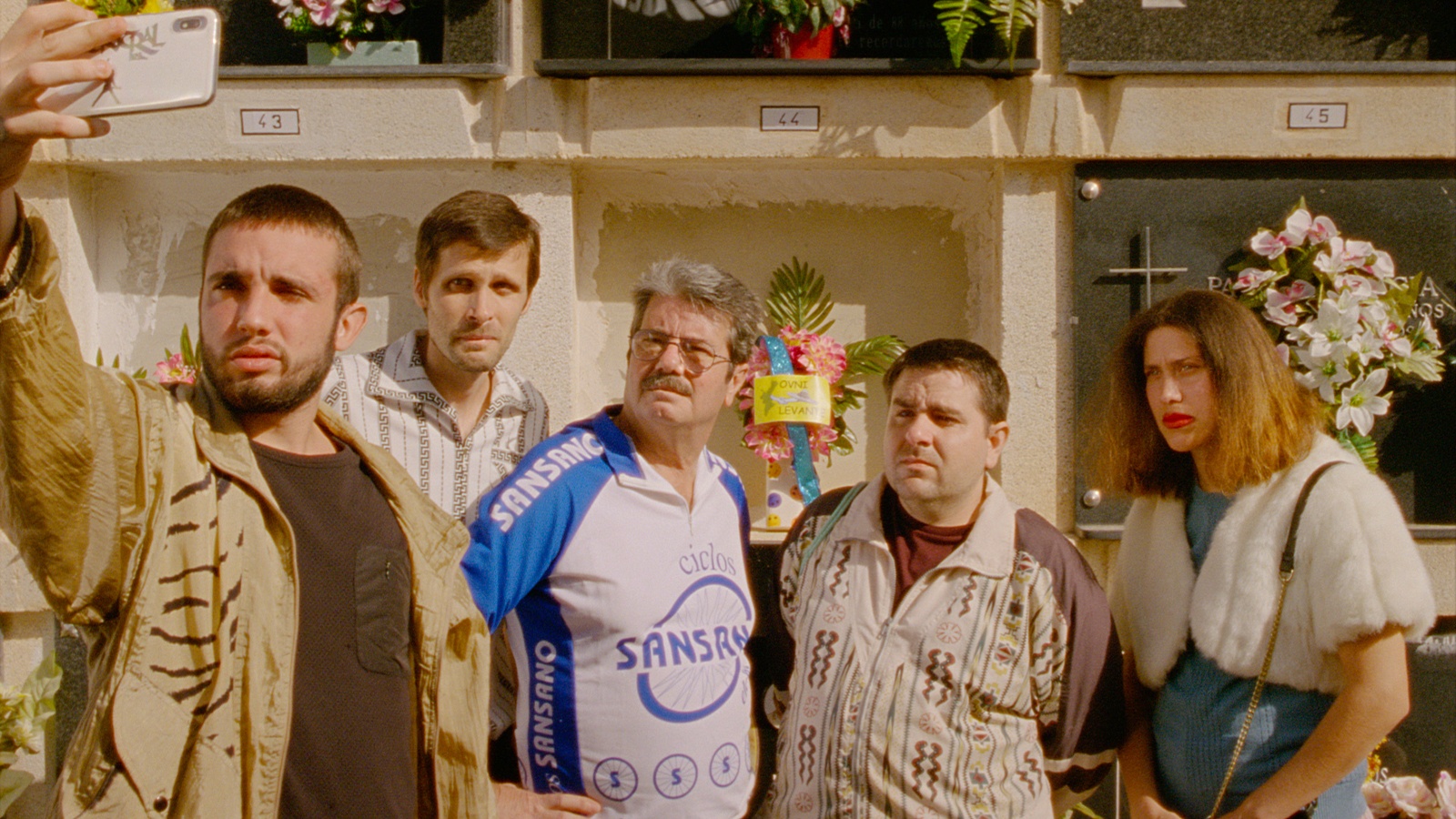 April 14 - 24, 2022
Caught up in a world of wild cosmic conspiracy theories and alien visitations, mild-mannered José Manuel finds himself tasked with evoking an ancient prophecy in this singularly unique dark comedy, the feature debut of writer/director Chema García Ibarra.

STREAMING TICKETS
"Fascinated by the ways science fiction and the paranormal burrow inside people looking for meaning in an anarchic world, the filmmaker weaves an idiosyncratic story of a group of UFO believers oblivious to a darker element in their midst." – Jay Weissberg (Variety)
Mild-mannered to the point of almost being invisible to the world around him, José Manuel (Nacho Fernández) spends his days running an Egyptian-themed bar in the Spanish city of Elche and taking care of his once-clairvoyant mother Carmina (Rocío Ibáñez), whose gifts have sadly been lost to Alzheimer's but who is still known to toss out a cryptic phrase or two. His sister Charo's (Joanna Valverde) daughter Vanesa has been missing for a month, the distraught mom regularly taking to the airwaves to stoically plead for the child's safe return alongside the girl's twin sister Verónica (Llum Arqués). But in the evenings, José Manuel is the exalted "Cosmic Pharaoh" of the Ovni-Levante Association of Ufology, run by group leader Julio (José Ángel Asensio) out of his real estate office and a beloved gathering point for a small, odd assortment of UFO and conspiracy-theory enthusiasts who trade information on recent and more well-known abductions, visitations, etc. When Julio meets his destiny with his beloved aliens, also known as dying, José Manuel is tasked to fulfill the leader's prophecy and invoke the ancient spirit, a plan that requires his niece Verónica and her supposed "gifts," leading to a surprising revelation in a town where everyone is looking to make sense of the world in which everything is slightly off. A pitch-black and singularly unique comedy, The Sacred Spirit is the debut feature from award-winning writer and director Chema García Ibarra.
Original Language Title:

Espíritu sagrado

Director:

Chema García Ibarra

Principal Cast:

Llum Arqués, Nacho Fernández, Rocío Ibáñez, Joanna Valverde

Premiere Status:

Seattle

Country:

Spain, France, Turkey, UK

Year:

2021

Running Time:

97 min

Producer:

Leire Apellaniz, Enes Erbay, Miguel Molina, Marina Perales Marhuenda, Xavier Rocher

Screenplay:

Chema García Ibarra

Cinematographers:

Ion De Sosa

Editors:

Ana Pfaff

Website:

Official Film Website

Awards:

Locarno Film Festival 2021 (Special Jury Mention), Cinefest Miskolc International Film Festival 2021 (Fipresci Award), Cinespana 2021(Prix Nouveaux Cineastes)

Filmography:

Debut Feature Film

Language:

Spanish

Has Subtitles:

Yes

Format:

DCP

US Distributor:

Arrow Films

International Sales:

Heretic World Sales