To the Stars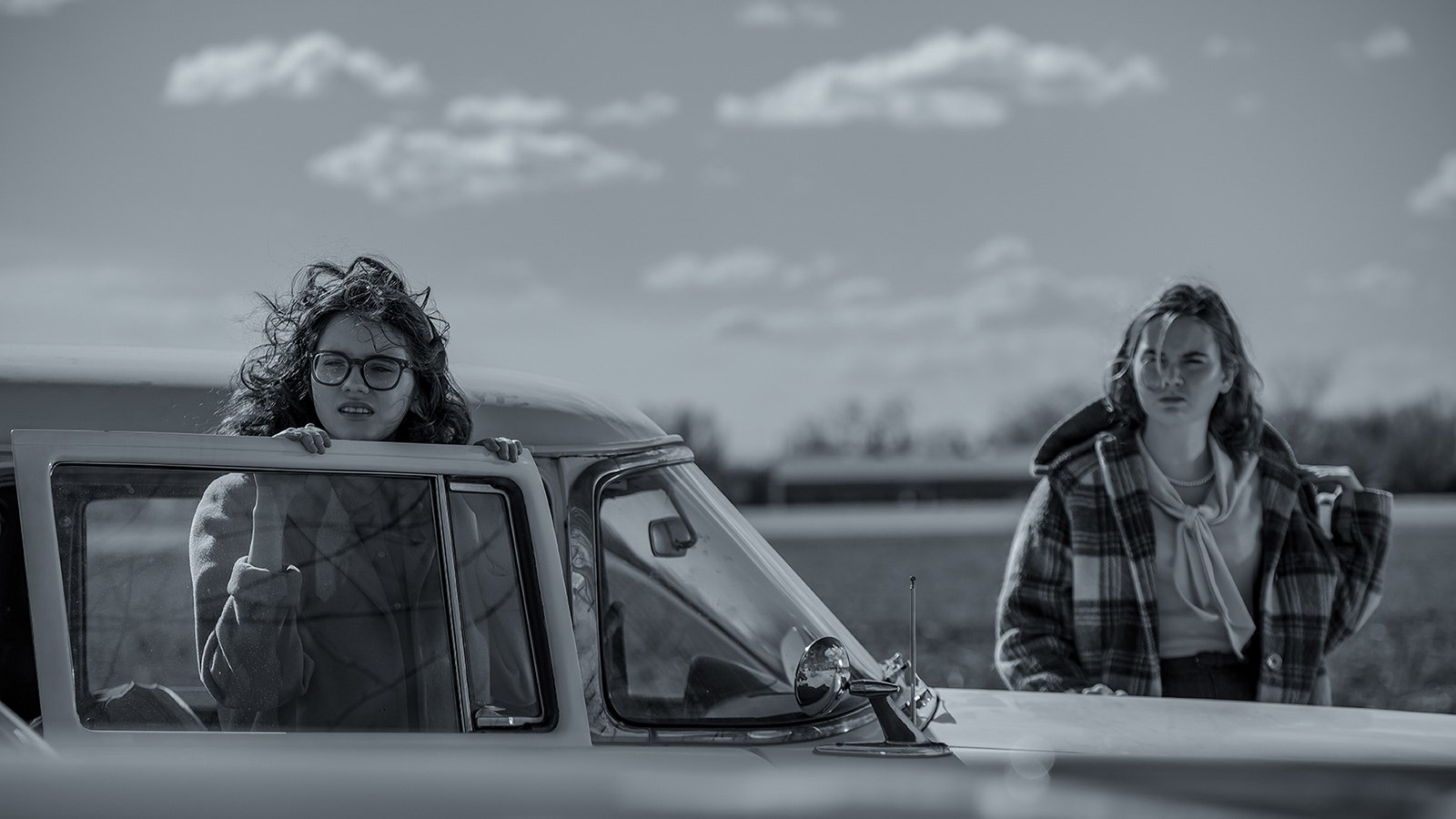 An elegant black-and-white drama set in 1960s Oklahoma about a sweet, withdrawn farmer's daughter who challenges her repressive upbringing when she makes friends with the new girl in town.
"Stephens' observant film illustrates what can be beautiful and also wrenching about being vulnerable and open."—Screen Daily
To The Stars, a remarkable film from Tacoma resident Martha Stevens (2014's Land Ho!), most directly draws comparisons to Peter Bogdanovich's Oscar®-winning film The Last Picture Show (1971), not solely in its black-and-white portrayal of mid-century teen life in the American heartland, but also in how it evokes the melodramas made in the era it depicts while still feeling positively modern; a tough needle to thread. Iris Deerborne (Kara Hayward, Suzy in Moonrise Kingdom) is an awkward, withdrawn farmer's daughter in 1960s rural Oklahoma. She has no friends, her weak bladder has led to the unfortunate schoolyard nickname "Stinky Drawers," and her alcoholic parents (Jordana Spiro and Shea Whigham) barely notice her. But then she meets Maggie Richmond (Liana Liberato, also in the SIFF 2019 film Banana Split), who's just moved into town from Kansas City. Cosmopolitan, brassy, and assured, Maggie immediately becomes the center of attention at school, telling tales of city life and her father's work as a Life Magazine photographer. But Maggie seems more interested in Iris than in all the other blonde, mean girls of Wakita High, and they become fast friends. But as Iris becomes more confident in herself under Maggie's tutelage, challenging her repressive upbringing, it's clear that Maggie is running from a secret that could destroy her family's newfound peace in this small town.
Director Biography
Martha Stephens is an American film writer and director, and a graduate of the University of North Carolina School of the Arts directing program. Her micro-budget feature films, Passenger Pigeons (2010) and Pilgrim Song (2012), both premiered at the SXSW Film Festival. With longtime friend Aaron Katz, Stephens co-wrote and co-directed Land Ho!, which won the John Cassavetes Independent Spirit Award.
Sponsored by Ingeniux, The Stranger, Greater Seattle Business Association
Director:

Martha Stephens

Principal Cast:

Kara Hayward, Liana Liberato, Jordana Spiro, Shea Whigham, Malin Akerman, Tony Hale

Country:

USA

Year:

2019

Running Time:

111 minutes

Producer:

Kristin Mann, Laura D. Smith, Erik Rommesmo

Screenplay:

Shannon Bradley-Colleary

Cinematographers:

Andrew Reed

Editors:

Nathan Whiteside

Music:

Heather McIntosh

Awards:

Sundance Film Festival 2019 (Nominee - Grand Jury Prize)

Filmography:

Land Ho! (2014); Pilgrim Song (2012); Passenger Pigeons (2010)

Language:

English

Format:

DCP

International Sales:

Sunshine Sachs