Alaska Airlines Shorts Aug 19 Sept 19
Looking for the title of a short film you saw on an Alaska flight?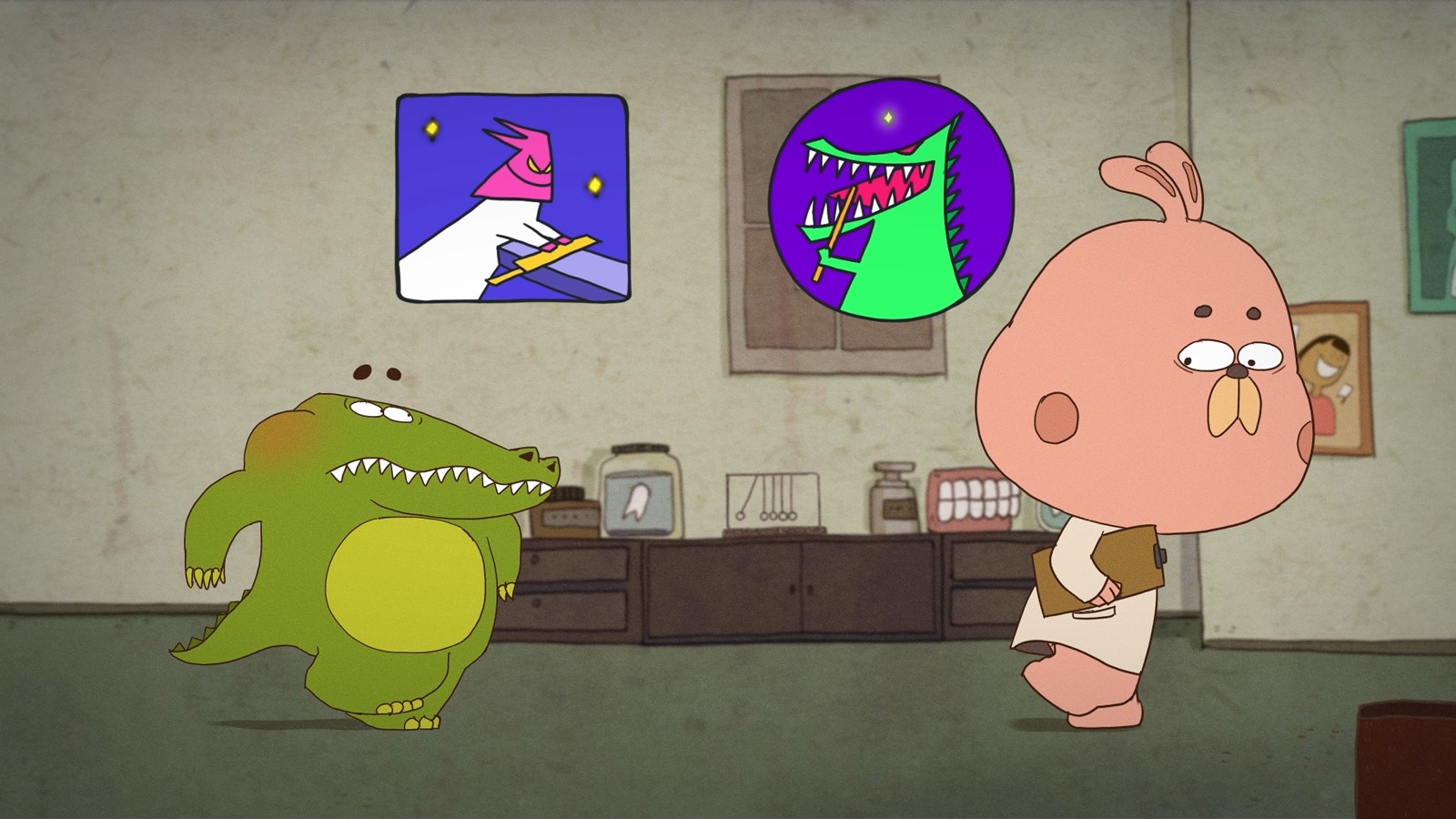 August
Two Balloons
d. Mark C. Smith | USA | 2017 | 10 min
Two adventurous lemurs navigate their dirigibles halfway around the world to a place where happenstance and fate threaten to disrupt their reunion.
The Matchmaker
d. Leonora Pitts | USA | 2017 | 12 min
Terrified that his mother isn't getting enough mental stimulation to stave off dementia, Sam sets out to find her the a new best friend.
Coke Habit
d. Dress Code | USA | 2016 | 4 min
During the summer after 10th grade, Mike's love of Coca-Cola turns into an addiction.
You Look Scary
d. Xiya Lan | USA | 2016 | 5 min
A crocodile fears the procedure to remove his tooth but the dentist is just as afraid of the crocodile's mouth.
Penelope
d. Heta Jaalinoja | Estonia | 2016 | 5 min
The doorbell rings but the house is still a dreadful mess.
The Geneva Convention
d. Benoit Martin | France | 2017 | 15 min
A group of teenagers discuss the rules of engagement before a fight; a young woman then steps up to broker peace.
The Lives of Lenny Wilson
d. Aurélien Vernhes-Lermusiaux | France | 26 min
After a casting call Boris runs into his old flame, Julia. Together they must own up to the past they'd tried so hard to run away from.
Little Potato
d. Wes Hurley | USA | 2017 | 14 min
Wes Hurley's story of coming out/to America, told by him and his mom.
We the Economy: That Film About Money
d. James Schamus | USA | 7 min
You think that a dollar bill is money and that banks are where your cash is stored and safeguarded. Well, you're wrong. Like, really wrong.
We the Economy: The Second Part of That Film About Money
d. James Schamus | USA | 7 min
You think that banks are where your cash is stored and safeguarded and that a dollar bill is money. Well, you're wrong. Like, really wrong.
FEATURES
Inventing Tomorrow
d. Laura Nix | USA | 2018 | 90 min
Meet the passionate teen innovators from around the globe who are dedicated to crafting cutting-edge solutions to the world's environmental threats.
Dirtbag: The Legend of Fred Beckey
d. Dave O'Leske | USA | 2017 | 96 min
Fred Beckey is a gruff 94-year-old Northwest native and happens to be the quintessential "dirtbag"-a breed of rebellious, fearless mountain climbers.
Gulliver's Travels
d. Dave Fleischer | USA | 1939 | 76 min
Adapted from Jonathan Swift's novel, Gulliver's Travels was the second animated feature film ever produced and is a classic of Golden Age Hollywood.
SEPTEMBER 2019
With Thelma
d. Ann Sirot, Raphael Balboni | Belgium | 2017 | 13 min
A volcano has blocked air traffic so uncle Jean and Vincent share the same roof with little Thelma until her parents return from oberseas.
Salamat from Germany
d. Una Gunjak, Rami Kodeih | Lebanon, France | 2018 | 21 min
Desperate to escape Lebanon Lillo buys himself a Syrian passport, but what he's not ready for is everything that comes with being a Syrian refugee.
Get Up Kinshasa!
d. Sébastien Maitre | France | 21 min
Using his innovative spirit, young Samuel embarks on several moneymaking ventures in order to purchase new shoes so he may return to the classroom.
37°4 S
d. Adriano Valerio | France | 2013 | 12 min
On Tristan da Cunha-a small island in the middle of the Atlantic-Nick & Anne have been inseperable since birth; then Anne decides to go to England.
The Spa
d. Will Goodfellow | Australia | 2016 | 8 min
When retiree Don declares he no longer wants the new spa he's just ordered, Ivan the deliveryman suspects there's more to the story.
Bunny New Girl
d. Natalie van den Dungen | Australia | 2015 | 6 min
On her first day at a new school, a self-conscious young girl learns that friendship can overcome difference.
Above America
d. Harrison Sanborn | USA | 3 min
A nostalgic and epic flight across the deserts, mountains and cities of America during the 1980's.
The Hama Hama Way
d. Treva Wurmfeld | USA | 2016 | 12 min
Adam and Lissa James take a new approach to farming oysters on the tide flats of the Hama Hama River.
We the Economy: This Won't Hurt a Bit
d. Mary Harron | USA | 8 min
A patient goes to the hospital for a migraine, unaware of the costs his visit will incur. He soon finds out what it means to get unaffordable care.
We the Economy: Fed Head
d. Catherine Hardwicke | USA | 8 min
When Rob Rafaelson awakes with amnesia right before a big press conference, he must be reminded of what the Federal Reserve is using children's toys.
FEATURES
Sadie
d. Megan Griffiths | USA | 2018 | 96 min
13-year-old Sadie, the troubled daughter of a soldier serving overseas, resorts to extreme measures when her mother begins dating another man.
The Hitch-Hiker
d. Ida Lupino | USA | 1953 | 71 min
In Ida Lupino's classic crime thriller, two buddies on a fishing trip are hijacked by a nomadic killer-the only American noir directed by a woman.
My Man Godfrey
d. Gregory La Cava | USA | 1936 | 94 min
William Powell stars as Godfrey, a "forgotten man" plucked out of poverty by Irene Bullock (Carole Lombard) who hires him to be family's butler, in this classic screwball comedy.