Alaska Airlines Shorts Aug Sept
Looking for the title of a short film you saw on an Alaska flight?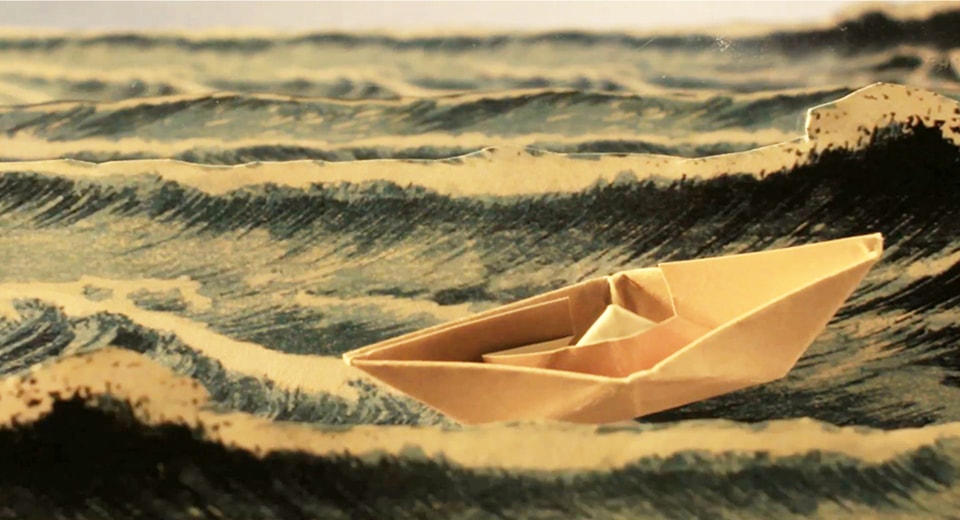 AUGUST
J'arrive (OMW)
d. Daryle Conners | USA | 2014 | 9 min
"J'arrive" is a psychological thriller in the Hitchcock tradition - the story of a woman who is confronted with her doppleganger in a most surprising way.

La Vie d'Un Chien
d. John Harden | USA | 2006 | 13 min
A scientist formulates a serum that transforms him into a dog. It's only when he changes back into a human that his troubles begin.

Hirsute
d. A.J. Bond | Canada | 2007 | 14 min
Kyle, a young scientist, is struggling to build a time machine when he is confronted by an arrogant future version of himself. Shocked to discover that his future holds a preoccupation with body-hair removal and boiled eggs, Kyle vows to change the course of his life.
Malaria
d. Edson Oda | Brazil | 2013 | 6 min
"Malaria" tells the story of Fabiano, a young Mercenary who is hired to kill Death. This short film combines Origami, Kirigami, Time lapse, nankin illustration, Comic Books and Western Cinema.
So You've Grown Attached (SYGA)
d. Kate Tsang | USA | 2014 | 15 min
An off-beat comedy about Ex, an imaginary friend, who is forced to consider retirement when his creator, Izzy, starts to grow up.
Noodle Fish
d. Jin-man Kim | South Korea | 2012 | 10 min
To be a grown-up, you've got to get out of the water.' With this, the tadpoles disappear. Noodle Fish, a friend of them begins his journey for the world outside the water. At the river-mouth he meets several fish and asks them how to get out of the water. But they even do not know well the world outside the water. One day he happens to hear the secret of the world and takes on the challenge of freedom. What is the world outside the water like?
One Minute Time Machine
d. Devon Avery | United Kingdom | 2014 | 6 min
Every time the beautiful Regina rejects his advances, James pushes a red button and tries again, all the while unaware of the reality and consequences of his actions.
Impact, A Boxer's Story
d. Keith Rivers | USA | 2014 | 6 min
A tragic incident stalled Malagamali'i D'hue's career in boxing. "Impact" follows the story of one man's fight to persevere, and the strength we find within our idols.
We The Economy - The Street
d. Joe Berlinger | USA | 2016 | 9 min
How does Wall Street influence the economy? On the heels of the financial crisis, Wall Street for some has become synonymous with corruption and greed. Director Joe Berlinger takes us to the epicenter of the financial world - the New York Stock Exchange - to learn how Wall Street really influences the economy and impacts all of our lives.
We The Economy - Monkey Business aka Economic Inequality
d. Shola Lynch | USA | 2016 | 6 min
What are the causes of inequality? In "Monkey Business," filmmaker Shola Lynch chats with economists from across the political spectrum to help explain the causes of economic inequality, with help from a couple of mammalian friends.
SEPTEMBER
The Lost Mariner
d. Tess Martin | Netherlands | 2014 | 6 min
"The Lost Mariner" is an animated interpretation of Dr. Oliver Sacks' case study found in his book The Man Who Mistook His Wife for a Hat. It uses photographs to visualize the rare memory condition of patient Jimmie G.
El Camino Solo
d. Shawn Telford | USA | 2015 | 11 min
Stranded in the desert a man is forever changed by a random act of kindness.
Bihttoš
d. Elle-Máijá Tailfeathers | Canada | 2014 | 15 min
"Bihttoš" is an unconventional documentary that explores the complex relationship between a father and daughter. Through animation, re-enactments, and archival photos, writer/director Elle-Máijá Tailfeathers delves into the dissolution of her parents' mythic love story and how it has colored her perception of love in her adult life.
Lambing Season
d. Jeannie Donohoe | USA | 2013 | 15 min
An American woman travels to the Irish countryside in search of her long-lost father, only to find her path full of sheep, secrets, and shenanigans.
By the Salish Sea
d. Serge Gregory | USA | 2012 | 12 min
On the Northwest coast in the early 19th century, a Salish native's dream quest is disturbed by the arrival of a tall ship.
Driving
d. Nate Theis | USA | 2014 | 4 min
"Driving" is a satirical look at people in their cars. With explosions.
Luchadora
d. Amber Cortes | USA | 2015 | 8 min
Meet Avispa. She's small, she flies, and in the ring - all the guys are afraid of her. This is the story of the unlikely rise of the Pacific Northwest's only fully debuted female professional luchadora. Follow along with Avispa - a college student by day and a luchadora by night - as she runs, jumps, kicks, and finds her way through the ranks of Lucha Libre.
Cooked Candy
d. Andrew Rodgers | USA | 2014 | 6 min
Kinder Surprise eggs are enormously popular all around the world, with the chocolate shell containing the clever toy inside. That is, except in the United States, where they're considered a choking hazard and are illegal. This is the story of a Kinder smuggler.
We The Economy - Recession
d. Lee Hirsch | USA | 2016 | 6 min
What causes a recession? Choreographed by Pilobolus dance company and narrated by economic historian John Steele Gordon, Lee Hirsch's "Recession" mounts an entertaining and educational look at what causes an economic recession and how recovery is stimulated.
We The Economy - Supply Chain Reaction
d. Jehane Noujaim | USA | 2016 | 7 min
What do human rights have to do with the economy? As consumers in a rapidly growing world economy, we have an insatiable appetite for the next greatest electronic gadget, like smartphones and TVs. But can we consume cheap imported products without exploiting someone in the supply chain?