Cinema Italian Style 2014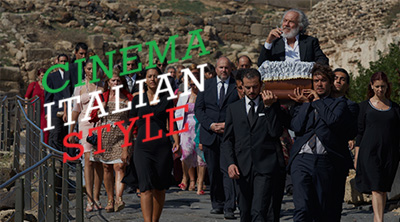 November 13-20
The week features more than 20 extraordinary features, documentaries and short films with some of the biggest names in Italian cinema today, with established directors like Bernardo Bertolucci (with a stunning new restoration of The Conformist) and Paolo Virzi (Human Capital, Italy's Oscar® submission), alongside bright new talents Pierfrancesco Diliberto (David di Donatello-winning The Mafia Only Kills in Summer) and Sydney Sibilia (Italian Golden Globe winner I Can Quit Whenever I Want). Bookended by two fabulous parties and with many special guests in attendance, the week promises to be una settimana di film straordinario!
---
Passes
$100 | $75 SIFF Members
Admits holder to all screenings in the Cinema Italian Style series November 13-20 at SIFF Cinema Uptown. Includes Opening Night film and Party and Closing Night film and Party (non-transferable).
Opening and Closing Nights
Film and Party: $25 | $20 Members
A limited number of tickets are available for Opening and Closing Night celebrations.
Film only: $12 | $7 Members | $11 Youth and Seniors
General Admission
$12 | $7 Members | $11 Youth and Seniors
Matinees: $9 | $7 Members
SIFF Cinema passes and vouchers are valid for films only.