SFFSFF: The Best in Sci-Fi and Fantasy Shorts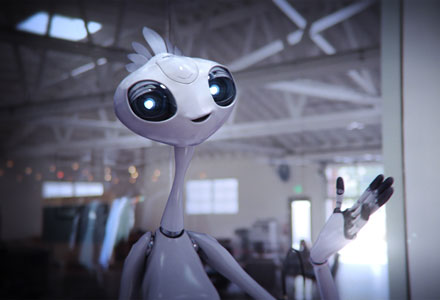 February 7, 2015
Celebrate the tenth anniversary of the classic Science Fiction + Fantasy Short Film Festival you've come to know and love, and enjoy the artistic and imaginative achievements of this lineup of other-worldly films as they are presented on Cinerama's massive 70-foot screen.
Screening on standby – advance tickets not available. Purchase an All-Access pass for admission to this program, as well as all other Festival events.
Tickets: $20 | $15 SIFF & EMP Members
SIFF Passes, vouchers and other discounts are not valid.
Will include a one hour intermission between viewing sessions, and awards ceremony to follow screening.
Session 1

Destiny
d. Fabien Weibel | France | 5 min
Pacific Northwest Premiere
A man who is obsessed with clocks goes about his perfectly synchronized morning routine before stepping out and getting hit by a bus. He wakes up instantly to find himself back in bed, with the potential to save himself, or, fail and continue this same loop.

In The Beginning
d. Arthur Metcalf | USA | 3 min
Pacific Northwest Premiere
There can be no doubt that a little girl had a hand in the Creation. Her fingerprints are everywhere.

Lessons Learned
d. Toby Froud | USA | 16 min
A boy is surprised by an intriguing gift on his annual birthday visit to his grandfather. When curiosity gets the best of him, the boy falls into an adventure of other-worldly experiences not intended for him.

The Looking Planet
d. Eric Law Anderson | USA | 17 min
Pacific Northwest Premiere
During the construction of the universe, a young member of the Cosmos Corps of Engineers decides to break some fundamental laws in the name of self-expression.

Making Friends
d. Kyle C. Mumford | USA | 7 min
Pacific Northwest Premiere
A lonely old man yearns for an opponent in a game of chess, so he builds himself a robotic friend in his disheveled workshop. However, his new robotic friend does not play so nice.

The Nostalgist
d. Giacomo Cimini | UK | 18 min
Seattle Premiere
In the futuristic city of Vanille, a properly tuned ImmerSyst Eyes & Ears can make the world look and sound like a paradise. But the life of a father and his young son threatens to disintegrate when the father's device begins to fail. Desperate to find a replacement, the man ventures outside.

Tempête Sur Anorak / Storm Hits Jacket
d. Paul Cabon | France | 13 min
Pacific Northwest Premiere
Two young scientists have an invention that is on the verge of the future. Thieves decide a storm is the perfect opportunity to steal it. Espionage, chaos, romance, fighting, dancing, and cow storms ensue.

Time Travel Lover
d. Bo Mirosseni | USA | 10 min
Pacific Northwest Premiere
Frustrated with his past decisions, a man travels back to warn his past self not to make the same mistakes.

Wanderers
d. Erik Wernquist | Sweden | 4 min
North American Premiere
A vision of humanity's expansion into the Solar System, with glimpses of the fantastic worlds that neighbor us, and how it might appear to us if we were there.
---
Session 2

Caldera
d. Evan Viera | USA | 11 min
Through the eyes of a young girl suffering from mental illness, Caldera glimpses into a world of psychosis and explores a realm of ambiguous reality and the nature of life and death.

Day 40
d. Sol Friedman | Canada | 6 min
Pacific Northwest Premiere
In this animated retelling of the Noah's Ark story, various unholy activities fill the great ship as the animals discover the darker side of their nature.

Gumdrop
d. Kerry Conran, Stephen Lawes | USA | 8 min
World Premiere
Gumdrop is an aspiring actress with an active imagination. Gumdrop also happens to be a robot...

Little Quentin
d. Albert 't Hooft, Paco Vink | Netherlands | 9 min
Oswald Bunny gets help from his friends Jack, Charlie the Clown, and Mr. Wilco the Astronaut to cover up a terrible crime. Oswald will not escape his punishment, nor will his companions. Murder is no child's play!

Lucid
d. Adam Azmy, Stephen Trumble | UK | 7 min
North American Premiere
A man becomes aware of himself and his surroundings, as space and time shift intuitively around him, leading him into a serene and lonely maze.

The Master's Voice: Caveirão
d. Guilherme Marcondes | France | 10 min
Every night at 3:33am all clocks stop, and for a moment time is frozen. During what is only a fraction of a second to mortal eyes, a second, magical night emerges where the spirits of the city come out to play.

Pandy
d. Matúš Vizár | Slovakia, Czech Republic | 11 min
The world is moving ever so fast, and humans are claiming more and more space without considering the consequences. Pandas puts the concepts of commercialism and pure voyeuristic entertainment side-by-side with notions of animal preservation.

Sorry About Tomorrow
d. Motke Dapp | USA | 8 min
Meet Baldwin. Haunted by the actions of his past and hunted by men from the future, Baldwin tries going back in time to stop a cycle of tragic events.

A Stitch in Time (for $9.99)
d. Mu Sun | USA | 12 min
Pacific Northwest Premiere
Laura Fein stumbles upon Stitch in Time Travel Agency, which boasts time travel for under ten dollars. Greeted with piles of archaic computer equipment, she's hesitant as to whether or not it actually works. But Laura gives it a chance to find out a burning question: does her co-worker like her back?

Wakening
d. Danis Goulet | Canada | 9 min
An ancient aboriginal myth told as a post-apocalyptic story reveals Weesakechak, a lone Cree wanderer, who searches an urban war zone to find the ancient and dangerous Weetigo to help fight against the occupiers.