SFFSFF: The Dark Side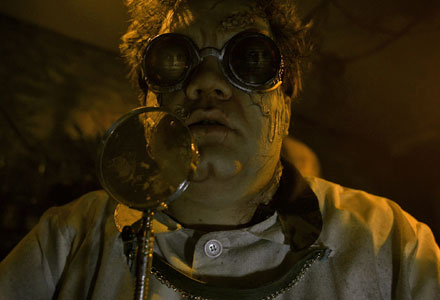 February 6, 2015
Revel in the dark, the dangerous, the mysterious, and the taboo with this midnight showing of horror-tinged and macabre shorts. Awards ceremony to follow screening.
Tickets: $12 | $7 SIFF & EMP Members
SIFF Passes, vouchers and other discounts are not valid.
From a horrifying guest with a foot fetish to a nightmarish journey into your nightmares, the full lineup of horror-tinged films includes:

Carn
d. Jeff Le Bars | France | 5 min
A little boy is lost in a snow storm-close to dying from cold and exhaustion-when he encounters a wounded female wolf who offers him a choice between life and death. But such an offer doesn't come free.

Cold Turkey
d. Fannar Thor Arnarsson | Iceland | 14 min
Adam, a troubled high-school aged boy, tries to get rid of the most dangerous addiction of them all-cannibalism-but this change is not an easy one.

Dji. Death Fails
Dir. Dmitri Voloshin | Moldova | 4 min
Seattle Premiere
Dji is an unusual manifestation of Death, who does not seem terribly good at his job and suffers from bad luck. All he has to do is take the soul of a dying trucker, but that seems to be easier said than done.

Grave Shivers
d. Brent Sims | USA | 15 min
A dark legend tells of a mysterious book with no identifiable author. All that is known of its magical pages is that it contains stories of horror, wonder, and dread. By other-worldly assistance, one man has located it-and now dares to open its pages and release it back on to the world.

How to Make a Nightmare
d. Noah Aust | USA | 9 min
Pacific Northwest Premiere
Where do nightmares come from? In How to Make a Nightmare they're cooked up in strange underground laboratories. Making nightmares is an ugly job, and sometimes things go too far...

Hungry Hickory
d. Damian McCarthy | Ireland | 7 min
Seattle Premiere
While staying in an old guest room, a woman becomes increasingly uneasy at the appearance of a small door at the end of her bed. But it is not the mysterious door that she should be worried about. It is who-or what-waits behind the door, and how hungry it is.

Kekasih
d. Diffan Sina Norman | Malaysia | 9 min
/ke·KA·seeh/
noun: lover; plural noun: lovers
In an effort to preserve the life of his late wife, Mansor extracts her remains-only to discover her presence forever illuminated in the divine. Through a few accidents and experiments, his form is forever changed, along with her manifestation.

Luna
d. Antonio Perez | USA | 12 min
A cold-blooded serial killer invades a family's quiet home in a remote desolate town. The sole survivor of his latest crime is a young girl who does everything she can to escape before the mysterious stranger finds her.

Malaria
d. Edson Shundi Oda | Brazil | 6 min
Caroline Mendonça has malaria. She will die soon, and nobody can do anything to stop it. In a last-ditch effort, her father hires a young mercenary to kill Death.

Pupa
d. John JH Lee | Canada | 4 min
World Premiere
A boy who is about to begin puberty views all grownups as hideous monsters. He fears that he will turn into one of them.