2012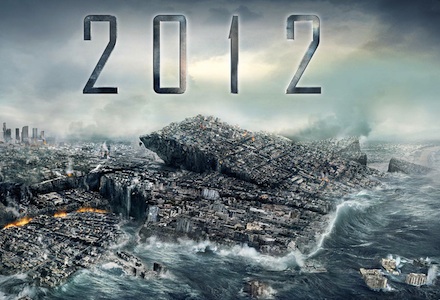 December 20, 2012
To conclude our epic Apocalypse Film Festival, Neutrino Astrophysicist Jason Detwiler introduces Roland Emmerich's epic disaster film.
Roland Emmerich's career of disaster films reached its apex with 2012, where he finally destroyed the whole world with lavish, exciting special effects! Starting with the hotly contested Mayan calendar prediction that the end of the world is here, 2012 then supposes that Armageddon will be caused by a sudden increase in temperature at the earth's core caused by solar flares.
Joining us to debunk the film's scientifically dubious claims is Jason Detwiler, an Associate Professor at the University of Washington Department of Physics, who will discuss solar neutrinos, how these little subatomic particles interact with matter, and why science should care about them. His research has included neutrino properties, weak interactions, nuclear and particle astrophysics, and underground science.
---
Co-presented by REALscience, the Seattle-based online science news portal.
A program of Science on Screen, an initiative of the Coolidge Corner Theater with major support from the Alfred P. Sloan Foundation.
Director:

Roland Emmerich

Principal Cast:

John Cusack, Thandie Newton, Chiwetel Ejiofor, Amanda Peet, Oliver Platt, Danny Glover, Woody Harrelson

Country:

USA

Year:

2009

Running Time:

158 Minutes