Star Leaf
Loading the player ...
August 22, 2015
SIFF Cinema Eguptian | Midnight Adrenaline, Visiting Program
Writer/Director Richard Cranor in person for intro and Q&A. Shot on Washington's Olympic Peninsula, this sci-fi thriller follows three friends who search for a forest of extra-terrestrial marijuana hidden deep in the Olympic Mountains – hoping for an out-of-this-world-high that can cure PTSD.
Things start to get strange when a forest ranger mysteriously shows up at their late-night campfire with tales of alien visitors and odd animal behavior in the forest. And when one couple breaks the Star Leaf "code of conduct," the evil aliens guarding the plant begin to stalk them.
Local filmmaker Richard Cranor penned, directed and plays a supporting role in this soon-to-be cult classic that challenges traditional views of marijuana and PTSD. The film co-stars Russell Hodgkinson and Julian Gavilanes of Sy-Fy's Z-NATION.
---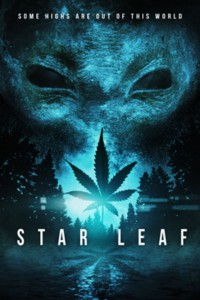 "STAR LEAF is a 'trip' worth searching for in theaters. An indy horror treat with some scares, laughs, and a little something to say." – Jason Valentine, KVEW TV
"STAR LEAF could become to this generation… what Cheech and Chong's UP IN SMOKE was to the 70's." – The Northwest Leaf
"STAR LEAF portrays a dramatic struggle for survival and self-preservation that is both unexpected and brilliantly executed." – Culture Magazine
"Bold and new… refreshing" – ScifiMonkeys.com "Forget EVIL BONG. Forget POT ZOMBIES ..... STAR LEAF is the one for you!" -- HorrorSociety.com
Director:

Richard Cranor

Principal Cast:

Russell Hodgkinson, Julian Gavilanes, Tyler Trerise, Shelby Truax, Richard Cranor

Country:

USA

Year:

2015

Running Time:

75 Minutes

Website:

Official Film Website