Nosferatu with live soundtrack by The Invincible Czars
Loading the player ...
March 14, 2016
SIFF Cinema Uptown | Special Event
For over a decade, Austin music ensemble The Invincible Czars have been crafting original silent film scores that combine rock and orchestral music. The group joins us for a special live performance accompanying F.W. Murnau's 1922 vampire classic Nosferatu, in an original score that blends their unique sound with vocals, sampling, and elements of Bela Bartok's "Six Romanian Folk Dances".
Special Presentation: $15 | $10 Members
SIFF Passes, Vouchers, and other discounts are not valid for this special event.
---
Blood is life! A classic of German Expressionistic Horror, F.W. Murnau's 1922 film is an unauthorized adaptation of Bram Stoker's "Dracula" that reinvents the vampire character as Count Orlok, a bald, spidery monster with rat-like fangs and giant claws. Filmed in moody low-angle camera angles to maximize the creep factor, Nosferatu was so unsettling that rumors persist to this day claiming that actor Max Schreck really was a creature of the night.
The Invincible Czars began as part of the wave of acts that began creating soundtracks for silent films at the original Alamo Drafthouse in the early 2000s, and over the years have continued to add new movie scores, custom artwork, and unique wardrobes to their performances. Performing regularly throughout Texas, New Mexico, and Alabama, they are regarded by many as the Alloy Orchestra of the south. Their soundtrack for Nosferatu is written for four players and includes electric guitar, bass, violin, keyboard, music box, synthesizer, bass clarinet, flute, glockenspiel, bass guitar, and all manner of percussion.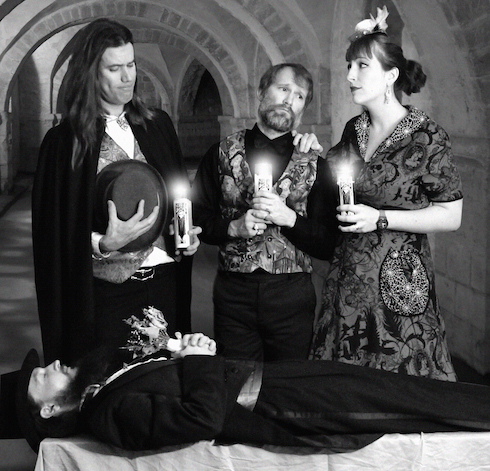 Director:

F.W. Murnau

Principal Cast:

Max Schreck, Alexander Granach, Greta Schroeder, Gustav von Wangenheim

Country:

Germany

Year:

1922

Running Time:

84 Minutes