Peaches Christ's "Whatever Happened to Bianca Del Rio?"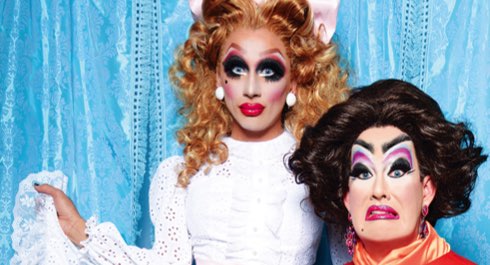 June 23, 2016
SIFF Cinema Egyptian | Visiting Program
Sister, sister, oh so big, why is their blood all over your wig...? Peaches Christ invites you to attend the Seattle Premiere of her hag-a-rific LIVE theatrical parody "What Ever Happened to Bianca Del Rio?" co-starring RuPaul's Drag Race superstar Bianca Del Rio, and Seattle drag favorites Mama Tits, Sylvia O'Stayformore, Abbey Roads, and Ade. Audience members are encouraged to don their best child star couture!
Multiple ticketing levels available including VIP Meet & Greet | All tickets available from StrangerTickets.com
Few films of the pre-Stonewall era continue to influence contemporary drag culture with quite the persistent endurance of What Ever Happened to Baby Jane?, Robert Aldrich's 1962 masterpiece of psychological horror and female rivalry. Its performances are over-the-top, its dialogue is iconic ("But'cha are, Blanche! Ya are in that chair!"), and its place in the drag canon is secure thanks to the on- and off-screen bitchery between stars/sworn enemies Bette Davis and Joan Crawford.
Peaches Christ, a longtime expert on the intersection of horror and bitchery, has wanted to pay tribute to What Ever Happened to Baby Jane? ever since she first began her Midnight Mass movie series in San Francisco nearly 20 years ago. But it wasn't until she met RuPaul's Drag Race Season 6 champion and superstar comedian Bianca Del Rio that she knew she'd found her perfect Baby Jane. "It's one of my favorite movies ever," Del Rio says. "There's no modern equivalent of two actresses who hate each other as much as these two did. Everybody is too PC now, trying to be happy and pleasant and not offend anyone. Back then it was really good and dirty. Bette and Joan were brilliant women with amazing careers and balls."
Del Rio will star with Peaches Christ in the Seattle premiere of Christ's hilarious stage production, What Ever Happened to Bianca Del Rio? Audiences will find out what happens when two aging drag sisters live out their twilight years together in a hag-arrific house of horrors. Baby Bianca is a former child star who wants to revive the show she made popular as a little girl, when her hit song "I've Written a Letter to Draggy" dominated the vaudeville circuit – but her drag sister Peaches proves to be a burden on wheels.
"Peaches said, 'I'm going to sit in a wheelchair and let you do all the work pushing me around,'" Del Rio recounts. "I said, 'I see a theme here. You do Grey Gardens with Jinkx Monsoon and just sit in a bed, and now I'm pushing you around the stage, you lazy bitch!'"
Don't miss this psycho biddy stage-show celebration of insanity. The star studded local cast includes; Mama Tits, Sylvia O'Stayformore, Abbey Roads, Ade, Hellen Tragedy, Isabella Extynn, James Majesty, and Klaudya Markos. Bianca dolls and rat sandwiches included!
Audience members are encouraged to don their best child star couture, and be sure to get a few drinks at the SIFF Egyptian bar!
Seattle's production brought to you by 5 Senses Reeling Events and Qurb Media Group in partnership with Peaches Christ Productions, SIFF, and Seattle PrideFest.
---
Ticket levels:
LIMITED VIP Meet & Greet Ticket: $100
– Premium seating main floor front section center.
– Exclusive meet & greet opportunity including photos with Peaches Christ & Bianca Del Rio.
Premium General Admission: $60
- Premium seating in front section left and right sides.
General Admission: $50
- Main floor middle section.
General Admission, Balcony: $40
- Balcony seating section.
Standing Room: $20
- Standing room balcony section.